Did BTS Break Up? Members Explain Their Hiatus & Promise To "Return Someday"
BTS asks fans for permission to ... rest and grow: "I just hope that you could give us your blessing."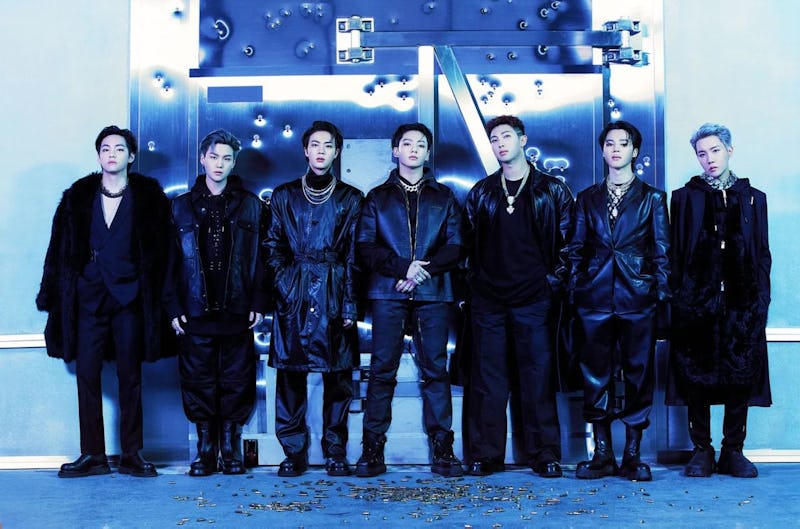 Big Hit Music
BTS ARMYs the world over are processing a lot right now. Just days after K-pop sensation BTS released Proof — a three-CD anthology of new songs as well as demos of past chart-toppers — the group made a shocking announcement while fans were celebrating BTS' ninth anniversary. BTS is taking a temporary "hiatus" to pursue solo projects. "It's not that we're disbanding; we're just living apart for a while," Suga explained in a pre-recorded video released on June 13.
Jungkook asked fans to respect their decision, adding, "You were with us for 10 years. It's not that we want you to understand but it'd be nice if you could understand us. We're each going to take some time to have fun and experience lots of things. We promise we will return someday even more mature than we are now. So I just hope that you could give us your blessing. We'll be a better version of us. ... I hope you wouldn't worry. Even better, please look forward to that day."
J-Hope emphasized how spending time apart is healthy. "I think BTS could become a stronger group that way," he said. "This is a very important time for us and for BTS' second chapter."
BTS released the video for their 2022 Festa dinner, an annual anniversary tradition. The video, filmed sometime before the group met with President Joe Biden at the White House to talk about anti-Asian hate crimes on May 31, started like usual. They gathered at their shared house over dinner and drinks, caught up, and teased each other. The conversation took a somber turn when RM, the group's leader, announced in there was "something we wanted to talk about." The entire dinner conversation was in Korean, but English translations were included as subtitles.
Murmurs about BTS' hiatus — or at least the departure of one or more members — have long been floating. South Korea has a law that requires men to enlist in the military when they turn 28 and serve for 20 months. Jin, who turned 28 two years ago, had been able to delay enlistment after the government gave the group a special reprieve and upped the age requirement from 28 to 30. With Jin's 30th birthday approaching in a few months, fans had already been speculating what it could mean for the group. In the video, the group confirmed that they will be taking a break — but not because of Jin's looming enlistment. It's to focus on individual growth and solo projects.
Opening up to fans, RM shared how they lost their sense of identity as individuals and as artists. "For me, it was like the group BTS was within my grasp until 'ON' and 'Dynamite' but after 'Butter' and 'Permission to Dance,' I didn't know what kind of group we were anymore," RM said. "Whenever I write lyrics and songs, it's really important what kind of story and message I want to give out but it was like that was gone. Now I don't know what kind of story I should tell."
RM reiterated that "the problem with K-pop and the whole idol system is that they don't give you time to mature. You have to keep producing music and keep doing something." Without room or time for growth, he said, "I kept feeling like I was trapped inside myself."
Jimin chimed in to explain the "rough patch" BTS is going through. "We're trying to find our identity and that's an exhausting and long process," he said. "We have so many things we want to tell [our fans] but we can't be honest all the time. We want to be comfortable with them but it's so hard and that's worn us out."
"It feels so wrong to even say that we're exhausted," RM continued, adding how he's felt a lot of "guilt." V agreed with the sentiment, saying, "I've wanted to show the things that are inside me for a long time now. At some point, having these thoughts started to feel wrong."
After the video was uploaded, and presumably after hearing the hearts of ARMYs break online, HYBE, BTS' label, released a statement to AP on June 14, to clarify that BTS is not actually taking a "hiatus" and will still be working on projects as a group on top of individual ones. "BTS are not taking a hiatus. Members will be focusing more on solo projects at this time," HYBE said.
BTS Members' Solo Projects
Since their debut (and for some members, before), members worked on individual projects. V had a role in the 2016 K-drama Hwarang: The Poet Warrior Youth, Suga released an album as Agust D in 2020, and other members have either released mixtapes or collaborated with artists.
Recently, solo projects have ramped up. In April, Yoongi collaborated with Psy on That, That.
On June 7, J-Hope announced he'll be headlining Lollapalooza in Chicago on July 31. Meanwhile, on June 13, it was announced that V will be joining other Korean stars Park Seo-joon, Choi Woo-shik, Park Hyung-sik, and Peakboy, aka his "Wooga fam" friends, for In the Soop: Friendship Trip, an offshoot of BTS' pandemic reality show In the Soop.
Over dinner, V said, "We could focus on our solo work this time, and later, when we gather again as a group, that synergy will be like no other. We'll be better than before."
While Jin didn't mention in the video whether he's enlisting in the military, he did mention that acting was his original goal before getting sidetracked into a K-pop idol. He could pursue that during this interlude. Whatever they pursue, RM says they're excited to show their "individual colors" with solo mixtapes and albums, as well as try new genres, like Suga is currently dabbling in. The group promised they'll continue to shoot Run BTS, their self-produced variety show.
Leave it to RM to use a Doctor Strange metaphor to wrap up how he feels about the group. Talking about the multiverse, he said, "I still think in some multiverse there could be a Kim Namjoon that's a normal office worker and doesn't make music at all. But in this universe, luckily, I wanted to do music and luckily I got in this company and met Bang Sihyuk PD, met Big Hit, and I met these guys that are even more talented than I." He said, "This version of the universe is the best version I can possibly think of."
The group didn't mention how long this period will be or when it'll start. But online, ARMYs have been supportive, albeit a bit heartbroken. Speaking to the fans directly, a teary-eyed RM said, "When people think of BTS or Bangtan they always mention ARMY. You are actually the essence of what we are. I felt so guilty because I'm scared of you being disappointed in us. When I say I want to take a break it feels like I'm doing something bad. I want BTS to go on for a long time. We have to go through this to do that."
Their announcement ended with RM adding, "Everything I want to say is in Yet To Come." The new single, which premiered on June 9, reads like a promise of a stronger comeback. It goes, "The past was honestly the best / But my best is what comes next / We'll be singin' till the morn / Heaving towards the day more like ourselves / You and I, best moment is yet to come."
BTS, you have permission to rest and grow individually.