Beyoncé Brought Out Blue Ivy Carter As A Surprise Backup Dancer
The 11-year-old showed her off swag in one of Europe's biggest stadiums.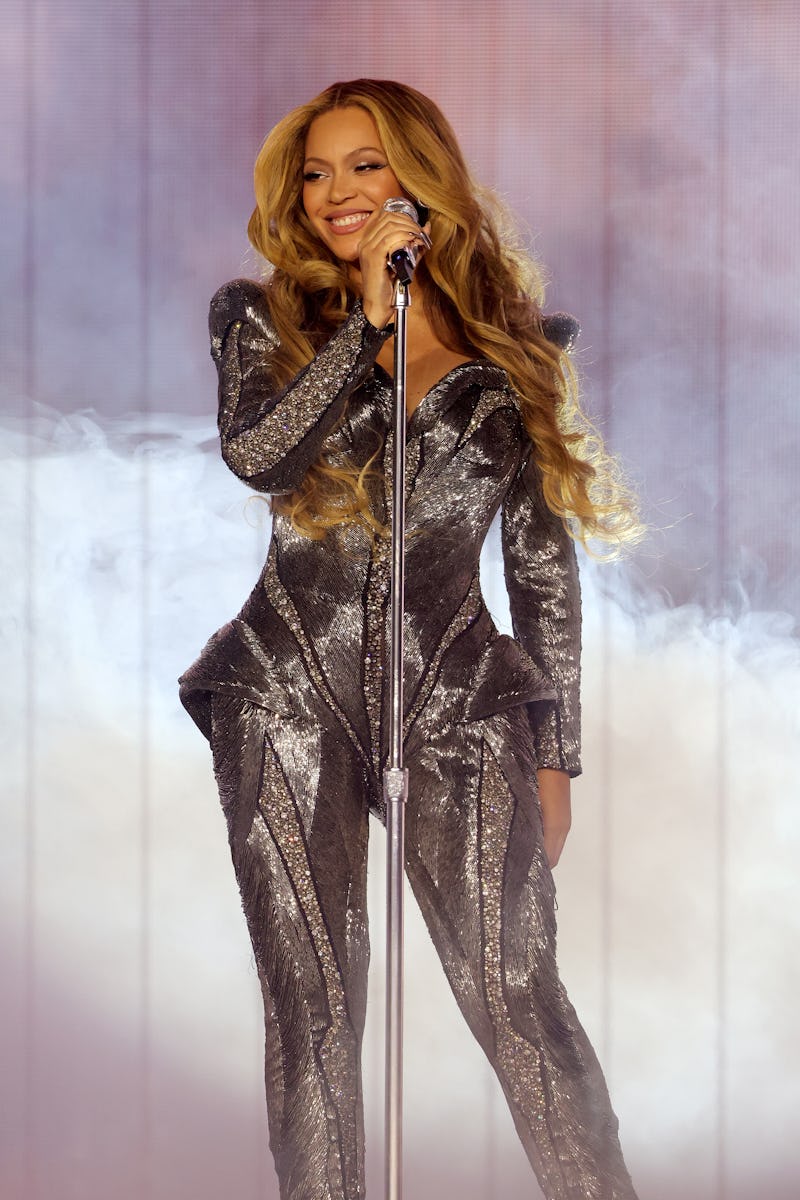 Kevin Mazur/Getty Images Entertainment/Getty Images
The Knowles-Carter family is private in a lot of ways, but Beyoncé and Jay-Z don't hide their kids' talent. For years now, their oldest daughter, 11-year-old Blue Ivy Carter, has been showing that she's an entertainer in the making. The "Brown Skin Girl" featured artist already has a Grammy to her name, and now she can call herself a Renaissance world tour guest performer.
Carter made her debut on the Renaissance stage during her mom's performance at Paris' Stade de France on Saturday, May 26. Dressed in all silver to match her mom, she joined Queen Bey and her backup dancers for two songs, "My Power" and "Black Parade." It was a moment that made both fans and her family proud.
"Last night I saw my beautiful grandbaby (11) dance in the front of almost 70 thousand people !" her grandmother Tina Knowles-Lawson wrote, in part, on Instagram the next day. "She killed it and was as cool as a cucumber!"
Still riding high, Knowles-Lawson then posted a second clip with an even longer caption celebrating Blue's big debut. The self-proclaimed "proud grandma" applauded her granddaughter's courage, noting, "She danced with professional dancers, grown folks , she did complicated choreography and moves that they rehearsed for months !" Knowles-Lawson highlighted that Blue had "a little over a week" to learn and rehearse the choreography and praised her result. "She was so smooth with it! Has such a smooth swag," she wrote, comparing the preteen to "the great Aaliyah."
Meanwhile, there were equally enthusiastic reactions from many of Knowles-Lawson's followers and Beyoncé fans. While some predicted that Blue will "definitely be a legend like her mom," others already see her "a star" now. At the same time, plenty more people were just "screaming like proud internet aunties!!!!" as they watched the clips of Blue doing her thing.
Blue being able to hold her own onstage with her mom and professional backup dancers isn't just thanks to the genes she inherited from her very talented parents. She started dancing years ago, and even went viral when her grandma posted a video to Instagram of her seemingly in a dance class in January 2021. The clip — which Knowles-Lawson wrote reminds of her Blue's aunt Solange dancing at the same age — got more than 1 million likes.
As for Blue's music career, that began when she was still a baby. The 2013 Beyoncé track "Blue" features her baby talk, and she went on to appear in the music video. She later showed up in videos for 2016's "Formation" and 2019's "Spirit," "Bigger," and "Brown Skin Girl" from the soundtrack The Lion King: The Gift, plus added vocals to "Brown Skin Girl."
The Renaissance tour is set to continue through September, so there could be more opportunities for Blue Ivy to put her swag on display.