Fans Think Beyoncé's "Stomach Hole" Tour Outfit Looks Like A Death Becomes Her Scene
This isn't the first time Beyoncé may have been inspired by the 1992 film.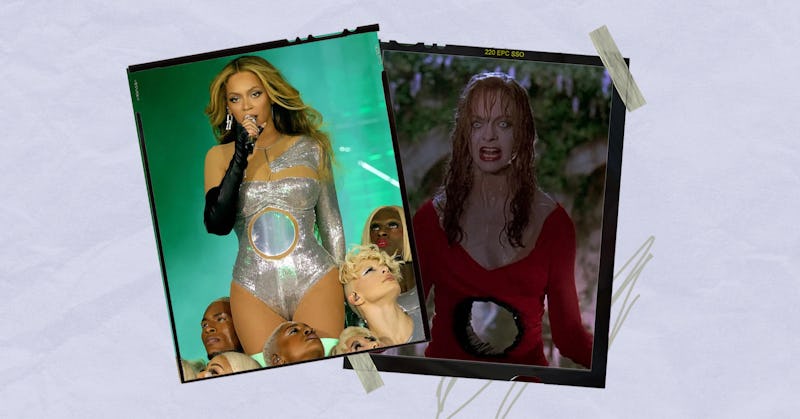 Kevin Mazur/Getty Images Entertainment/Shout Factory!
Beyoncé kicked off her Renaissance World Tour on May 10 with a nearly 3-hour-long spectacle, and everything from her 35-song setlist to her eye-popping props and costumes have the Beyhive abuzz. Some fans on Twitter even think that her glittery silver leotard in the show's second act looks a lot like a scene in the 1992 film Death Becomes Her, thanks to the mirrored "stomach hole" in the center that is reminding them of Goldie Hawn's stomach hole in the movie.
As revealed by creative director Nicolas Di Felice, Beyoncé's costume was custom-made by Courreges and inspired by the French fashion house's Fall 2023 mirror collection, which also includes pieces with a stomach hole replaced with a circular mirror. It's not known whether Di Felice was inspired by Death Becomes Her while designing the collection, but some fashion TikTokers have already made the connection between the two.
The cult-classic movie stars Meryl Streep and Hawn as rivals who fight over a man and a magical potion for eternal youth. Their battle leads to a climax where Streep shoots a bullet through Hawn, but she hilariously lives on with a gaping hole in her stomach, making a visual for the ages.
During the show, Beyoncé fan accounts immediately compared her second look to the Death Becomes Her scene. The 32-time Grammy winner was clearly inspired by sci-fi aesthetics for her Renaissance Tour visuals (yes, unlike the album, the tour has visuals), and subtly paid homage to other music and culture icons throughout her show, so it may not be a far stretch.
This is not the first time that Twitter has caught similarities between some of Bey's previous looks and memorable outfits from the film, with one fan comparing her 2021 Grammys gown to Streep's black revenge dress in the movie.
Beyoncé has not previously expressed any fandom for Death Becomes Her, but would it be all that surprising if she liked the film? It did win an Oscar for Best Visual Effects, after all.