Here's What Happens To Bill & Frank In The Last Of Us Video Game
The creator says their relationship in the HBO series is more "authentic."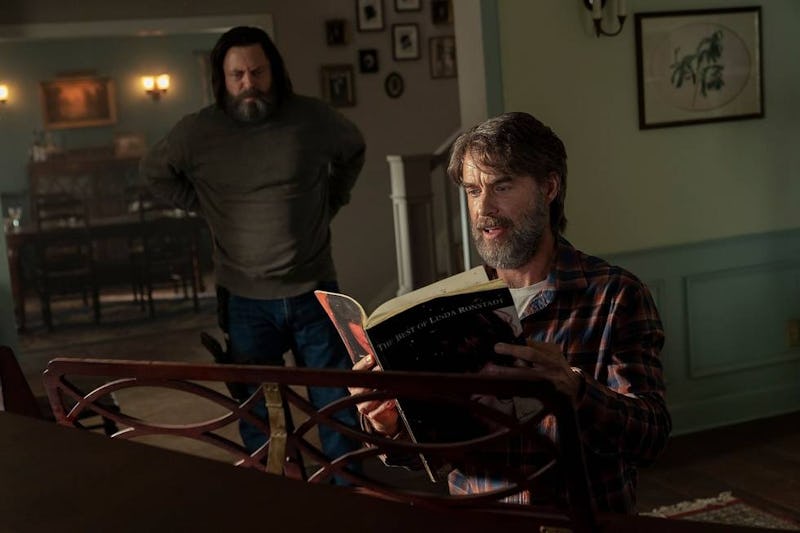 Liane Hentscher/HBO
The promo for the third episode of HBO's The Last of Us teased that viewers will finally meet Bill and Frank, and it's already clear that the story is going to drastically diverge from what happens in the video game. In fact, Frank, who's played by Murray Bartlett in the TV adaptation, never even appears in the source material — at least not in the flesh anyway — and their romantic gay relationship is only hinted at. After Joel and Ellie meet up with Bill (Nick Offerman in the HBO version), they evade a horde of Infecteds by escaping to a fortified home where his "partner" was living. Upon entering, they find Frank, who Joel had never met, died by suicide so long ago that only his clothed decomposing corpse remained.
A visibly emotional Bill observes bites on Frank, leading Joel to deduce that he simply "didn't want to turn" into one of the zombie-like creatures from the cordyceps brain infection and had decided his own fate instead. (His similarly ambiguous partner Tess died the same way.) When Ellie discovers a truck with a working battery in the garage, Bill has some expletives for his late partner whom he suspects was "gonna steal [his] sh*t and run off," something Joel confirms when he finds a note from Frank while exploring the house.
"I doubt you'd ever find this note cause you were too scared to ever make it to this part of town. But if for some reason you did, I want you to know I hated your guts," Frank wrote in his letter to Bill from Naughty Dog's PlayStation game. "I grew tired of this sh*tty town and of your set-in-your-ways attitude. I wanted more from life than this and you could never get that. And that stupid battery you kept moaning about — I got it. But I guess you were right. Trying to leave this town will kill me. Still better than spending another day with you."
Joel gives the letter to Bill, who crumbles the paper and replies, "That's how you feel. Well f*ck you too, Frank. F*ckin' idiot." And that's that.
The Last of Us creator Neil Druckmann knew that "as awesome as that episode is," deviating from his video game plot in the HBO adaptation would "upset" some fans. He thought the changes were emotionally justified, nonetheless. "To me, the story we tell is authentic to the world. It's authentic to the themes that we're talking about," he explained in a January 2023 issue of The New Yorker. In the same article, screenwriter Craig Mazin, for his part, elaborated that Bill and Frank's relationship embodies the show's overarching interest in "outward love and inward love—the people who want to make everybody better, and the people who want to protect particular people at any cost."
Though Bartlett admitted in a June 2022 interview with Deadline that he's "not a gamer" and was unfamiliar with the story before taking on the role of Frank, the episode's script made him understand the game's depth. "If you're a gamer, then you know it's an amazing world and people really connect to that game in such a strong way," he said, applauding the creative team for making the "character relationships feel poignant and strong, in a big world."
Months later, the White Lotus Season 1 star called the episode's script "one of the best hours of television" he's ever read. "It's beautiful. It's beautifully written," he teased to Collider in November. "There are these zombie creatures in it, but it's tender and it's human. I think it's gonna be really special."