Don't Watch Billie Eilish's New Music Video If You're Afraid Of Snakes
And don't abuse your power, as she warns in her haunting new single.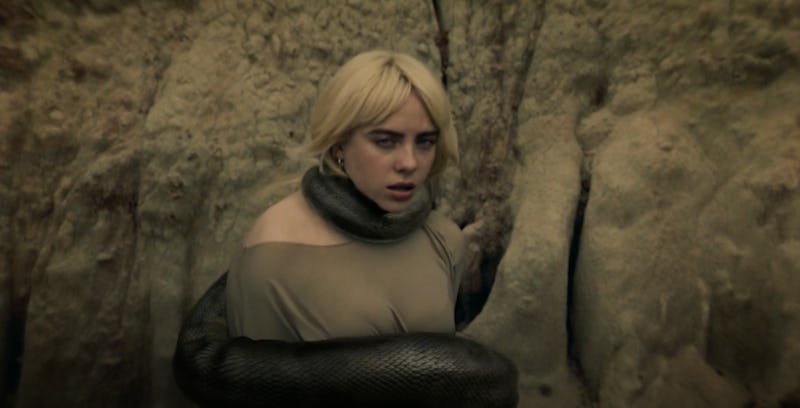 YouTube / Billie Eilish
Warning: Do not watch Billie Eilish's new video if you're deathly afraid of snakes (like me). Eilish fulfilled her promise of delivering new music with the release of "Your Power," the latest single from her just-announced sophomore album Happier Than Ever. However, both the song and video tell a much scarier story than the album's title suggests.
Over delicate guitar strings, "Your Power" tells the story of an adult who takes advantage of their all-too-young partner. Eilish sings from the perspective of the victim, sternly warning, "Try not to abuse your power." She opened up about the track's meaning on Instagram, saying it was inspired by universal experiences and calling it one of her favorite songs she's ever written. "I feel very vulnerable putting this one out because I hold it so close to my heart," she wrote. "This is about many different situations that we've all either witnessed or experienced. I hope this can inspire change."
The video, which is Eilish's fourth self-directed music video, takes the song's meaning and gives it a death-defying visual. It starts off with her voice singing over a vast desert landscape, before the camera zooms in and reveals her sitting on a ledge — while the hugest snake you'll ever see in your lifetime crawls over her. Eilish's team tells Bustle that the video features a real 80-pound anaconda and was shot in Simi Valley, Calif. Said creature continues to wrap itself around Eilish's body, nearly paralyzing her as she barely eeks out the song's devastating lyrics. Well, that's one way to die.
Fans on Twitter were both terrified and impressed by Eilish for interacting with the huge snake for the video. Some also questioned whether the huge snake was even real, given how utterly scary it looks.
This is not the first time that Eilish has pulled a risky stunt for the sake of art. The singer literally had tubs tied to her face to create the effect of crying black tears for her "When The Party's Over" video. She also swallowed a spider and let it casually roam around her face in her "You Should See Me In A Crown" video. If her latest endeavor teaches us anything, it's to never doubt Eilish's commitment to her music.