Meet The Gen Z Girl Group With Normani's Stamp Of Approval
Boys World has already taken TikTok by storm. The next stop? Music industry domination.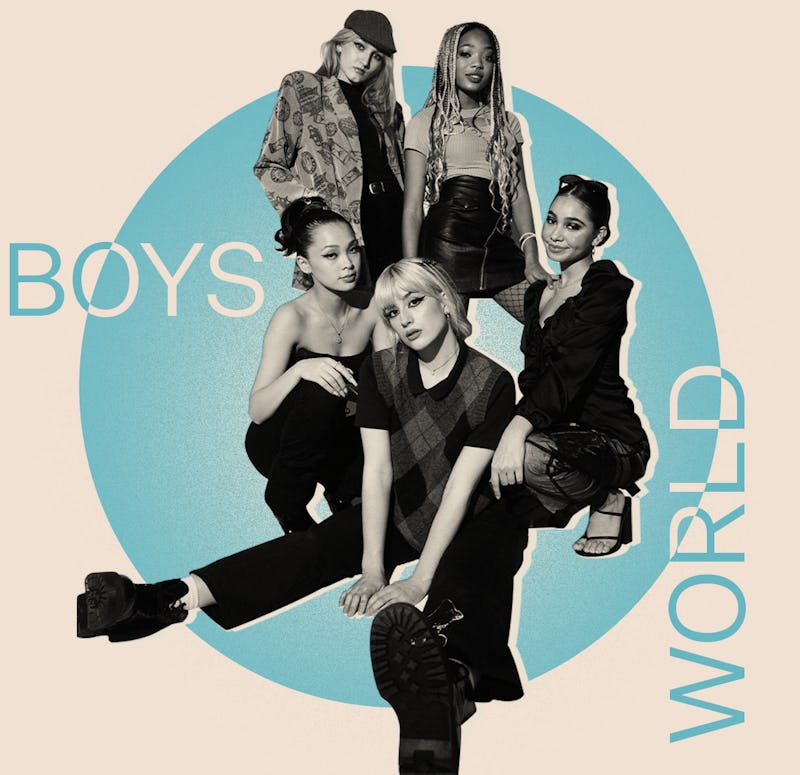 From the Spice Girls to Fifth Harmony to Little Mix, the biggest pop girl groups of the past few decades have promoted positivity, empowerment, and the unbreakable bond of friendship. Of course, they've also each seen a member unexpectedly exit after a few years together, often citing mental health issues, exhaustion, or the pure desire to go solo — shattering fans' idealistic notions that each group consisted of inseparable best friends who would perform together forever. While the members of rising pop act Boys World are certainly inspired by the groups that preceded them, they're working to ensure their fate is different. "We're so good at communication, like ridiculously," Makhyli Simpson tells Bustle over Zoom, as her groupmates nod in agreement. "Obviously, we wouldn't want anybody's mental health to be declining [as a result of our career]," adds Elana Caceres. "We care about each other."
Their sentiments are similar to the message delivered in "Girlfriends," the anthemic, upbeat single focused on sticking up for fellow women rather than flaky boyfriends (the group's name is slightly ironic — Boys acts as an acronym for "best of yourself," and World nods to their global reach). The group, which also includes Olivia Ruby, Queenie Mae Villaluz, and Lillian Kay, was formed in 2019 by KYN Entertainment after the members were individually scouted through Instagram. Each had tried to pursue an entertainment career to varying levels of success before joining the group, but the offer from KYN seemed like "the most authentic choice," says Ruby, who notes that the fivesome quickly formed a deep connection. "We all had this gut feeling of like, 'This is what we're supposed to do.'"
Part of the deal, however, was that all five members would relocate to Los Angeles from their respective homes and live together, which helped spark their realization of exactly how crucial proper communication is. "We got to learn each other's quirks, the ups and downs," says Simpson. Early in their formation, the group also received some helpful tips from someone who's been in their shoes before. "We met Normani at the Melrose Trading Post right before everything closed down," Ruby says, noting that the ex-Fifth Harmony member was "so sweet" and emphasized how important it is for the members to talk to one another. "She was like, 'Communication,'" Kay recalls. "And we were like, 'Yes.'"
As a group of five Gen Z-ers whose ages range from 17 to 20, Boys World aptly first introduced themselves on TikTok in a video soundtracked by Gloria Gaynor's "I Will Survive." It immediately went viral — nine months before they released a single song (Boys World's debut EP While You Were Out dropped earlier this month). "It wasn't really planned," says Villaluz of the group's presence on the platform, where they've now amassed over a million followers thanks to singing clips, memes, and personality videos. Since then, they've worked hard to form a tight-knit bond with their fans, known as the "Stars," often holding Zoom calls or Instagram chats with them. "We want to make sure they're our actual friends," Simpson says. "We don't want to be untouchable."
A blend of introverts, extroverts, and ambiverts themselves, they've also made a point to ensure that all fans feel included, especially less outgoing ones who may find it hard to join group chats or show their faces online. "I'm constantly on Twitter, telling them like, 'Hey guys, if you see a new person in the fandom, add them into your group chat and talk to them,'" says Villaluz. "The fans are extremely welcoming," adds Cacares.
When it comes to creating music, communication is yet again the most important aspect for Boys World. While the members didn't write the five bops that make up While You Were Out, out now, they spoke directly with the hitmakers who did — including Tayla Parx (Ariana Grande, Little Mix), Melanie Fontana (BTS, Blackpink), and Leland (Troye Sivan, Selena Gomez) — often throughout the process. "We've always been really involved," says Simpson. "We send in our personal journals with what we're going through, and they take it, look at it, and create something really cool from it."
Many of the EP's songs, including "Girlfriends" and the explosive self-love track "Wingman," were penned with the girls' perspectives in mind, though the members would like to make direct lyrical contributions in the future. "Me and Lillian have written two songs, and we're about to send them to Tayla to see if she can make them better," says Ruby. "All of us are being little sponges during this whole process, but our goal is definitely to write and produce a song."
While You Were Out is yet to be released at the time of our chat, but the group can't help but begin musing about future projects. They're excited for the group to have its own "eras" and get the chance to evolve musically — "What if we go rock? We never know," says Villaluz — and visually — "I'm for sure changing my hair," quips Simpson. They may be getting ahead of themselves, but Boys World is certain they have a lot to look forward to, including breaking the cycle of short-lived girl groups, as Ruby declares: "We're gonna be here for a long time."
Get to know more about each member of Boys World below.
Elana Caceres
Age: 18
Hometown: Queens, New York
Astrological sign: Leo
Go-to karaoke song: Anything High School Musical
My musical inspirations in 5 words: R&B, pop, vibey, love, lyrical
Lesson I've learned from being in Boys World: I'm constantly growing and learning new things every single day in Boys World. I've learned the importance of communication, and living with my best friends has taught me a lot of independence! My favorite thing I've learned so far is how to navigate through the music industry!
Lillian Kay
Age: 19
Hometown: Boise, Idaho
Astrological sign: Pisces
Go-to karaoke song: "My Man" from Funny Girl
My musical inspirations in 5 words: Indie rock, pop, cloud-like harmonies
Lesson I've learned from being in Boys World: I've learned how important friendship is and how amazing the support and communication can be! It's truly such a blessing to have the 4 other girls in my life.
Makhyli Simpson
Age: 17
Hometown: Grand Rapids, Michigan
Astrological sign: Aries
Go-to karaoke song: "Trap Queen" by Fetty Wap
My musical inspirations in 5 words: Powerful. Takes me on ride.
Lesson I've learned from being in Boys World: Your real friends will always love you at the end of the day. :)
Olivia Ruby
Age: 20
Hometown: Columbus, Ohio
Astrological sign: Aquarius
Go-to karaoke song: "Ocean Eyes" by Billie Eilish
My musical inspirations in 5 words: Songwriting, Lyrical, Bedroom Pop, & Indie.
Lesson I've learned from being in Boys World: Good communication skills are very important. Understanding the ways you and the people in your life recharge and cope with everyday life struggles is necessary in helping the dynamic in a relationship or friendship work and stay harmonious.
Queenie Mae Villaluz
Age: 19
Hometown: Born in the Philippines and raised in San Leandro, California
Sign: Taurus
Karaoke song: "California King Bed" by Rihanna
My musical inspirations in 5 words: Disco with a side of R&B
Lesson I've learned from being in Boys World: I've learned that 5 girls who are from any part of the world and are very different in ways can be the best of friends.