Brandon Flynn's Love Smells Like Self-Acceptance
"I would tell 16-year-old Brandon that he's so lucky he's found something he loves ... and that it will take time, but he will learn to love himself."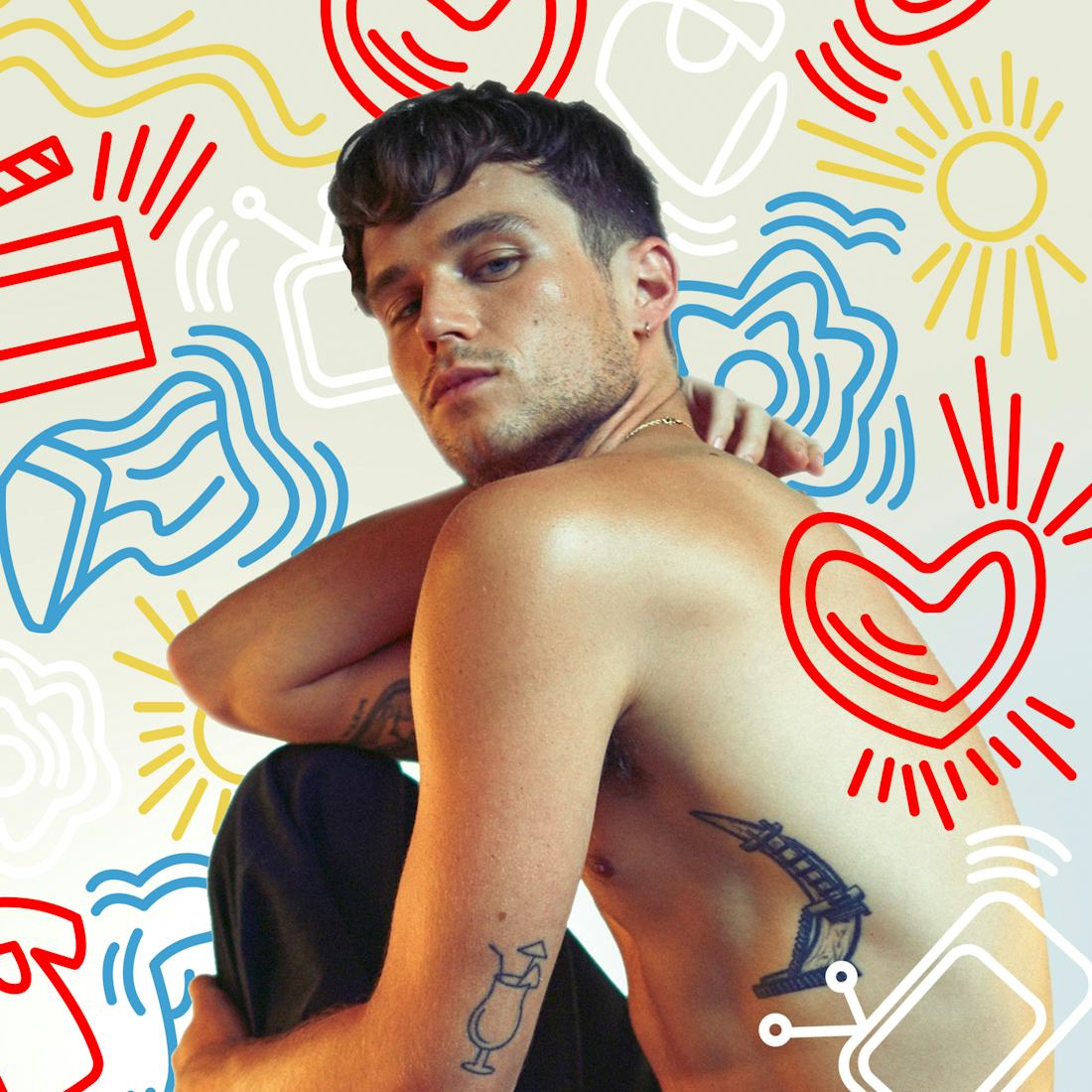 "Being queer in 2021 after the year we've all had, to me, means having more love for myself and more love for others," actor Brandon Flynn says in Boy Smells' Pride campaign benefiting The Trevor Project. "The opportunity to just sit still and just be with my feelings is something I'm learning to be more comfortable with." Flynn, who publicly started identifying as a member of the LGBTQ community four years ago (though he's been out to himself and his inner circle for longer), tells Bustle that it's been an emotional journey to love himself like he does now.
"I came out when I was 14, and something I feared for a long time was HIV and AIDS," the 27-year-old says about the feelings he initially associated with his sexual orientation because of social stigmas. "I was told that that was most likely how I would die." It's important to note that people living with HIV or AIDS in 2021 can live a normal lifespan with daily antiretroviral medications, but if they are not treated in time, they can acquire infections that can be life-threatening for a weakened immune system.
Flynn's perception of his identity evolved over time, and his initial fears and eventual learnings helped him portray a complex character in Netflix's 13 Reasons Why. In the popular show's fourth and final season, his character Justin — a high school jock and recovering drug addict who gets adopted by the family of his frenemy-turned-confidant — is diagnosed with HIV. "His storyline is one that we often associate with queer people, [but with Justin] we saw it in the scope of a straight man," Flynn explains. "We don't normally see that story. While HIV/AIDS are a huge part of gay history, it is also a virus that does not solely belong to one community."
Brandon Flynn in Netflix's 13 Reasons Why.
Santiago Sierra/Boy Smells/Bustle
Flynn's character, whose HIV progressed to AIDS because he was unaware of having the virus and left it untreated, died from complications related to AIDS in the final episode.
"As the guy who played him, who for like eight months out of the year, stepped into his worn-out and tired shoes, emotionally, yeah you know, it's a heartbreaker," Flynn says in a video recapping Justin's narrative arc. "I want people to believe that Justin's story is not necessarily always the outcome. That there's duality to life. There's addiction, and there's recovery. There's lost, and there's found. There is light in the darkness."
After 13 Reasons Why, Flynn's next TV role was in the Sarah Paulson-led Ratched, Netflix's 2020 prequel to the 1975 classic film One Flew Over the Cuckoo's Nest. He also starred in the 2020 dark romantic comedy Looks That Kill, before becoming one of the faces of the 2021 Boy Smells Pride campaign, alongside fellow LGBTQ entertainers Leyna Bloom and Tommy Dorfman as well as Drag Race stars Symone and Gottmik.
Below, Flynn talks about what he wants for his future self, the LGBTQ+ legend who inspires him, and how he's making the most of a post-pandemic summer in NYC.
Brandon Flynn Q&A
What advice would you give to your 16-year-old self?
I would tell 16-year-old Brandon that he's so lucky he's found something he loves — which is storytelling — and that it will take time, but he will learn to love himself.
Where do you see yourself 16 years from now?
Ah, old. No, I'm kidding. I see myself continuing to expand in my career. I see myself potentially with a child. I see myself at peace.
What are your proudest moments as a member of the LGBTQ+ community?
I think right now, honestly: I think I've hit this beautiful point in my own experience of radical self-acceptance and radical acceptance of others and their journeys. And to be honest, New York right now is in this sort of openness after the pandemic. It's thriving, it's beautiful, it's powerful. This past Sunday I went to [The Brooklyn Liberation] trans youth rally at the Brooklyn Museum. It was a really moving experience to be there with this whole community here in New York. It's a very special, particular, and beautiful message.
Where and how are you celebrating Pride this year?
I'm in New York, baby! I think this Pride to me is serving a little less formal and a little bit more serendipitous. It feels like Pride is everywhere. I think just like living and breathing, it feels like that's what I'm doing this Pride.
Who inspires you in the LGBTQ+ community?
So many people. James Baldwin is probably one of my biggest inspirations, just in general.
I also had a conversation earlier today with the Stonewall Foundation and they're a massive inspiration. They're marrying all these social justice causes together in a really beautiful way. I was in awe of the whole organization.
Which LGBTQ+ charity do you love and why?
I've recently found the Stonewall Foundation, and I'm so impressed by them. They help fund [more than 140 nonprofit] organizations. They make sure to provide for individuals in really small and big ways. It's really impressive. Whoever reads this, if they have the opportunity to look into what they do, I think [they should].