Leyna Bloom Is Having A Ball Finding Her Own Happiness
"Ballroom has always been a place where I have been allowed to not worry. I was allowed to just live."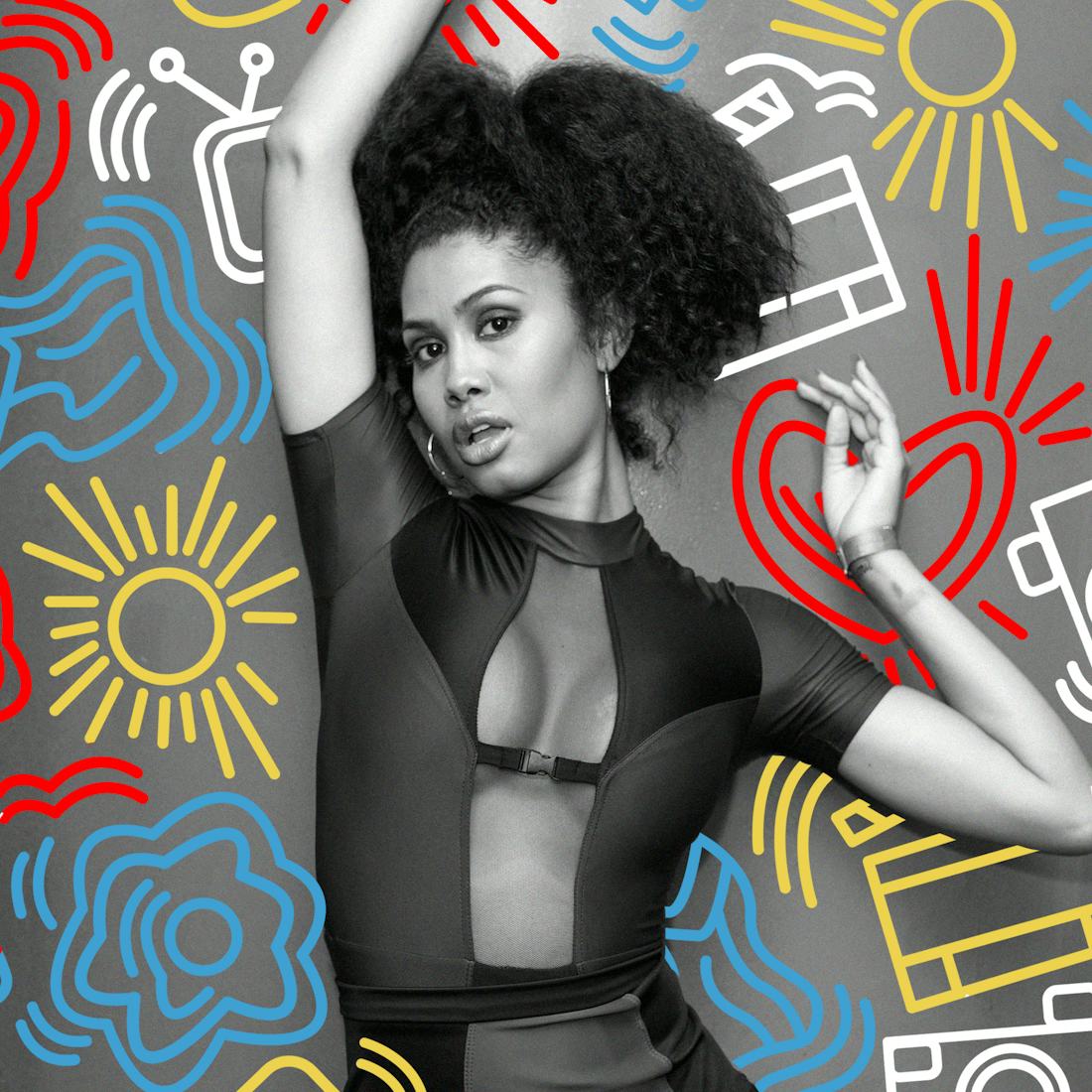 Presley Ann/Getty Images
In her first appearance in Port Authority, Leyna Bloom sits upright in a folding chair, legs crossed, eyes fixed on the vogue battle in front of her. Even in this simple scene, Bloom appears almost regal, effortlessly commanding the screen. You'd think she was born to pose — and you'd be right.
Port Authority is Bloom's first feature film, but she's already a seasoned model. The first openly trans woman of color to walk the Paris Fashion Week runway, she's landed spreads for Sports Illustrated and Vogue India, and appeared in Boy Smells' Pride campaign benefiting The Trevor Project. And she's not done yet. With her movie finally hitting theaters after first premiering at the the Cannes Film Festival in 2019, the future is looking bright. "When the pandemic hit, I thought that was the end of Port Authority. But we live again," Bloom tells Bustle. "Queer and trans bodies are getting this time to be celebrated, especially around Pride season. It's time to wake things up, and I think this film will do that."
In Bloom's own words, Port Authority is about "being young and not knowing it all, but still choosing to be yourself and fighting for your own happiness." Directed by Danielle Lessovitz, the film follows Paul, a 20-year-old fresh off the bus to New York City. Played by Fionn Whitehead, Paul stumbles his way into the queer ballroom scene, where he sees Bloom's character Wye, sitting in that folding chair. She's a sweet yet resilient young woman, who serves as the house mother for her drag ball family. Despite objections from their respective chosen families, Paul and Wye fall in love, like Shakespearean star-crossed lovers. The only difference is that no one dies.
One of things that makes Port Authority so special is that it doesn't tokenize the experience of queer and trans bodies. Often, LGBTQ+ people are portrayed as tragic characters, but Port Authority offers instead a quiet, thoughtful tale of young love. "I know I live in a world where I need to fight for myself every second, but in that fight I also need to find happiness." Bloom says. "I need to find love, and family, and my crew of people. And that's what this film is about."
It's also about finding love with someone of another race, which "the world is still uncomfortable with," Bloom says, adding that "a lot of the interview questions I've been getting are framed as a white boy dating a Black girl ... and my answer is that it's love. Love comes in all different colors, across all races." Bloom's mother is Filipina and her father is Black. "I'm a product of interracial dating, and for me, the most important thing about that is the love between two people," she reiterates.
Ballroom has always been a place where I have been allowed to not worry. I was allowed to just live.
Bloom drew from iconic characters to create Wye, like Mathilda from Léon: The Professional and Leeloo from The Fifth Element. But she also put a lot of herself into the role. As a real-life house mother who started competing in drag balls at 15 years old, Bloom finds solace and safety in the ballroom scene. Though the culture is rooted in competition, she truly believes it's a community where everyone has each other's back.
"Ballroom has always been a place where I have been allowed to not worry. I was allowed to just live," Bloom says. "In my everyday life I'm worried about myself and I'm worried about my sisters. Ballroom is a place where you can get help, and be around people who are also seeking help. And we're seeking help together, because we help each other."
Get to know more about Bloom, including where she sees herself in 2037, in this Q&A.
Leyna Bloom Q&A
What advice would you give to your 16-year-old self?
Take your hormones, and don't stop until you feel complete.
Where do you see yourself 16 years from now?
Being the principal of a high school.
What are your proudest moments as a member of the LGBTQ+ community?
Not giving up on myself every step of the way.
Where and how are you celebrating Pride in 2021?
I will be getting up every day, and living my truth 24/7, but not just because Pride said so. It just comes with the territory since the day I was born.
Who inspires you in the LGBTQ+ community?
I'm inspired by people who stand their ground and know what they want, and don't rely on anyone else to dictate their reality.
What are you currently working on?
I'm promoting positive mental health, and following whatever you want in this world. That's the most important thing to me — and being myself with whatever I'm doing.
Which LGBTQ+ entertainers do you want to collaborate with?
I would love to do a rap album with Vachensky Vieux. We played sisters in the same house on Pose.
What songs will you be jamming out to this Pride?
Sade is always a vibe. I'll also be listening to a lot of Jamaican music, and anything earthy and tribal.
This interview has been edited and condensed. Port Authority is available in select theaters May 28 and On Demand and Digital June 1.