Britney Spears Included Justin Timberlake In Her Birthday Post For Jamie Lynn
"It's weird to say that I was basically your momma when you were younger."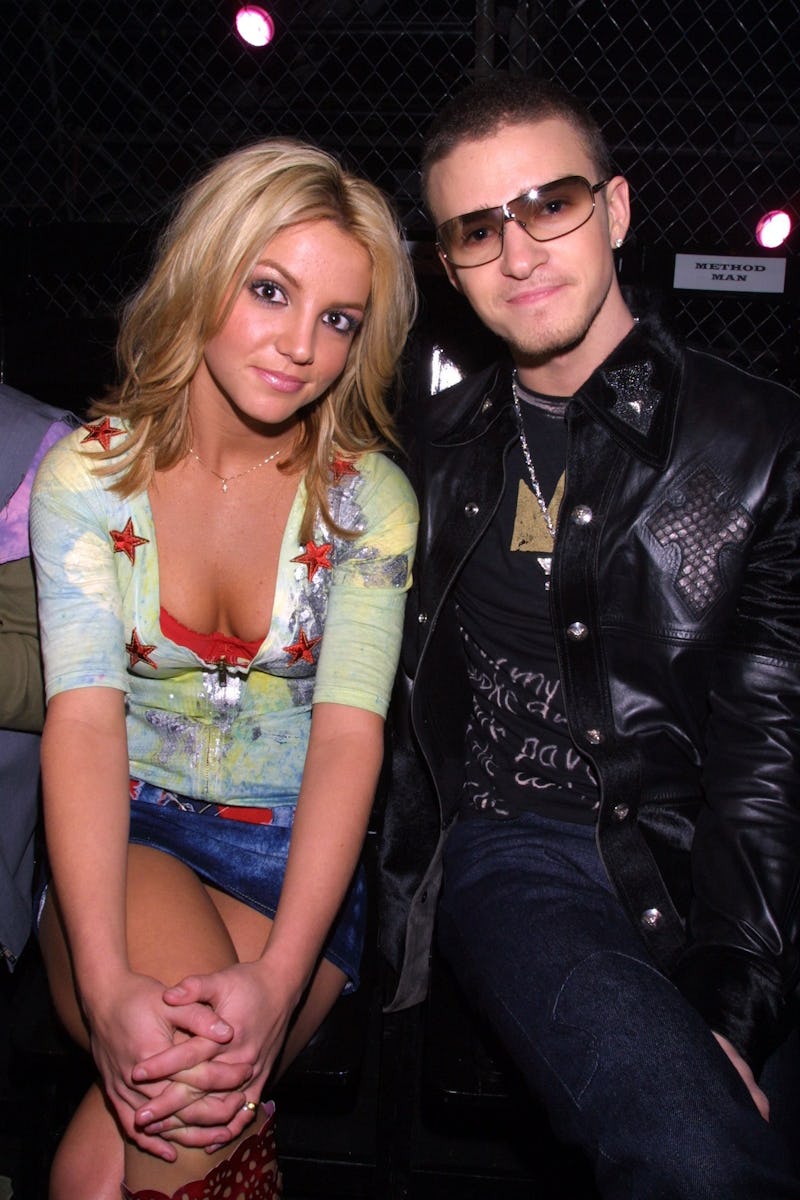 KMazur/WireImage/Getty Images
No hard feelings? While belatedly celebrating sister Jamie Lynn Spears' 30th birthday, Britney Spears chose a photo with Justin Timberlake to accompany her heartfelt April 9 Instagram tribute. The image, which also includes Natalie Portman, was taken at Britney's November 2001 album release party in New York City and showed all three laughing with a then-10-year-old Jamie Lynn.
The elder Spears began her loving message about "beautiful soul" Jamie Lynn, whose birthday is April 4, writing that she wishes she were as smart as her little sis at 30. "It's weird to say that I was basically your momma when you were younger and yes I'm still older but your soul is and always has been wise !!!!" Britney captioned the post, in part. "I'm truly and genuinely inspired by your path and the life you have created for your beautiful children and I'm so f*cking proud to call someone as beautiful inside as you my sister !!!!"
Britney went on to applaud Jamie Lynn's strength, remembering how they "play wrestled" at home, joking that they are "such classy Southern chicks." She also recalled her younger sister putting her on the floor "in literally two seconds," and even suggested they have a rematch. "I wish I was as strong as you," Britney added. (Jamie Lynn responded with several emojis, including pink hearts, a baby chick, and the infinity symbol, among others.)
In December 2019, Jamie Lynn shared the same photo on Instagram, tagging Portman and her sister, but not Timberlake. Even so, she, perhaps jokingly, referred to Timberlake as a father figure as recently as January, per People. After Nylon shared a throwback photo of Britney and Timberlake's iconic matching denim outfits at the 2001 American Music Awards, Jamie Lynn commented, "My parents. Divorce is hard."
Britney's post comes on the heels of the February Framing Britney Spears documentary, which prompted Timberlake to apologize for his post-breakup comments and behavior. "I understand that I fell short in these moments and in many others and benefited from a system that condones misogyny and racism," Timberlake wrote on Instagram in February. "I specifically want to apologize to Britney Spears and Janet Jackson both individually, because I care for and respect these women and I know I failed."
Jamie Lynn, for her part, also seemingly reacted to Framing Britney Spears in February. "Dear media, try not to repeat the mistakes of your past. Look where that got us. Do better," she wrote on her Instagram story. More recently, Britney revealed that she didn't watch the whole doc, though she felt "embarrassed" and "cried for two weeks" after its release.
This is hardly the first time Britney has mentioned Timberlake on social media. In January, for example, she tagged her ex in an Instagram video of herself dancing to Jay-Z's "Holy Grail," which features the singer. Last April, she posted another dance video to Timberlake's 2018 track, "Filthy," per Billboard.
As has become the trend with Britney's social media posts, fans have certainly been trying to decode why she included Timberlake in her post for Jamie Lynn. What needs no deciphering, however, is how much she seems to love her little sister.