Britney Spears Reassured Fans She's "Totally Fine" In An Instagram Video
A fan asked about the pop star's well-being during an IG Q&A.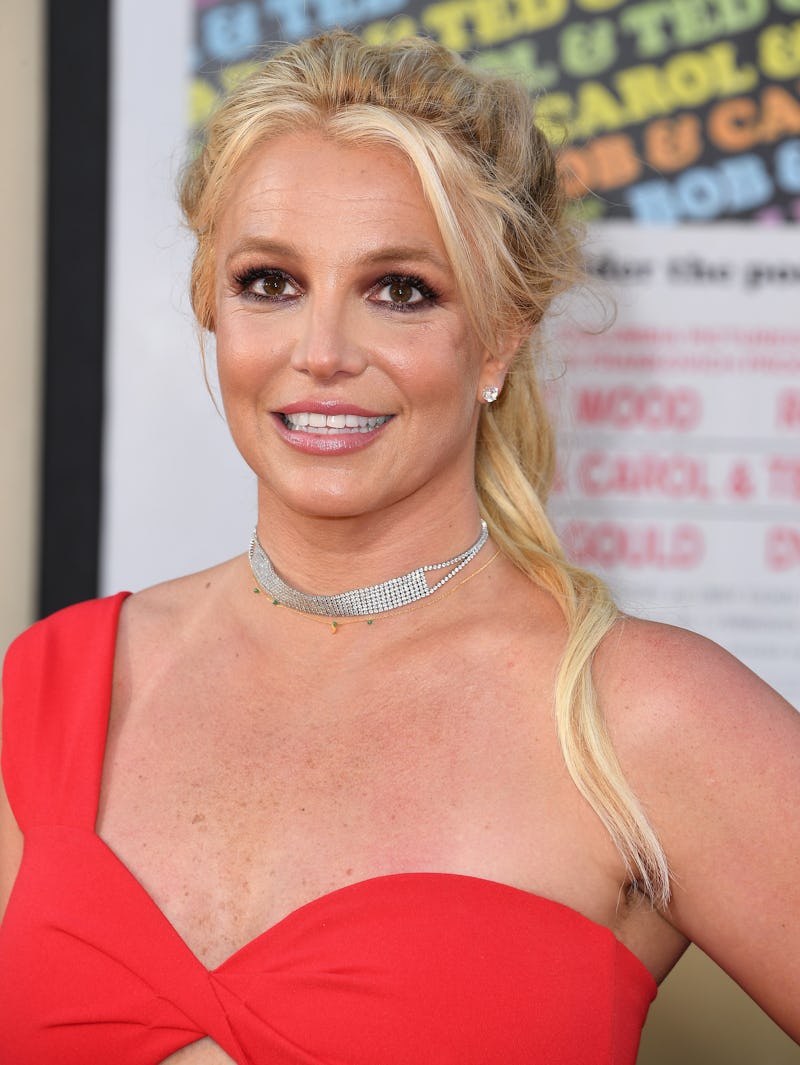 Steve Granitz/WireImage/Getty Images
While answering a series of fan questions in a Friday, April 16 Instagram video, Britney Spears assured her followers she's doing well. Despite Spears having previously insisted she was "fine" and "the happiest [she's] ever been" in a similar Instagram post last November, the #FreeBritney movement has gained attention following the Feb. 5 release of the New York Times Presents documentary Framing Britney Spears. Therefore, it was not a surprise when the pop star encountered a fan question about her well-being in the Q&A.
"The next question is, 'Am I OK?'" Spears said toward the end of the new post. "Yes, I'm totally fine. I'm extremely happy, I have a beautiful home, beautiful children. I'm taking a break right now because I'm enjoying myself."
Before answering the question that had been on everybody's minds, Spears also addressed some lighter topics. First, she responded to whether or not she gets dizzy when she films her Instagram dance videos in which she repeatedly spins in circles. "Yes, I get extremely dizzy but I'm a dancer, so as long as I have a focus point for my head as I turn, as long as I keep finding that spot, usually in the end it's not as bad," she shared.
Spears' video also explained the meaning of the red refrigerator photo she posted on March 24 that she'd simply captioned, "RED," along with various emojis in the color, including lips, a strawberry, an apple, a tomato, a balloon, and several exclamation points. Commenters had assumed she was attempting to send a hidden message, but she put that speculation to rest. "Honestly, I just thought it was cool," Spears insisted. "I thought it was vintage, it was red, and just really cool."
Of course, that wasn't the first time Spears' followers and #FreeBritney activists attempted to read into believed secret codes in her various Instagram posts or suggest she isn't the one writing them, especially given that she's still under a controversial conservatorship. However, as her social media manager, Cassie Petrey, insisted in a Feb. 2 post, Spears "creates her own posts and writes her own captions for Instagram" in addition to handpicking "the google images, pinterest images, quotes, memes, and everything else" that appear in the singer's feed.
"She has stated many times that she creates the posts, but people continue to believe conspiracy theories over what Britney says over and over again," Petrey wrote in a lengthy upload. "Britney is not 'asking for help' or leaving secret messages in her social media. She is literally just living her life and trying to have fun on instagram."
In her latest Instagram caption, the mom to Jayden James, 14, and Sean Preston, 15 (with ex-husband Kevin Federline), explained that she'd shot the new video on April 15 before she "went to Malibu randomly" in boyfriend Sam Asghari's brown blazer "to stay in disguise." Despite her best efforts, however, she said that "the paps" still found her during the outing. She then concluded on a positive note, telling followers that she's "so excited for summer" and asking what they've been up to.
Regardless of any reassurances, though, Spears' concerned fans will more than likely continue to keep a close eye on her social media posts.