Framing Britney Spears Could Lead To Conservatorship Law Changes
At least three bills have already been introduced in California since the documentary's release.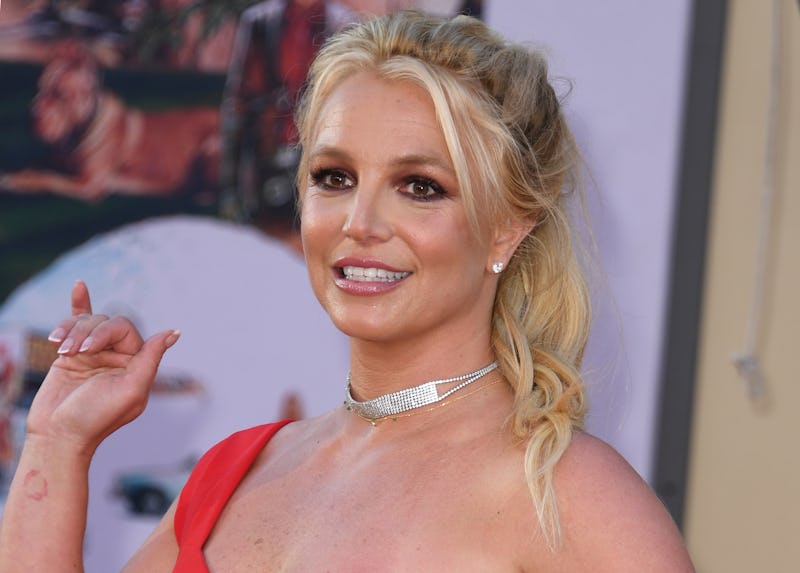 VALERIE MACON/AFP/Getty Images
The #FreeBritney movement keeps picking up steam, especially after a popular New York Times Presents documentary examined Britney Spears' conservatorship. To date, Framing Britney Spears has already inspired three bills aimed at changing conservatorship laws in California, as the Los Angeles Times reports. They look to curb possible abuse in different ways, from adding required financial training to increasing the frequency of court reviews.
Although Spears herself has not directly responded to Framing Britney Spears, the documentary has drastically increased awareness of the controversial conservatorship she's been under since 2008. After it premiered on Feb. 5, fans and celebrities alike reacted, with many worrying that the complex legal situation has given the pop star's father, Jamie Spears, too much decision-making power over her personal life, finances, and career. (His attorney Vivian L. Thoreen — who, incidentally, appeared in Framing Britney Spears — has said that "people have it so wrong here" and "Jamie serves as Britney's conservator because he loves her.") Spears has taken the issue to court, most recently petitioning to replace Jamie as her personal conservator on March 25, per USA Today; she hopes to have state-appointed conservator Jodi Montgomery take over after stepping in temporarily in September 2019 while Jamie dealt with health problems.
For three California state lawmakers, the documentary shined a light on some areas that could use reform. Assemblyman Evan Low (D, San Jose) and state Senators Ben Allen (D, Santa Monica) and John Laird (D, Santa Cruz) were inspired to introduce the following new items of legislation related to conservatorship:
Assembly Bill 1194
Introduced by Low, who told the LA Times the system "does not always protect individuals like [Spears]," this bill calls for various changes, notably ones that could potentially prevent some cases of financial abuse. For example, it proposes 10 hours of training on financial matters for conservators who are not licensed professionals and oversee estates valued at $1 million or more. There would also be punishments for conservators who don't act in their client's best interests, among other reforms.
Senate Bill 724
Allen's bill aims to give the person under conservatorship more say in their legal representation. Currently, the court appoints a public defender or private counsel for a conservatee when they are "unable to retain legal counsel," and the goal is for their attorney preferences to be taken into account.
Senate Bill 602
Laird has introduced a bill that would give courts the option to increase the frequency of conservatorship reviews, which are meant to determine if the conservator is acting in the conservatee's best interests. Currently, reviews happen six months after the initial appointment, again at the year mark, and then the court can set the next one for two years later. The proposed change is to have the option to shorten the latter gap to 18 months.
The bills are currently at various stages in the legislative process, so elements could still be amended or they could be discarded entirely. In the meantime, caregiver services attorney Bertha Sanchez Hayden told the LA Times that she doesn't want people to assume all conservatorships are bad, as the system is necessary for many people. She noted that conservators do not just control finances but are also responsible for duties such as "ensuring a person has suitable housing or is able to go to the doctor."
As for Spears' case, it's clear the public will continue to watch it with interest and keep up on #FreeBritney developments.