Britney Spears Shared More BTS Photos & Video From Her "Fairytale" Wedding
Despite an early panic attack, the singer had the "most spectacular day."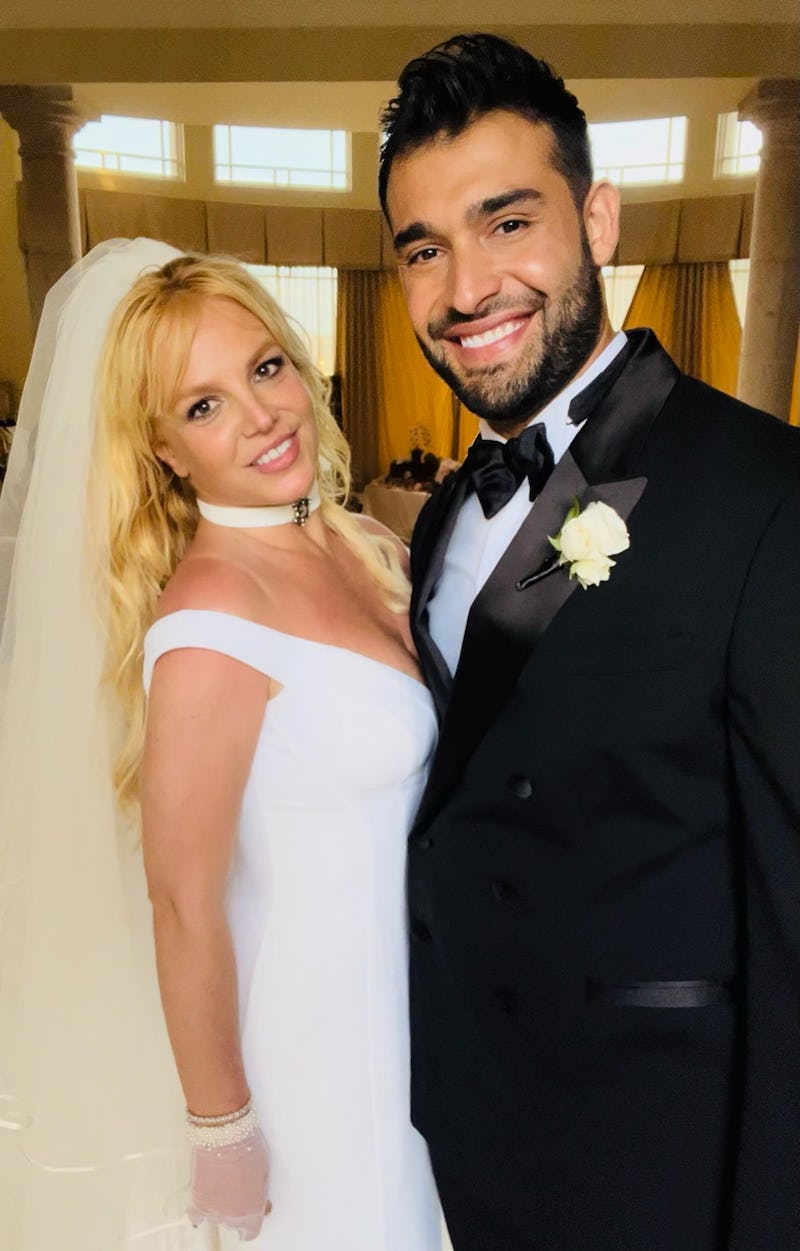 Kevin Ostajewski/Shutterstock
From a horse-drawn carriage to a romantic balcony kiss, Britney Spears' wedding to Sam Asghari was truly fit for the pop princess. "Fairytales are real," the singer aptly captioned a stunning June 10 behind-the-scenes wedding video montage on Instagram. In the 44-second clip, which was set to the Haley Reinhart cover of Elvis Presley's "Can't Help Falling in Love" — the song Spears walked down the aisle to — the bride gave fans an intimate glimpse at her special day, including everything from getting ready in her Donatella Versace-designed wedding dress to riding off into the sunset with her groom in white Rolls Royce adorned with a "Just Married" sign.
"Out of a movie," Asghari, who later shared the same Instagram video, commented, adding a red heart emoji. Meanwhile, wedding guest Paris Hilton replied, "Such a magical evening. So happy you found your fairytale ending. You deserve all the love and happiness in the world. So happy to be there to celebrate with you on your special day. Love you sis."
Hours earlier, Hilton was among the "many incredible people" Spears said made the Los Angeles celebration so special, including "girl crush" Drew Barrymore and Selena Gomez, who, she remarked, is "way prettier in person if that's possible." After also writing that she kissed Madonna again and thanking Versace for helping her feel "so beautiful," the Grammy winner joked that they "all fell on the dance floor at least 2 times," adding, "I mean come on … we were all VOGUING !!!" Gomez was among the commenters, writing, "Love you!!!" to the singer.
That's not to say the entire day was sunshine and rainbows, though. "I was so nervous all morning but then at 2:00 pm it really hit me … WE'RE GETTING MARRIED," Spears added in the caption, explaining that she "had a panic attack and then got it together." The crew was able to turn the musician's home into "literally a dream castle," though, and the "ceremony was a dream and the party was even better," she added, calling June 9 "the most spectacular day." Spears ended the post with a simple, all-caps message to her new husband: "I LOVE YOU !!!"
Before the magical evening, which was attended by 60 guests, began, however, an uninvited wedding crasher almost derailed the special occasion. Spears' childhood friend, Jason Alexander — whom she was married to for 55 hours in 2004 — bypassed security, entered her home, and reportedly yelled out, "Britney Spears invited me here. She's my first wife, my only wife. I'm her first husband. I'm here to crash the wedding." Hours before the ceremony, he was arrested on trespassing, vandalism, and battery charges, and the couple attained a restraining order against him.
"Fortunately, Alexander is incarcerated and under an emergency protective order," Spears' attorney Matthew Rosengart told Yahoo Entertainment on June 10, noting that he is personally looking "forward to working with law enforcement to ensure Alexander is aggressively prosecuted and hopefully convicted, as he should be."
Either way, Spears already found her "happily ever after."