Britney Has Been Granted A Restraining Order Against Her Ex-Husband
Jason Alexander tried to gatecrash the singer's wedding to Sam Asghari.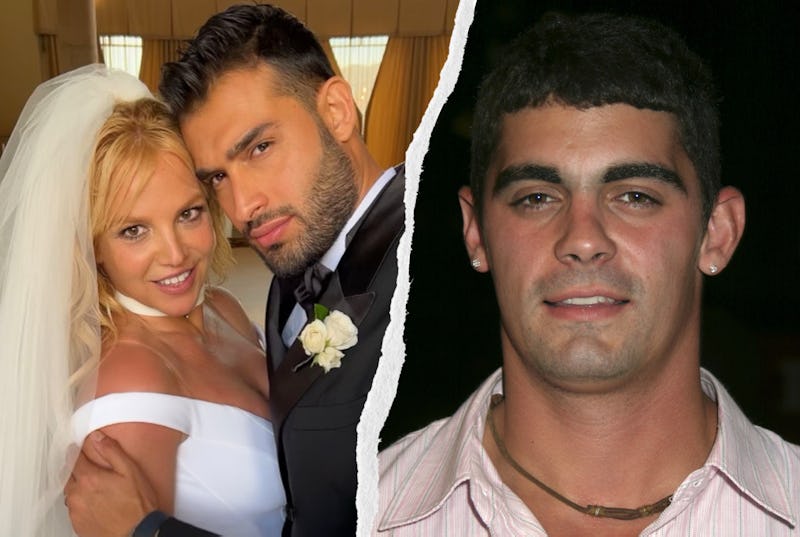 Kevin Ostajewski/Shutterstock/Getty Images
Following a nine-month engagement, long-term couple Britney Spears and Sam Asghari tied the knot on June 9. But the joyful and intimate ceremony didn't go without a bit of drama. Just hours before she walked down the aisle, the singer's ex-husband, Jason Alexander, reportedly broke into her home in an attempt to gatecrash the wedding. Spears has now been granted a restraining order against him.
Spears and Alexander were briefly married in 2004 — for just 55 hours — before the marriage was annulled. Alexander live-streamed himself entering the singer's home. He could be heard saying, "She's my first wife, she's my only wife."
He claimed that he was invited, but was later arrested for reportedly refusing to leave the property, as well as alleged battery, vandalism, and trespassing. Speaking to TMZ, Spears' attorney and wedding guest Mathew Rosengart said that he was "absolutely livid" about Alexander's appearance. He confirmed that Spears is safe, adding that he is "personally working with the sheriff's department to ensure Mr. Alexander is aggressively prosecuted to the fullest extent of the law."
Following this legal pursuit, Spears has now obtained a three-year restraining order against Alexander. This order means that he is forbidden from contacting her in any way. On top of this, a judge also gave Alexander a felony stalking charge at the arraignment. Bustle has reached out to Spears' team for comment.
Alexander's bail was set at $100,000 and Alexander was ordered to surrender any firearms he may have possessed. Spears's lawyer Matthew Rosengart thanked the Ventura County Sheriff's Office and District Attorney for taking the matter "very, very seriously" in an interview with TMZ. He added that he was "outraged by what happened."
Meanwhile, Asghari's representative Brandon Cohen confirmed the couple's happy nuptials following their at-home ceremony. "I am very ecstatic this day has come, and they are married," Cold told the Associated Press. "I know he wanted this for so long. He is so caring and supportive every step of the way."
A source told PEOPLE that the 40-year-old pop star and 28-year-old fitness trainer hosted an intimate ceremony with around 60 of their closest friends and family members in tow. However, TMZ reports that the number was closer to 100 guests. Spears' father Jamie, mother Lynne, and sister Jamie Lynn were reportedly not present at the ceremony, but her brother Bryan was in attendance.
Other guests included Drew Barrymore, Paris Hilton, her mother Kathy Hilton, and Madonna. Spears' sons Sean, 16, and Jayden, 15, whom she shares with ex-husband Kevin Federline, were not seen at the ceremony. Mark Vincent Kaplan, Federline's attorney, confirmed that the boys were not present: "[Preston and Jayden] are happy for their mom and they are hopeful that Sam and Britney are starting a great future together," he said. "It's their night and they didn't want to take away from them."
As previously hinted by the bride, Spears walked down the aisle in a gown designed by luxury fashion house Versace. These rumours surfaced again in March 2022 when designer Donatella Versace visited the couple at Spears' home, which the singer documented on Instagram. "Look who came to visit," she wrote. "These 2 bad b*tches are up to no good." Spears gave fans a sneak peek at her wedding veil on Instagram in May, while also introducing followers to her new cat Wendy.
Speaking exclusively to Access Hollywood from her car as she arrived at the ceremony, Versace said that designing the "Baby One More Time" singer's dress for the big day involved "a lot of fun, a lot of emotion." The designer was all smiles as she talked about the couple, saying "I wish them the best, they're amazing together. I'm so happy for them."
The wedding comes nine months after the couple got engaged in September 2021. Spears announced that Asghari popped the question in an Instagram video of her showing off the custom diamond ring he designed for his fiancée. "I can't f*cking believe it!!!!!" she captioned the post.
Spears first met Asghari on the set of her 2016 "Slumber Party" music video, in which he played her hunky love interest. The couple went Instagram-official on New Year's Day after Spears shared a sweet photo of the model with his arm wrapped around her at dinner. In a January 2017 interview, Spears revealed that she made the first move after bonding with him on set. "I found his number in my bag," she said. "I was like, 'He is really cute, this guy is really cute.' So I called him and ever since then, he is just a really fun, funny person."
This article was originally published on