Cardi B's Vacation Video Capturing A Sinking Yacht Is A Wild Ride
"It's sinking! Y'all see that?!"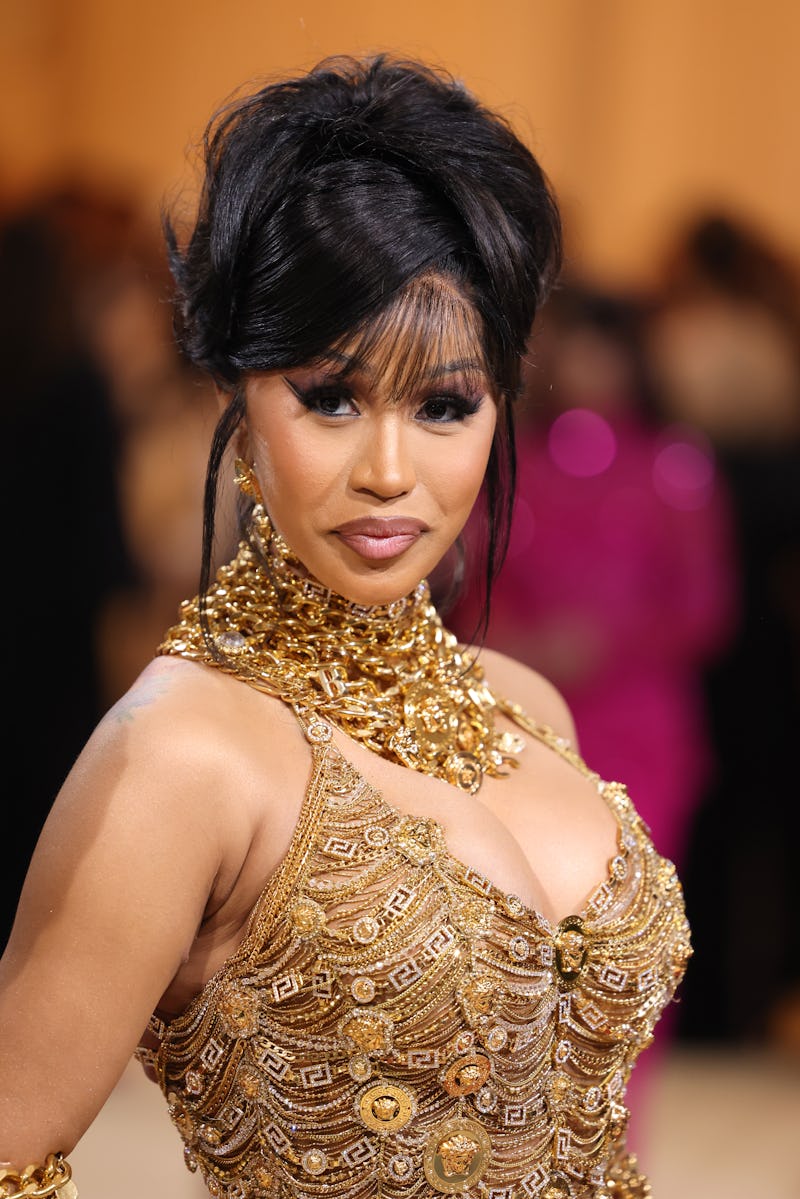 John Shearer/Getty Images Entertainment/Getty Images
Is there ever a dull moment with Cardi B? The rapper was recently taking in her oceanfront view during her vacation with husband Offset when a yacht in the water suddenly started to sink. Naturally, she kept filming and shared the footage — complete with her bewildered response — on social media.
"I can't believe I'm actually watching a yacht sink," Cardi wrote on Twitter alongside the video. And no, that was not an exaggeration. The footage showed the boat slowly going under, all while Cardi unleashed hilarious real-time reactions.
"It's sinking!" she exclaimed. "A whole mother*ck— … it's sinking! Y'all see that?! Y'all see that?! Oh my god!" As she watched it go down (literally), Cardi also pondered whether or not there was a way to stop it, saying, "They can't do nothing about that? There ain't no big boat that can save it?"
The answer, unfortunately, was no. "It is gone!" Cardi announced as she continued to watch. "It is gone! Bye bye! Bye!" From there, she continued to express her shock, and it got to the point that she was just screaming as she watched.
Of course, it's important to note that it didn't appear to be a dangerous situation for anyone. "A whole yacht sinked [sic] in front our face," Cardi wrote in an Instagram story. "Luckily no one was in there."
Her followers were just as stunned as she was, but some of them couldn't resist cracking jokes about the incident. Noticing a man on a surfboard behind the yacht, one person wrote, "dude's just vibing on his surfboard, watching it sink like he's Rose on that broken door watching the Titanic sink." Another wrote, "Imagine watching your multi-million dollar yacht sink as you tread water away from it and from the f*cking shoreline you hear Cardi B's voice screaming 'ITS SINKING OH MY GOD.'" Meanwhile, another fan came up with something of a mashup of the two situations: scenes from the movie Titanic with Cardi's commentary added. The Grammy winner was so entertained that she quote-tweeted the clip, writing, "You know what."
While there were some Twitter users who seemed to think there was more she could have done than record and react, others shut them down. "Yall Cardi is 5'3 what can she do," one tweeted. Yet another fan pointed out that "she's not Aquaman."
After the bizarre incident, it appears the "No Love" singer was able to return to her regularly scheduled vacation programming. Cardi's next tweet came many hours later and suggested she was back in relaxation mode. "Y'all drinking early or waiting til later on tonight to DRANK ?" she wrote, alongside various cocktail emojis. Bye bye, yacht.