Carly From Too Hot To Handle Is Used To Being On Camera
Get to know the self-proclaimed party girl from Canada.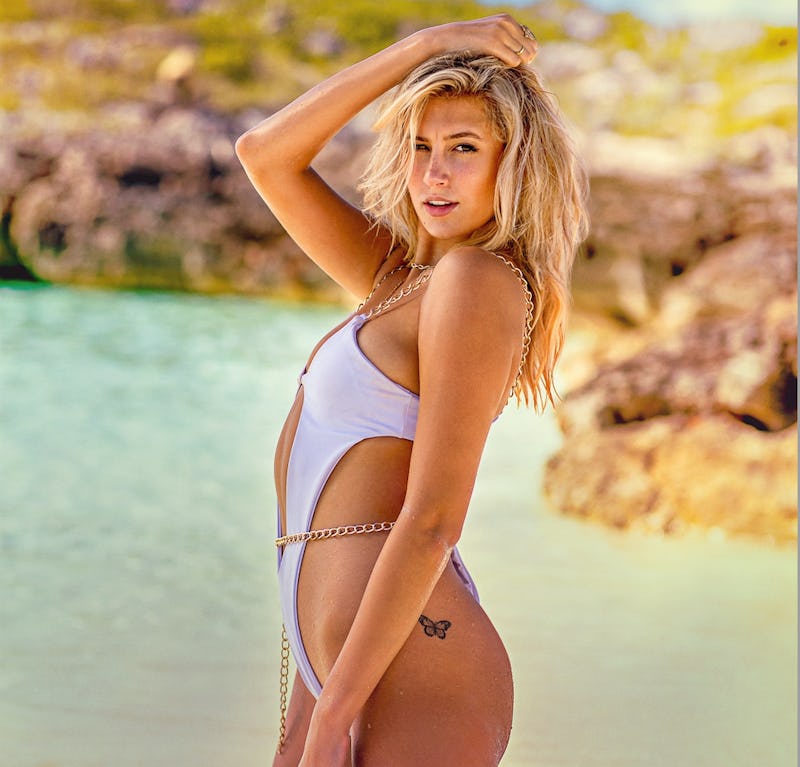 Netflix
When Too Hot to Handle premiered in April 2020, the world was just beginning to settle into what would become a very long year of being stuck inside. Watching the Netflix reality series felt both torturous and a little vindicating: yes, the show follows a bunch of sexy singles corralled in a tropical villa together, but — like many of us watching from home alone at the time — they were forbidden from partaking in any intimate or sexual activity, or else money from their $100,000 prize fund would be deducted.
When the show returns for Season 2 on June 23, it will be a much different experience. As we gear up for one of the most anticipated and potentially horniest summers in recent memory, we'll be dealing with similar senses of urgency and pent-up frustration — though hopefully it won't be as outrageous as what goes down in the Too Hot villa. One contestant who sounds like she'll have a hard time keeping her temptation at bay this time around? Carly Lawrence. Here's what to know about the 24-year-old ahead of the new season.
Carly Is From Canada
Carly hails from the Great White North, following in the footsteps of last season's Francesca Farago. Whether or not Carly will be better at keeping her hands to herself remains to be seen, though the Torontonian seems to be right at home in a party atmosphere.
Carly Is Used To Being In Front Of The Camera
Though many of the most recent photos on Carly's Instagram are selfies, if you scroll back a little further you can get a good sense of her modeling background (she also used to be a competitive dancer). There are several modeling pics from around 2019 and even a few of her posing in what looks like a series of wedding dresses in 2015, though it's unclear if she was ever married or if it was just for a shoot.
Carly has also worked with Hayley Elsaesser, a Toronto-based fashion brand known for their bold prints and bright colors. Spending so much time in front of the camera should have helped prime Carly to be filmed 24/7 on reality TV, and given that her feed is filled with photo after photo of sultry poses and beach-ready swimsuits, she should also be at ease on a series that films in Turks and Caicos.
Carly Doesn't Like Following Rules
According to her bio via People Magazine, Carly "hates being told what to do," which doesn't bode well for winning a show premised upon following rules. Adding further fuel to the fire? Carly's bio describes her as a "man-eater" who "has no interest in finding her perfect partner." Too Hot to Handle's aim may be to help contestants find meaningful connections, but it sounds like Carly is more intent on having fun than catching feelings: in the Season 2 trailer, she can be heard saying, "Usually what I look for in a guy is a one-night hangout." That all goes against the point of Too Hot, but will certainly make for good television.