Cassie Randolph Didn't Know About Colton Underwood's Coming Out Interview Before It Aired
She's reportedly "still processing."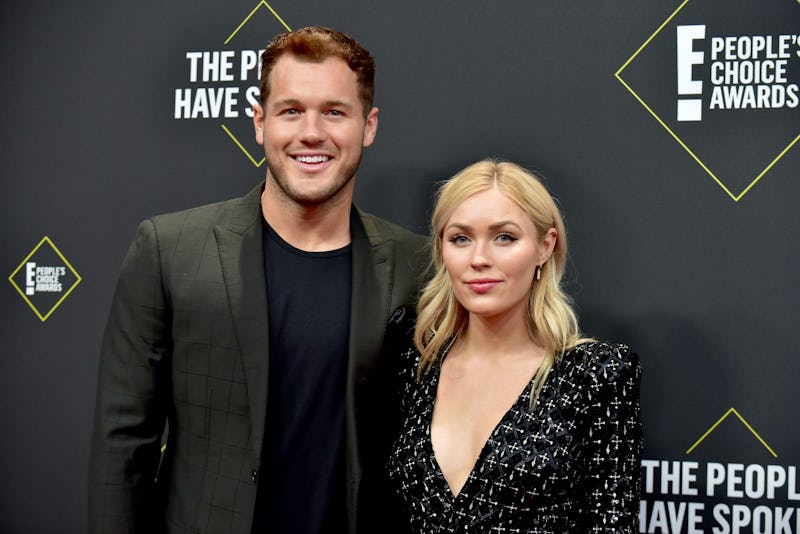 Rodin Eckenroth/WireImage/Getty Images
Season 23 Bachelor winner Cassie Randolph is still working out her feelings after Colton Underwood came out as gay on national TV. The 29-year-old former football player made the announcement on Wednesday, April 14, in an emotional interview with Robin Roberts on Good Morning America. But according to Us Weekly, his ex-girlfriend had no idea that he was planning on coming out how and when he did.
"She was not made aware in advance that he was going to be on GMA doing a tell-all," an insider told the magazine. "To be honest, she hasn't really had time to navigate how she feels about it yet." Other members of Bachelor Nation quickly showed support for the show's former lead. Chris Harrison, who recently stepped back from his Bachelor hosting duties amid a racism scandal, shared a message for the reality star on Instagram. "Very proud of you today," the host wrote. "Happy to see you stand up and openly live your truth. You have my love and support my friend."
Several Bachelor Nation alums, including Tayshia Adams, Blake Horstmann, Hannah Godwin, Demi Burnett, and Onyeka Ehie, also shared messages of support after the interview. However, per Us Weekly's source, Randolph is "still processing" the unexpected announcement, which came nearly a year after the exes called it quits in May 2020. "Sometimes people are just meant to be friends — and that's okay," Underwood wrote on Instagram at the time. "We both have grown immensely and been through so much together — so this isn't the end of our story, it's the start of a whole new chapter for us."
Despite reportedly not being aware that the interview was happening, Randolph was still granted a sincere apology during the tell-all. After admitting that he "made a lot of bad choices" when it came to their relationship — some of which caused Randolph to file a restraining order against him — the reality star said that he truly loved her. "I loved everything about her. And that only made it harder and more confusing for me," he said. "I'm sorry for the pain and emotional stress I caused. I wish it wouldn't have happened the way it did. I wish that I would have been courageous enough to fix myself before I broke anybody else."
Underwood's apology to his ex came after an even broader apology to all 30 of the women he led on during his season of the hit reality series. "Do I regret being the Bachelor and do I regret handling it the way I did? I do," he admitted. "I do think I could have handled it better. I just wish I wouldn't have dragged people into my own mess of figuring out who I was, I genuinely mean that."
The former Bachelor's "journey" wasn't an easy one. But while speaking to Roberts, he admitted that he's known he was "different" since the age of six and struggled to come to terms with his sexuality his whole life. "I couldn't process it and I couldn't put my finger on what it was until high school, my freshman year when I knew I was gay," he said. "By that time, I had already grown up in the Catholic Church, I had gone to Catholic grade school. I had learned in the Bible that [being] gay is a sin."
"I would have rather died than said, 'I'm gay,' and I think that was my wake-up call," the reality star continued. Fortunately, after a very "dark" period in which he experienced thoughts of suicide, Underwood told Roberts that he doesn't feel that way anymore and that he's ready to embrace who he truly is. "The next step in all of this has been letting people know," he said, admitting that he's "still nervous." "I'm emotional, but I'm emotional in such a good, happy, positive way. I'm like the happiest and healthiest I've ever been in my life and that means the world to me."
If you or someone you know is seeking help for LGBTQ+ mental health or safety concerns, call The Trevor Project's 24/7 Lifeline at 866-4-U-TREVOR (866-488-7386). You can also reach out for instant message or text message support via TrevorChat and TrevorText, respectively. For additional resources for trans people, call the Trans Lifeline at 877-565-8860. In an emergency, contact the National Suicide Prevention Lifeline at 1-800-273-TALK (8255), text HOME to the Crisis Text Line at 741741, or call 911.