How Celebrities Celebrated The 2023 Super Bowl
Adele says she was there for Rihanna's halftime show.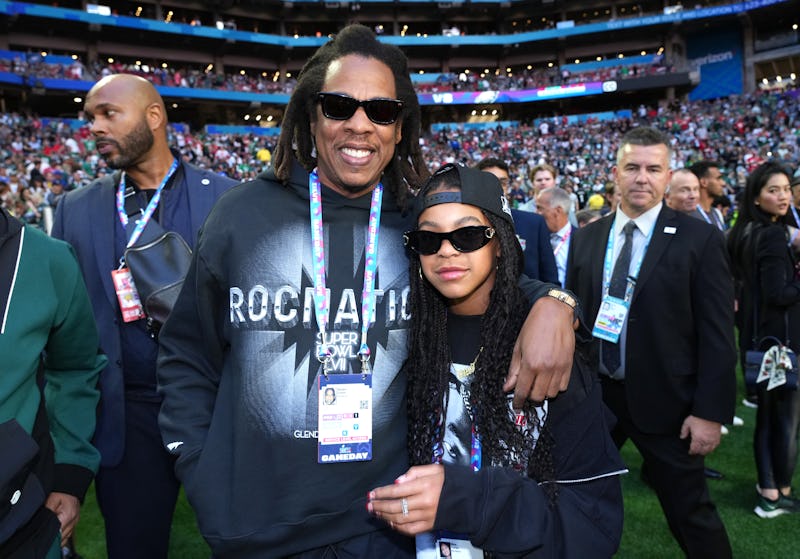 Kevin Mazur/Getty Images Entertainment/Getty Images
Whether they're cheering for their favorite team or just watching for the Rihanna halftime show, celebrities have plenty of reasons to celebrate Super Bowl 2023. Some stars, like H.E.R., Jay-Z (with daughter Blue Ivy), and Adele, are in Arizona to watch the Philadelphia Eagles and Kansas City Chiefs compete for the Lombardi Trophy, while others, like Kerry Washington, got comfy at home awaiting the Rihanna Bowl.
Though Adele was in the house well prior to kickoff, she'd already made clear she had only one motive for attending the annual NFL championship game on Feb. 12. "I'm going just for Rihanna," she told an audience member at her Weekends With Adele Las Vegas residency, adding that she doesn't "give a flying f*ck" about the game itself. Meanwhile, Washington wished starting quarterbacks Jalen Hurts and Patrick Mahomes best of luck "at the Rihanna concert tonight," before tweeting a photo of herself lounging in a T-shirt that read, "Rihanna concert interrupted by a football game, weird but whatever." Cara Delevingne wore the same shirt in the stadium. Janelle Monáe shared a glimpse of her watch party, writing, "We ready [Rihanna]."
Former Super Bowl halftime performer Katy Perry wrote that she was "sending [Rihanna] all the love," adding, "You got this." She wasn't the only halftime show alum to send well wishes either. Earlier, Shakira, who collaborated with Rihanna on 2014's "Can't Remember to Forget You," tweeted, "Remembering good times and wishing you the best vibes for tonight's show, Rih!" When Rihanna finally took the stage to perform her halftime show — and announce her pregnancy — her partner A$AP Rocky was nearby filming the whole thing.
Jay-Z went into "dad mode" and snapped photos of his and Beyoncé's 11-year-old daughter on the field. Blue even posed for a few photos with Lil Uzi Vert.
Other celebrity sightings at the big game included Paul Rudd, Bradley Cooper, Kevin Hart, Questlove, Billie Eilish, LeBron James, and Buffalo Bills safety Damar Hamlin.
More celebrities shared how they were enjoying the big day from home, including Henry Winkler, who showed his Kansas City pride. Blake Lively shared some shots of her game day food — while also confirming she'd given birth to her and Ryan Reynolds' fourth child. And finally, Chrissy Teigen attended a Super Bowl party pool — but admitted she had no idea what she was doing.
It's no surprise that football's biggest game would bring out all the biggest stars, too.