Rihanna Subtly Announced Her Pregnancy At The Super Bowl
The clues were there all along.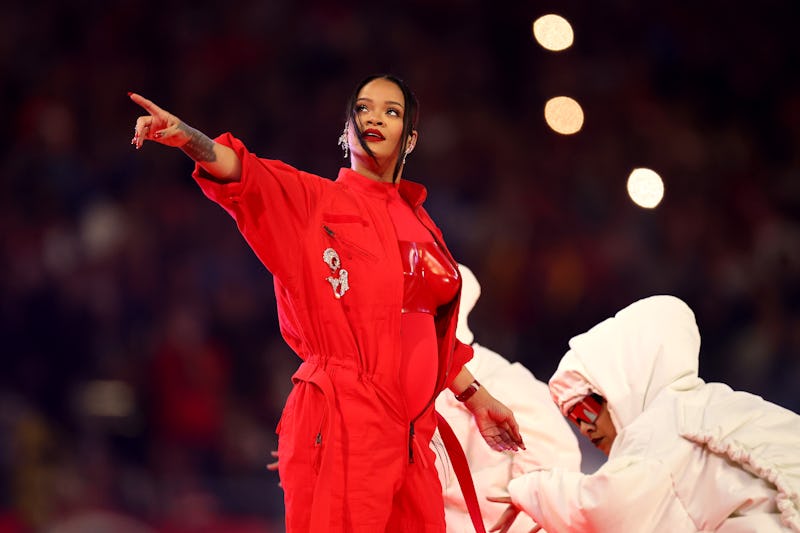 Ezra Shaw/Getty Images Sport/Getty Images
Rihanna is pregnant, a representative confirmed to The Hollywood Reporter on Feb. 12. The news follows fan speculation that started during her Super Bowl halftime performance, in which the "Diamonds" singer rubbed her belly at several points. Many fans were reminded of Beyoncé's pregnancy reveal at the 2011 MTV Video Music Awards, where the musician revealed her own bump after a performance of "Love on Top."
However, it seems that clues about Rihanna's pregnancy were planted even earlier than the big game — and somehow, we all missed it. During an NFL Network interview, Rihanna revealed that she was "thinking about bringing someone" to her performance. Many fans naturally thought Rihanna meant another musician, as she's collaborated with many artists over her career and a surprise cameo (or two) would make sense. But the surprise guest at Rihanna's Super Bowl performance could only be seen in bump form — for now.
The exciting news comes nine months after Rihanna and A$AP Rocky welcomed their first child, a son whose name they have yet to reveal. Being a new mom gave Rihanna pause when deciding to take on the Super Bowl, she revealed at a recent press conference.
"I was like, you sure? Like, I'm three months postpartum, should I be making major decisions like this right now? Like, I might regret this," Rihanna recalled. "But when you become a mom, there's something that just happens when you feel like you can take on the world. You can do anything. And the Super Bowl is one of the biggest stages in the world. So as scary as that was, because I haven't been on stage in seven years, there's something exhilarating about the challenge of it all."
In hindsight, Rihanna's comments about motherhood make the Super Bowl reveal all the more obvious — and exciting. Granted, it may mean fans will have to wait a little bit longer for Rihanna's highly anticipated world tour, which many hoped would be announced after the halftime show. But then again, maybe not! If Rihanna's latest interview is any indication, she's been feeling particularly powerful and ready to "Work" since welcoming her first child.
If you've been keeping up with Rihanna recently, you know that having a large family has been a priority for her. In a 2020 Vogue interview, she shared her hopes to have three or four kids by the time she reached her 40s. A year earlier, she told Extra it was her "dream" to be a mom.