Chadwick Boseman's Wife Shared A Touching Quote From The Late Actor At The SAG Awards
Taylor Simone Ledward accepted yet another award on her late husband's behalf.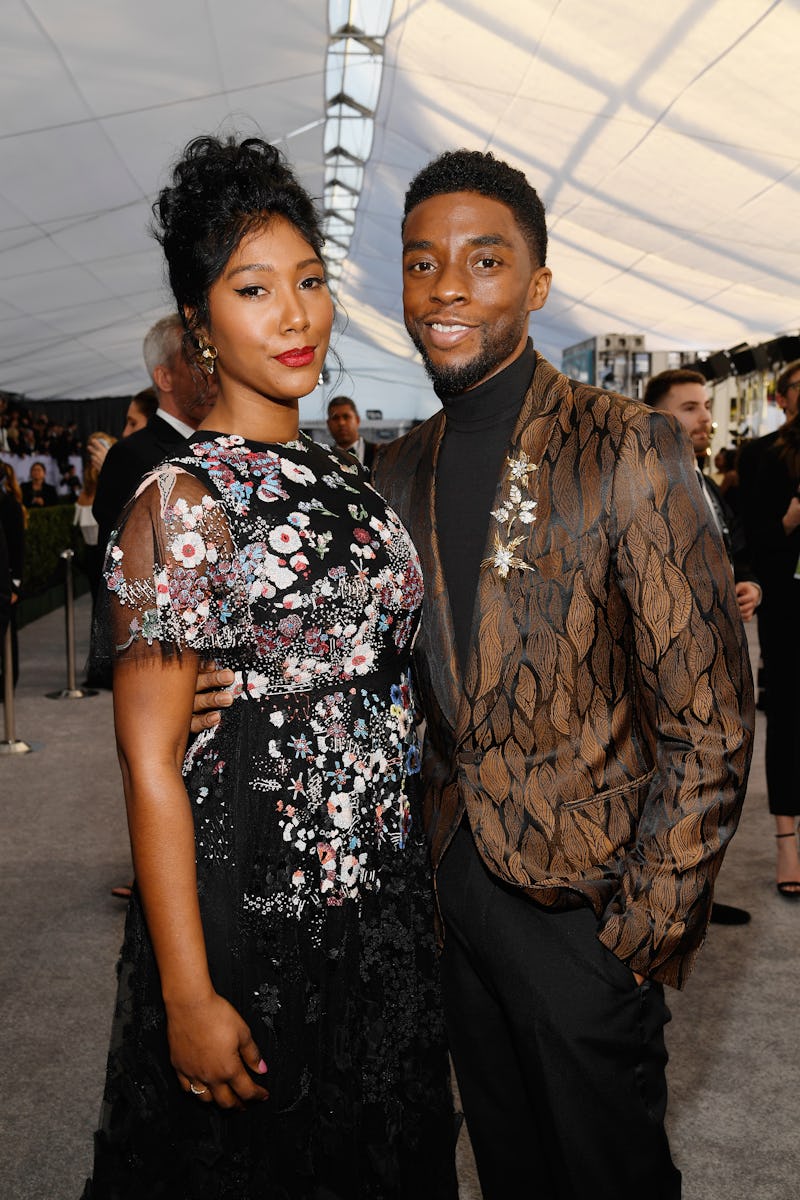 Kevork Djansezian/Getty Images Entertainment/Getty Images
Chadwick Boseman's wife has made many touching tributes to her late husband since his death, and Sunday night's Screen Actors Guild Awards were certainly no exception. While accepting the trophy for Best Actor on Boseman's behalf for his posthumous performance as trumpet player Levee Green in Ma Rainey's Black Bottom, Taylor Simone Ledward shared an inspiring quote from the actor himself; one that will stick with fans of the beloved star for years to come.
"Thank you, God. Thank you Leroy and Carolyn Boseman," the 30-year-old singer began, thanking Boseman's parents first and foremost. And after expressing her gratitude for everyone involved in making the film, Ledward then dropped some wise words from Boseman about changing the world. "If you see the world imbalanced, be a crusader that pushes heavily on the seesaw on the mind," she said. "That's a quote by Chadwick Boseman. Thank you Screen Actors. Thank you, Chad."
Riz Ahmed, Anthony Hopkins, Gary Oldman, and Steven Yeun were also nominated in the Best Actor category, but ultimately lost to the Black Panther star. However, Boseman did not win every award he was nominated for. After losing the Best Supporting Actor trophy to Daniel Kaluuya, the Judas and the Black Messiah star dedicated the award to the late actor. "This one's for Chadwick Boseman," he said. Viola Davis, who starred in Ma Rainey's Black Bottom alongside Boseman, thanked her "beautiful" co-star while accepting the award for outstanding performance by a female actor in a leading role.
Boseman passed away in August 2020 after a secret battle with colon cancer. However, his sickness wasn't the only thing that he kept private. After four years of dating, the actor secretly tied the knot with Ledward after getting engaged in October 2019. And of course, Ledward's SAG Awards tribute was only one of several touching acceptance speeches she gave this awards season on his behalf.
"He would thank God. He would thank his parents. He would thank his ancestors for their guidance and their sacrifices. He would thank his incredible team," Ledward said in February 2021 while accepting Boseman's award for Best Actor in a Motion Picture - Drama at the Golden Globes. "He would say something beautiful, something inspiring, something that would amplify that little voice inside of all of us that tells you, 'You can,' that tells you to keep going, that calls you back to what you are meant to be doing at this moment in history."
A month prior, she delivered another powerful speech at the 2021 Gotham Awards. "He was the most honest person I'd ever met because he didn't just stop at speaking the truth," she said. "He actively searched for it in himself and those around him and in the moment." Ledward also said that the actor was "imperfect but determined." "He realized that when one is able to recognize that when their strength does not come from themself, they rarely mess up," she continued. "That's what he was doing when he was acting. [He] was not merely telling a story or reading lines on a page, but modeling a path to true fulfillment."