Love Is Blind Fans Are Crowning Chelsea The Queen Of Season 4
"She deserves the world."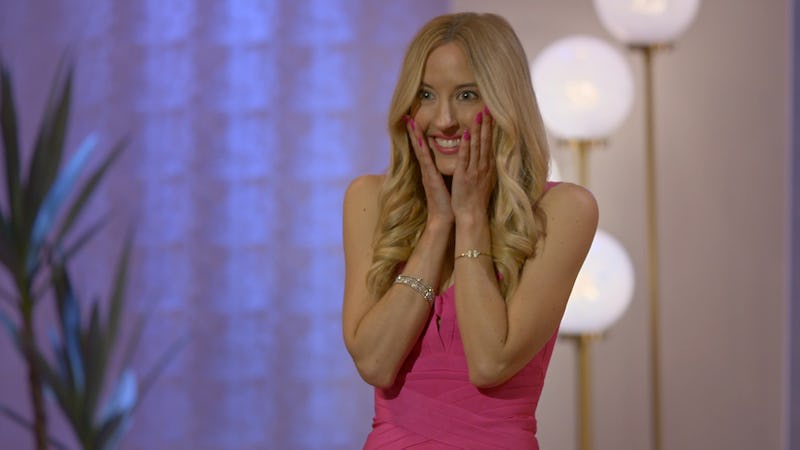 Courtesy of Netflix
Whether describing the woes of single life or calling out her fellow Love Is Blind cast members' behavior, Chelsea Griffin has been Season 4's queen of keeping it real. "I don't come home to anybody," she shared on the Netflix reality series. "Single people have a lot of lonely nights. I constantly FaceTime my friends when I eat dinner every night just so I can share that connection with somebody." Then she met Kwame Appiah in the pods, and an engagement followed soon afterward. "Everything's different now. I get to come home to Kwame," the 31-year-old pediatric speech-language pathologist added. "And that's a whole new feeling for me. I've wanted it for so long."
Though Kwame supported Chelsea bringing her baby blanket on their post-engagement cast trip to Mexico, as well as her unapologetically pink-covered apartment, there were other issues he wasn't so sure about. In later episodes, the 33-year-old sales development manager didn't exactly seem to be on the same page about settling down or becoming a dog dad, expressing his desire for the freedom to travel and uncertainty about relocating from Portland to Seattle. Kwame ultimately felt he was doing a whole lot of compromising and settling. Chelsea's response? "Welcome to marriage."
By that point, Chelsea had already emerged as a fan-favorite in the wake of a love triangle involving Micah Lussier, i.e. the woman Kwame chose first in the pods but who rejected him. Once in Mexico, Kwame seemed to have lingering feelings for Micah and spent quite a bit of time talking to her in the name of getting closure. He later apologized for "deprioritizing" Chelsea, and the couple moved forward, though more one-on-one conversations with Micah continued later. Given Kwame's questionable behavior, fans on Twitter largely agreed that their "queen" deserved better.
Meanwhile, others praised Chelsea for the maturity and grace with which she handled all the drama. Some even offered to help her find a man who's not Kwame, in the event that they're not still together today.
Others didn't seem to need just one reason to crown Chelsea their queen.
After Love Is Blind wrapped filming, Chelsea has also continued to share her light. "I make a difference in the world in my job, in what I do," she explained to Bustle before the series premiered. "I really have that seed . . . to want to make a difference in the world and with people. The world is my oyster."
Regardless of her and Kwame's current relationship status, she made plenty of friends within the Love Is Blind cast along the way, too. "You develop a camaraderie when you go through something this life-changing that's so rapid, on rapid speed, everything is really intense," Chelsea added. "So having people that know what you're going through has been so helpful for me."
It also can't hurt that viewers are behind her as well.