Chloé Zhao & Joshua James Richards Are A Hollywood Power Couple
Richards is also the cinematographer for Zhao's Nomadland and The Rider.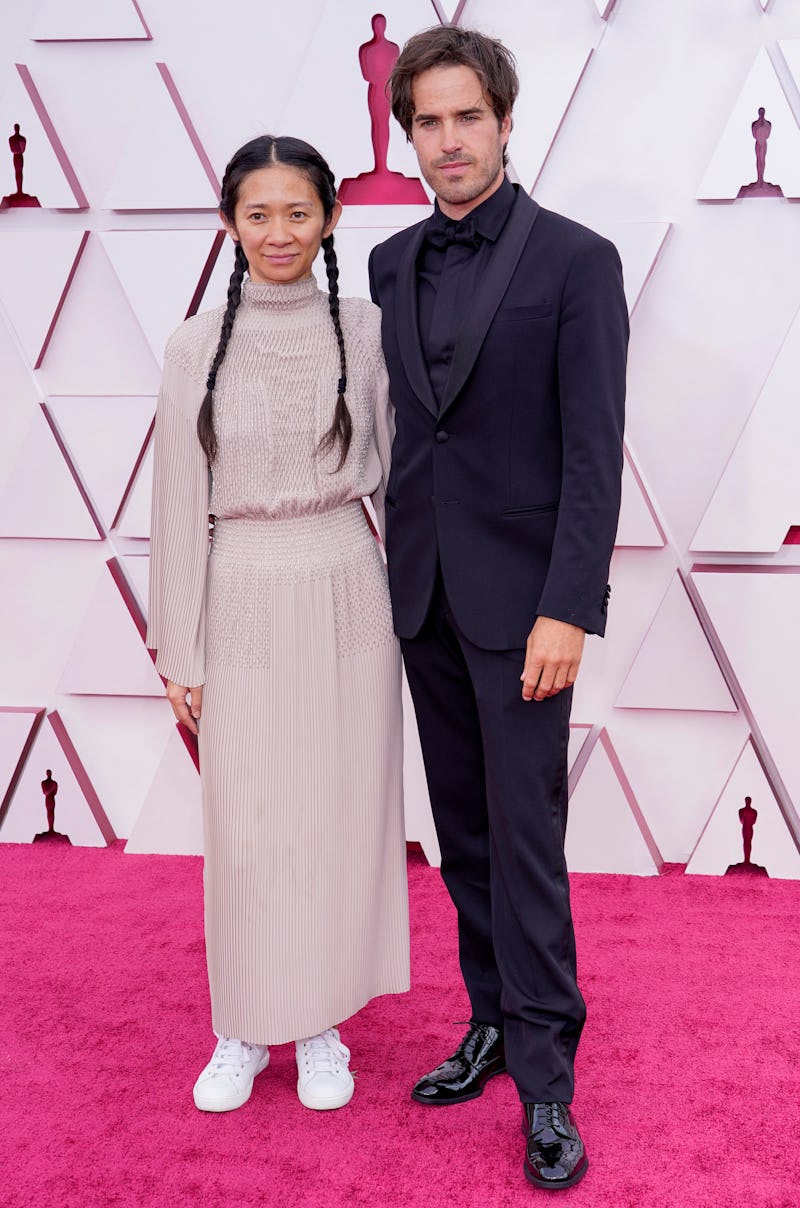 Pool/Getty Images Entertainment/Getty Images
Who is that guy on Chloé Zhao's arm at the Oscars? It's her longtime partner Joshua James Richards, who is also nominated for Best Cinematography for Nomadland. Zhao and Richards both met as graduate students in NYU's film program. They've since made three films together, all directed by Zhao — Songs My Brother Taught Me, The Rider, and now Nomadland. This is the first time both are nominated in their respective categories at the Oscars, and though Richards lost in his category to Mank, Zhao won Best Director, making history as the first woman of color to take home the award.
Nomadland has been the toast of this year's awards circuit. At the 74th British Academy Film Awards a few weeks ago, Zhao swept the Best Picture and Best Director categories, with Richards also taking home the trophy for Best Cinematography. The couple also won the same three categories at this year's Independent Spirit Awards, in addition to Best Editing. "Chloé has an enormous capacity for people and their stories," Richards told Vanity Fair.
Zhao is known for her hyper-realistic storytelling and often casts "non-actors" in her projects. Richards adds to this aesthetic with his sweeping shots and intimate framing. The Rider was the couple's first major success, appearing on many of 2018's top 10 lists. After that film's triumphant premiere at TIFF, Frances McDormand — who sneaked away from doing press for Three Billboards Outside Ebbing, Missouri just to watch it — approached Zhao to adapt a book for a project she recently acquired. That project was Nomadland.
Richards was intimately involved in the creation of Nomadland. He and Zhao spent the summer of 2018 driving in a van — a Ford Transit named Akria — around the American West, scouting locations and meeting real nomads. "Colorado, Arizona, New Mexico, Oregon, Nevada. We were trying to write a movie and live in a van," Richards told the New Yorker.
Zhao re-teamed with Richards once again for her upcoming Marvel blockbuster, Eternals — this time, as a camera operator.
The couple currently lives in Ojai, Calif., with their two dogs and three chickens.