Love Is Blind's Chris Fox "Wouldn't Have Changed Anything" About His Experience
The Season 5 cast member reveals why he joined the show.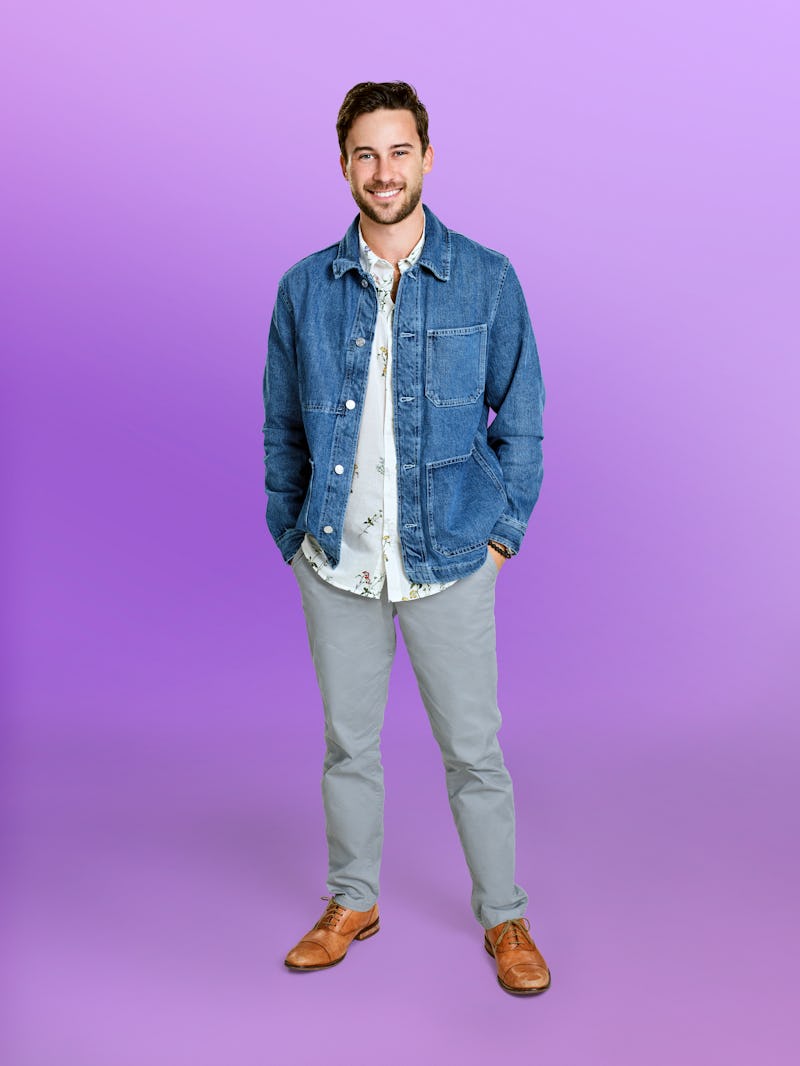 Monty Brinton/Netflix
Given his history of "[going] for the wrong women," Christopher "Chris" Fox joined Love Is Blind Season 5 to break a pattern. "For me, the reason to go on the show, number one, was to find my wife and fall in love with my best friend," Chris tells Bustle. "So much of the culture nowadays is hooking up, and I was just looking for something real. Being surrounded by the same mindset was great."
In the past, the 28-year-old Houston native, whose longest relationship spanned three years, admitted to bottling up emotions and having issues communicating. Coming into the Netflix reality TV dating series, Chris was looking for the lifelong commitment he didn't feel his dating app matches also had in mind. His ideal partner? "Honesty, selflessness, and humor are the traits that will grab his attention — and someone who wouldn't mind hopping on the back of his motorcycle," Chris' Netflix bio states.
Though fans will have to follow his Love Is Blind journey to find out if he found that person, Chris says that he has no regrets, either way. "To be honest, I wouldn't have changed anything. I enjoyed my whole experience," he teases. "It's something that builds you and makes you grow. . . . And that taught me a lot about myself and a lot about how I can trust others and move through any problem I have."
Here's everything else to know about Chris.
Chris Fox's Job
According to Chris' LinkedIn, he has worked as a project manager of commercial and retail development for the Houston-based UWS Developers since January 2021. That May, he also obtained his Texas real estate sales agent license, per his profile, which also lists previous experience as a bar manager in College Station, Texas. Without naming his current employer, Chris says he's happily "not in construction anymore" and has a new job that he loves.
Chris Fox's Instagram
On Instagram, Chris highlights the importance of his family and friends. In addition to sharing photos from his guys' trips (including one to Yosemite National Park in August), the snowboarding enthusiast supports his furry friends, too. "If there's a puppy on the island im gonna find it," he captioned a July post while vacationing in Cozumel, Mexico. In March, Chris also posted about the dogs and cats he'd rescued, while encouraging his followers to "adopt, don't shop."
He also appears to be close to his parents. Sharing a childhood photo in honor of his mother's birthday in 2017, Chris paid tribute to the matriarch, writing, "Thanks for raising me into the man I have become. I know that you sacrificed everything for me. Because of you I know I will be the man God has planned for me to be. I love you so much."
Chris has attended major pro sporting events like the 2017 World Series and rubbed elbows with athletes and celebrities — including Jamie Foxx in 2016 — seemingly thanks to his father Martin Fox, who's tagged in several of the photos. The Real Housewives of Atlanta alum NeNe Leakes, whom he met at a Beverly Hills bash for Judge Mathis, in 2018, is among Martin's followers on Instagram. Chris' father was also connected to the highly publicized college admissions scandal, aka "Operation Varsity Blues." In November 2019, the former president of a private tennis academy in Texas, pleaded guilty to commit racketeering in connection with the scandal and was sentenced to three months in prison and three months of home detention, and ordered to pay a $95,000 fine, complete 250 hours of community service, and remain on supervised release for 15 months after serving his prison term, per The Los Angeles Times.