Twitter Is Scandalized By Chris Harrison's Erotic Romance Novel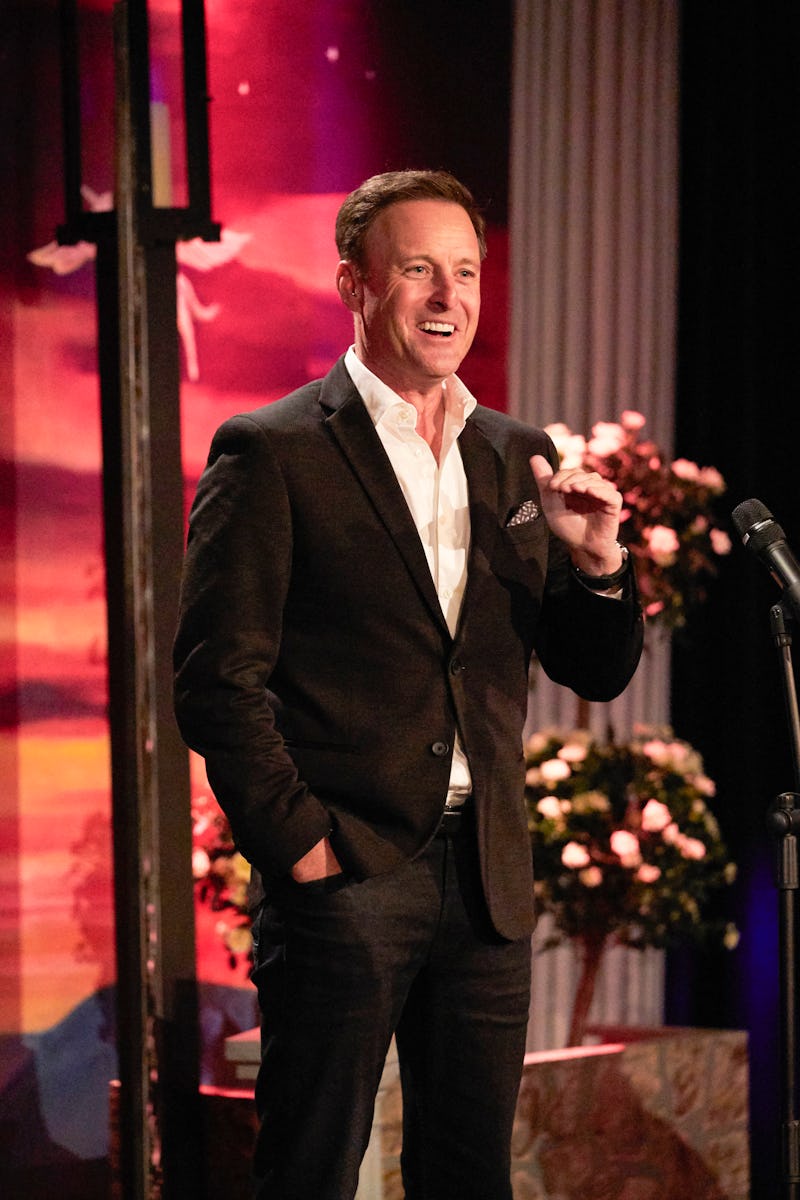 ABC
Even if you were already vaguely aware that Chris Harrison wrote a romance novel, nothing could have prepared you for hearing it read aloud during the Jan. 18 episode of The Bachelor. While introducing a particularly steamy group date, guest Ashley Iaconetti read a passage from the 2016 book — which is called The Perfect Letter — and Twitter was scandalized by how erotic the content was.
The group date required all of the women to write steamy stories inspired by their sexual fantasies — which, according to Matt, was Chris' idea. So Ashley kicked it off by literally borrowing a page from Chris' book. "He was positioning himself over her, raising her hips to meet his," the former Bachelor In Paradise star read in delightfully dramatic fashion. "His lips moved to her ears, to her neck. She panted, 'Jake please don't make me wait anymore!'"
"I cannot picture Chris Harrison writing this book, and I am so shook that this was in his wheelhouse at all," Kit said at the start of the date, while Anna put things a little more bluntly. "I feel dirty! I need a shower!" And they were clearly not the only ones:
As hard as it may be to imagine Chris writing erotica, The Perfect Letter is actually right on brand for the longtime Bachelor host. It centers around Leigh, a New York-based book editor with a glamorous life, a fast-paced job, and the "perfect" fiancé. However, when she returns to her Texas hometown for a writer's conference, Leigh discovers a stack of love letters she wrote to her first love that remind her of the past she's been running from this whole time. "After years of running, but with nowhere left to hide, Leigh must finally decide what she truly wants . . . and just how much she'll risk to get it," the blurb teases. Needless to say, Leigh falls in love — and into bed — along the way.
"It's really an extension of what I already do on The Bachelor and The Bachelorette," Chris told NPR of the novel in 2015. "It's romance. It's love. It's a story. It's a journey. It's escapism. There's drama and intrigue and all the great things and all the trappings that have obviously made The Bachelor and The Bachelorette a huge franchise for over a decade, you know, I put into a book." While he admitted that the book wasn't directly based on his time hosting the show, The Perfect Letter has plenty of similarities to The Bachelor.
"The Perfect Letter is a lot about a love triangle and these kind-of star-crossed lovers that — if anyone knows something about love triangles, it's me. I help create them, I help blow them up, so it was a very easy transition," Chris explained. "Do we want the guy who's perfect on paper? Do we want the guy that just rips our heart apart that we can't get out of our head when we wake up or go to bed? And I see that a lot on the show."
And now we've all heard it, too.