Chris Hemsworth Trolled Chris Evans On His Birthday With Another Hollywood Chris
Here we go again with the Hollywood Chrises.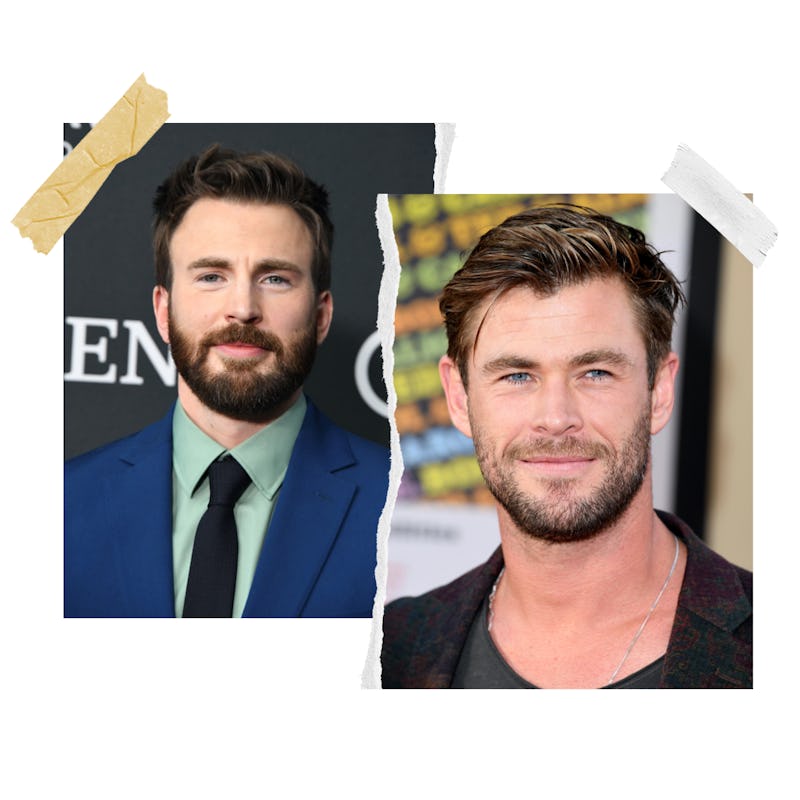 Steve Granitz/WireImage/Getty Images
Who can even tell all the Chrises in Hollywood apart? Apparently not Chris Hemsworth — at least not when he wants to troll Chris Evans on his birthday. On Saturday, June 12, Hemsworth posted a message for his Avengers co-star on Instagram, writing, "Happy 40th birthday Chris Evans, you'll always be number 1 in my book." Hemsworth, however, paired the message with a selfie taken with Chris Pratt, not Evans, as a joke.
By calling Evans "number 1" and including Pratt, Hemsworth seemed to allude to the debate over Hollywood Chrises that blew up in 2020, which led to some of the men in question — Hemsworth, Evans, Pratt, and Pine — even weighing in. However, some of the fans reacting to the trolling birthday message in the comments appeared to think the photo mismatch was an honest mistake. One wrote, "I think that's the wrong chris bff!" Another joked, "Come on…. That's obviously Chris Pine," while yet another added, "Chris Evans looks different."
To be fair, Hollywood Chris mix-ups are not uncommon. In January, Arnold Schwarzenegger confused son-in-law Chris Pratt with Evans during an Instagram Live charity event. "Hello, Chris Evans, oh not Chris Evans, sorry, I'm going to screw up this whole thing right from the beginning, Chris Pratt," Schwarzenegger said during the event. "Sorry about that. I should know your name, that's for sure — you're my favorite son-in-law."
In September 2020, Michelle Obama forgot which Chris was Chris Evans during a game called "Vacation, Quarantine, Zoom" on the Black Frasier podcast. The former first lady was asked to choose between Hemsworth, Evans, and Chris Rock for the "classier" version of "F*ck, Marry, Kill." "OK, all right. Now, who's Chris Evans again?" Obama asked host Phoebe Robinson. Once she remembered, the Becoming author chose to go on a vacation with the star.
The debate over which Hollywood Chris is the best has caused a lot of controversy in the past. In October, a Twitter poll about which Hollywood Chris is the best went viral, pitting Hemsworth, Evans, Pine, and Pratt against each other. Producer Amy Berg, who tweeted the pictures of the four Chrises, had written, "One has to go." Many fans decided to boot Pratt, inspiring Mark Ruffalo and Robert Downey Jr. to publicly defend him.
Evans, who celebrated his 40th birthday on Sunday, managed to be correctly remembered by one of his other Avengers co-stars. Mark Ruffalo also posted a birthday message for Evans on Instagram, sharing a photo with the star on the red carpet and writing, "Sending all the virtual hugs to you on your birthday, brother!" He added a picture of the Captain America star taking a picture and wrote as a joke, "Two can play the 'no phones on set' game, @chrisevans." At least one of Evans' fellow actors can tell a Chris from a Chris.