Chris Rock's Latest Take On Will, Jada, & The Oscars Slap Sparked An Intense Twitter Debate
Not everyone was laughing.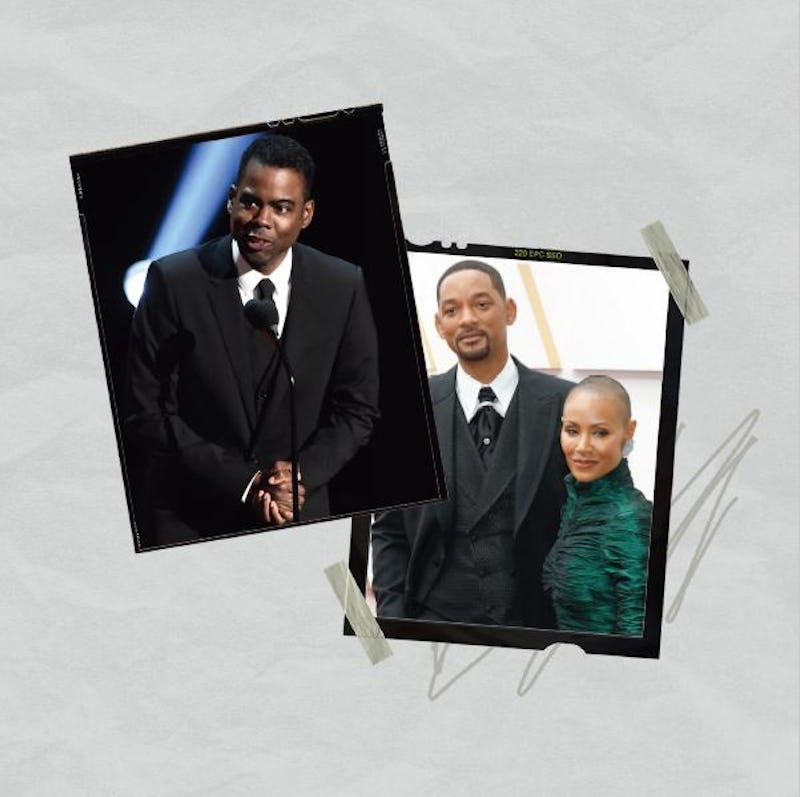 Variety/Penske Media/Getty Images; Future Publishing/Future Publishing/Getty Images
Almost a year after the Oscars slap heard 'round the world, Chris Rock still has Will Smith and Jada Pinkett Smith's names in his mouth. To close out his live-streamed Netflix stand-up special, Chris Rock: Selective Outrage, in Baltimore on March 4, the comedian joked that "getting smacked by Suge Smith ... still hurts," before insisting he's "not a victim" and that fans will never see him "on Oprah or Gayle crying." He added that despite loving and rooting for Smith his whole life, he now watches 2022's Emancipation "just to see him get whupped."
Rock got in a few more jabs of his own, too. Opining that Smith "practices selective outrage," he went on to claim the Oscar winner's anger was misplaced, referencing Jada's July 2020 admission that she'd had an "entanglement" with singer August Alsina years ago while she and Will were on a break. The couple later discussed how they successfully navigated the situation on an episode of Jada's Red Table Talk.
"We all been cheated on. Everybody in this industry has been cheated on," Rock said during his comedy special. "None of us have ever been interviewed by the person that cheated on us on television. None of us. ... Why the f*ck would you do that sh*t? She hurt him way more than he hurt me, OK?"
That wasn't all he had to say — and Twitter was divided over Rock's latest comments. Several fans noted that the comedian handled the situation with class, while other supporters declared that Rock won the war.
Not everyone was laughing, though. Multiple tweeters took issue with Rock's explanation of why he "didn't do nothing back" to Smith at the 2022 Academy Awards. "Because I got parents," the comedian said. "You know what my parents taught me? Don't fight in front of white people." Some called Rock out for hypocrisy, questioning if he was "raised to make jokes about Black women in front of" white people. Many also shared a clip of Rock laughing as Louis C.K., who is white, used the N-word multiple times in a 2011 episode of HBO's Talking Funny in front of him, Jerry Seinfeld, and Ricky Gervais.
Other critics thought that, after a year, it was past time for Rock to move on and stop dwelling on the past. Some also dubbed the routine misogynistic and thought it was particularly cruel that he was performing at the Hippodrome Theater in Baltimore, i.e. Jada's hometown. "Will Smith acknowledged that he f*cked up and he apologized and even reached out, now to go in on him so strongly like that after a year shows a little bit of brokenness cos clearly it still hurts," one fan wrote, adding, "Will is looking more like a bigger man and Chris looks petty."
Meanwhile, the 2023 Oscars are only a week away, so perhaps now a new viral moment will become the pervasive topic of conversation around Hollywood's biggest night.