Chrissy Teigen Wants Lori Loughlin's Help Getting Into College
The Cravings author is hoping for another college admissions scandal.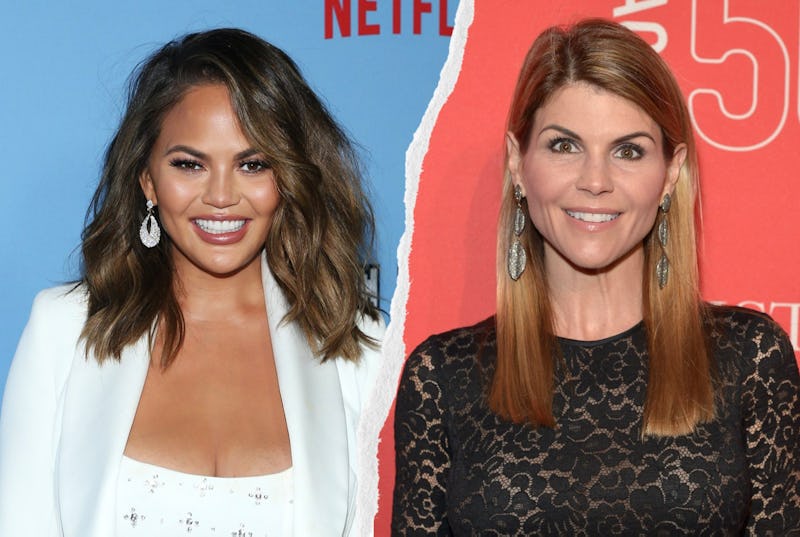 (Phillip Faraone/FilmMagic/Getty Images)/(Charley Gallay/Getty Images Entertainment/Getty Images)
Chrissy Teigen revealed a little-known fact about herself on Twitter on Tuesday, April 27: She wants to go to hospitality school. Unfortunately, the Cravings cookbook author isn't totally convinced that she could get in. Luckily, she has a backup plan, and it includes — drumroll, please — Fuller House star Lori Loughlin.
"I wanna go to hospitality school," Teigen tweeted before admitting that she likely isn't qualified. "I am old and didn't take my SATs. How does this work now? How do you get into school?" And while most people don't get admitted into college by faking their credentials, Teigen might actually be considering it. "Do I have to Laurie Laughlin [sic] photoshop myself being hospitable," the 35-year-old model joked.
Teigen's jab was in reference to the 2019 college admissions scandal, in which some of the parents involved photoshopped their children participating in sports to increase their odds of admission. Loughlin and her husband Mossimo Giannulli were among more than a dozen high-profile parents involved in the scandal, paying ringleader William "Rick" Singer $500,000 to ensure that their daughters would get into the University of Southern California as crew recruits. But alas, neither of their daughters participated in the sport at all.
Despite attempting to bribe the college, Loughlin never photoshopped images of her daughters rowing. She did, however, submit photos to Singer of them using rowing machines at the gym, which Singer then submitted as part of their applications. Ultimately, the parents involved in the scandal were caught, and Loughlin and Giannulli pleaded guilty to one count of conspiracy to commit wire fraud and mail fraud. Loughlin was sentenced to two months in prison, while Giannulli received a six-month sentence.
Olivia Jade, Loughlin's youngest daughter and a well-known YouTube star, opened up about the scandal for the first time in December 2020 on Red Table Talk. The influencer told hosts Jada Pinkett Smith, Adrienne Banfield-Norris, and Willow Smith about the moment she found out about her parents' crimes and how she coped with the backlash. "I knew any second, everyone was going to know too if they didn't already," Olivia recalled, explaining that she was on spring break when she first found out. "I remember freezing and feeling so ashamed, I went home and hid myself for probably three or four months."
After revealing that she never returned to USC because she was too embarrassed, Olivia said that, at the time, she didn't really understand what her parents did and why it was such a big deal. "To be honest, I wasn't angry," she said. Elsewhere in the interview, she issued an apology for failing to recognize her privilege. "I just want to apologize for contributing to these social inequalities, even though I didn't realize it at the time," she said.
The social star closed out the interview with an honest note about life after the scandal. "It's been hard," she admitted. "I think for anybody no matter what the situation is, you don't want to see your parents go to prison. But also I think it's necessary for us to move on and move forward."