20 Years After Kim Possible Premiered, The Stars Of It Are "Down" For A Reboot
Call them, beep them, if you wanna reboot it.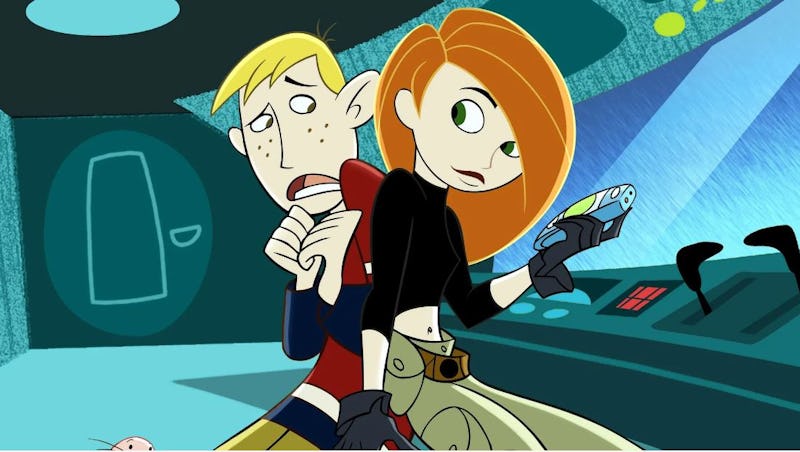 Disney Channel/Courtesy Everett Collection
It's been two decades since we all had "call me, beep me, if you wanna reach me" in our AIM away messages and programmed our phone ringers to the Kim Possible pager noise, but the 20th anniversary of the Disney Channel animated series is here. The show's stars — Christy Carlson Romano, who voiced Kim (and has hinted that she would love to voice her again in a reboot), and Will Friedle, the voice of Kim's BFF Ron Stoppable — stopped by Good Morning America on June 7 to discuss the show's legacy and the possibility of seeing Kim Possible on TV again.
Below are the biggest takeaways from Romano and Friedle conversation with GMA hosts Michael Strahan, Robin Roberts, and George Stephanopoulos.
Romano & Friedle Want A Reboot
Stephanopoulos asked Romano and Friedle if they'd be up for a reboot, and Romano answered: "Are you kidding me?! Yes!" Friedle added that they had discussed it backstage before the segment, wondering if the hosts would announce a reboot on-air. After a little bit of joking around, Romano answered for both of them: "We'd be down." It's not the first time Romano has expressed interest in voicing the character again: in 2021, she posted a YouTube video titled, "Why I Can't Let Go Of Kim Possible," stating that she'd be "devastated" if she never gets to be Kim again. Disney, are you listening?
A New Kim Possible Scene Is Available On Romano & Friedle's Podcast
While fans wait for Disney to greenlight a potential Kim Possible reboot, they can check out an exclusive new scene of the show written by creators Mark McCorkle and Bob Schooley. The scene can be heard exclusively on Romano and Friedle's animation-focused podcast "I Hear Voices." It features Kim Possible villains Drakken and Shego in addition to Kim and Ron. After interviewing the show's creators and voice director at the start of the episode, the new scene about Drakken's new true crime podcast from the criminal's POV can be seen and heard at the 50-minute mark.
GMA Gifted Them Action Figures
At the beginning of the interview, Strahan gifted Romano and Friedle action figures of their iconic characters. Showing his nerdy side, Friedle gave the hosts a pass at the fact that the action figures were unpacked and out of the box. Though they balked at the idea of being called a collectible, the action figures don't appear to be available online for fans at the moment.
Romano & Friedle Love Fans Of All Ages
After all these years, Kim Possible remains a beloved show for fans who grew up with the it and those who are discovering it anew on Disney+. Both Romano and Friedle expressed joy at seeing people cosplay the characters at conventions or be touched by fans letting them know what the show meant to them. "It touches our heart in a very genuine way," Romano said. "We love our fans very much, and it's just really great to engage with them. A lot of people identify with the characters or they helped them come of age and find themselves and we really love honoring that."
Friedle Almost Wasn't In Boy Meets World
In other nostalgic happenings, Boy Meets World is celebrating its 30th anniversary. Friedle played Ben Savage's older brother Eric on the young adult sitcom and revealed during GMA that he almost wasn't cast in the ABC series. "I ended up getting sick the day of the audition and they cast somebody else, and shot the pilot with a different actor," Friedle recalled. By a stroke of luck, the producers of Boy Meets World deemed the original actor too short for the role and replaced him with Friedle. "[If he was] five inches taller, I wouldn't be sitting here," Friedle admitted. "I always tell people: You never know how life is gonna turn out."