This Bachelorette Contestant Is Already Causing Drama On Katie's Season
Cody was singled out by Aaron during the premiere episode.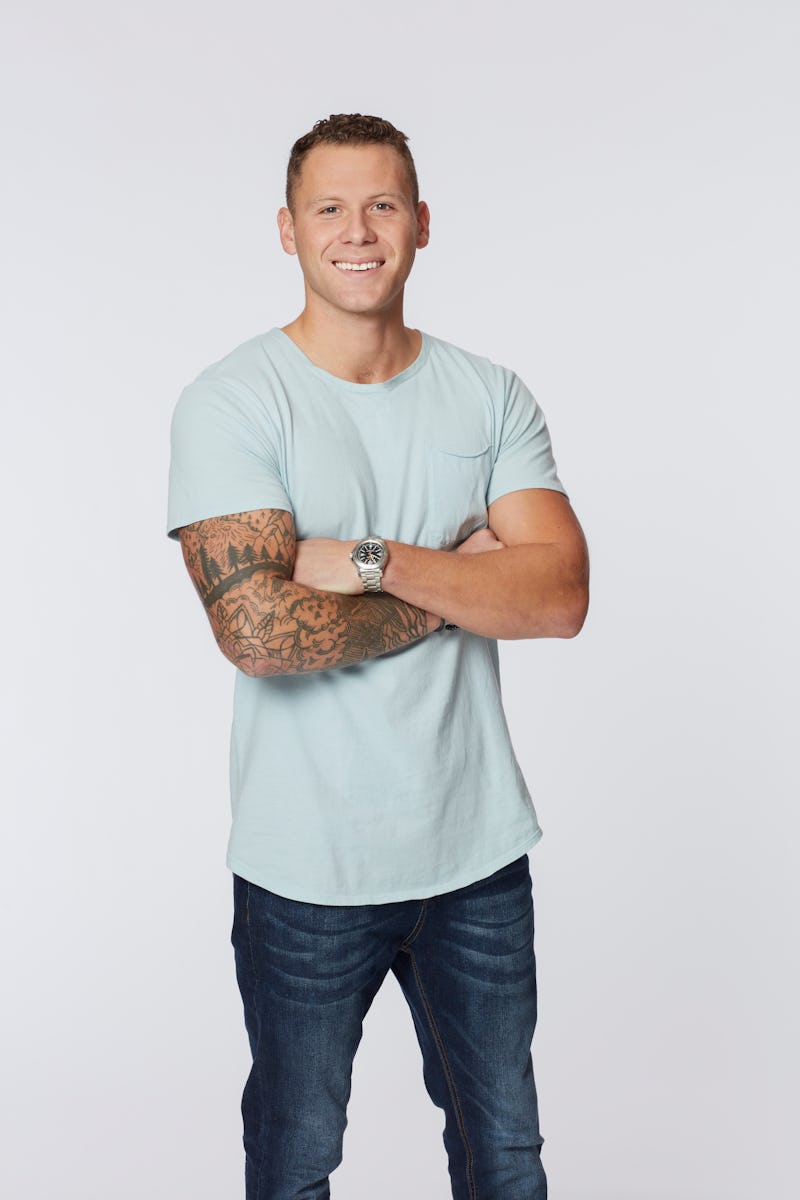 Craig Sjodin/ABC
Drama is already brewing in the mansion — or hotel, rather — on Katie Thurston's season of The Bachelorette. At the center of one of the feuds is contestant Cody Menk, who walked in with a blow-up sex doll and was later pulled aside in the premiere episode by fellow contestant Aaron Clancy. "I don't like you bro. Like, I've never liked you," Aaron said. The out-of-nowhere confrontation left fans feeling confused, and this early tension will undoubtedly come up again in future episodes. Here's everything we know so far about the 27-year-old who is potentially being set up as one of the villains of the season.
Cody Is An East Coast Native & Private School Grad
Cody currently lives and works in San Diego, but per his LinkedIn, he's a New Jersey native who grew up attending private schools on the East Coast. He attended The Pennington School (where tuition currently starts at $40,000 a year) for high school, and went on to graduate from High Point University in North Carolina. In college, he played lacrosse and graduated with a degree in strategic communications.
Cody's Job Really Is Selling Zippers — Sort Of
Cody's Bachelorette job is listed as "zipper sales manager," but according to his LinkedIn, his official title is West Coast Regional Account Manager at Zip-Pak — which yes, does sell zippers for pouches and bags. While this may sound like a silly job, Zip-Pak is a division of Illinois Tool Works (ITW), which is a Fortune 200 manufacturing company that partners with a number of global businesses.
Before Zip-Pak, he worked as a National Sales Manager at the manufacturing company Global Pack Source. He's also the co-founder of Most Wanted Records, an EDM and DJ music label. Cody clearly prides himself on his work ethic, noting in his official ABC bio that he is "making necessary moves to achieve his dream of owning a home by the age of 30."
Cody's Instagram
Cody is a self-described avid surfer, and you can see some of his ocean adventures on Instagram. He also posts about his puppy Blue, his workout routines, and his love of EDM festivals.
What Cody's Looking For
Cody notes in his bio that he has "no trouble being transparent with his feelings" and he wants to connect with someone on a deeper level. He wants a woman who is "self-sufficient and "socially confident" who can push him to work even harder. He also loves to buy a woman flowers and make her breakfast in bed — although he admits he's only a good cook on the grill.
What's Up With That Cody & Aaron Fight?
While the Cody and Aaron fight appeared to pop up out of nowhere, one source told Us Weekly's "Here for the Right Reasons" podcast that Aaron and Cody have "mutual friends" in San Diego and had overlapping social circles before they went on the show. While they've "seen each other in town," their blow-up didn't happen until the first night on The Bachelorette. A second source told Us that the fight had to do with Aaron questioning Cody's intentions, as Cody's blow-up sex doll stunt was a major red flag for him. While Katie herself is openly sex positive — she introduced herself on Matt James' Bachelor season with a vibrator in hand — we'll have to see if Cody's actions end up alienating both her and his fellow housemates.