Wait, How Do Aaron & Cody From The Bachelorette Know Each Other?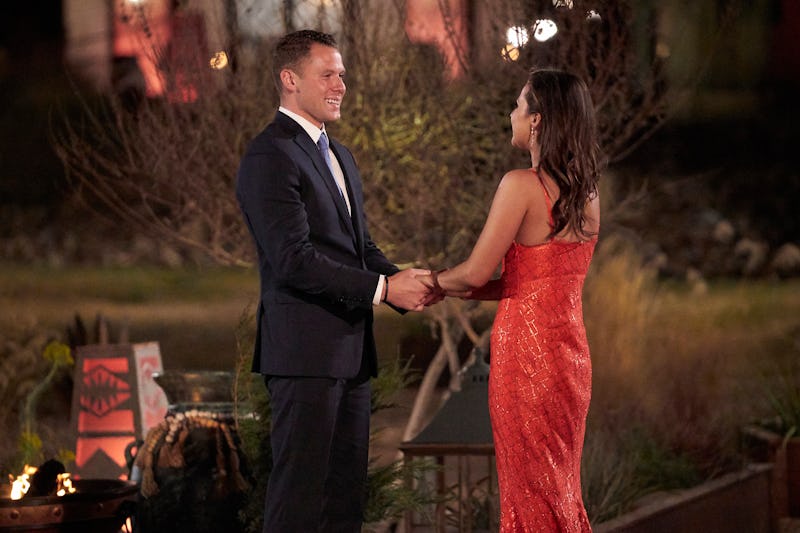 Episode 2 spoilers ahead. Katie Thurston kicked off her Bachelorette season last Monday night by meeting 30 hopeful men — two of whom apparently already knew each other. This week, fans learned more about how. During one of the June 14 group dates, the tension between 26-year-old Aaron Clancy and 27-year-old Cody Menk was palpable and led to a surprise elimination.
During last week's cocktail party, Aaron pulled Cody aside to tell him how much he disliked him. "I don't like you, bro. Like, I've never liked you. And that's fine. We don't have to talk at all. And it's not my fault I don't like you," Aaron said.
Cody seemed taken aback. "Well, you don't like me, so that is your fault," he replied. Later, in his confessional, Cody seemed confused. "I'm like, 'What are you talking about, dude?'" he recalled. The show then cut back to the two chatting, and Aaron double-downed on his feelings. "I'm literally just telling you exactly what's up," he said before beginning to walk off. Cody called after him, "Alright, I don't agree with anything you said. I don't think there was a need for that at all." Much like Cody, Bachelor Nation was trying to figure out if this was "the most random fight in Bachelor franchise history."
At the time, Aaron didn't specifically say why he hates Cody, but the two are both from San Diego, so it was clear they have some kind of history (albeit a one-sided one since Cody seemed just as perplexed as the rest of us about the confrontation).
Finally, answers came during Episode 2's group date. When Cody and Aaron's names were announced to wrestle in a challenge that can best be described as "a bunch of men dress up as shirtless cowboys and wrestle in the mud for Katie's love," Katie, Tayshia, and Kaitlyn whispered about the weird energy between them. The trio noted, "They're avoiding eye contact, "Do you see that?," and also, "There's tension." Unlike the confusion from last week, Aaron, who seemed way more upset at whatever went down in San Diego than Cody, actually explained the tension to the camera.
"Cody and I know each other from back home. I've never been a fan of him, and he knows it. He's not here for the right reason," Aaron said. "Cody's scrappy, he's gonna really go for it, but to get that one-on-one time — to get through Cody to make that happen — easily done," he continued. "I don't think anything he's gonna do will ever come close to beating me. I'm gonna make sure I got on top."
During their intense tussle, Katie shared what viewers have also been thinking. "There's something going on with them, whether it's in the house or just between them," she said, adding, "If there is a problem with guys in the house, I wanna address this head-on because these are things I need to know." In a move that did not bode well for Cody, Aaron was the winner of the challenge. And during his one-on-one convo, Aaron suggested Cody was "malicious" and was not there for the right reasons. "I wouldn't say he's necessarily a piece of sh*t, but there's always that concern there," he added.
Later, during the cocktail party, Katie confronted Cody, who denied that he was there for fame and said he was unsure of why Aaron had negative feelings toward him. But their sit-down didn't leave Katie feeling confident that she could trust him. As she shared in her confessional, his expressionless response left her confused about why he wasn't more shocked by Aaron's statements. Ultimately, Katie sent Cody home, which shows how serious she is about finding her true match. Though that feud was short-lived, it did leave Bachelor fans with a new mantra: "None of the beef, I'm vegetarian," courtesy of Tre Cooper.
This article was originally published on