Courteney Cox Broke Her Silence On Her Wild Cameo In Prince Harry's Spare
The royal claimed he did magic mushrooms at the Friends actor's house.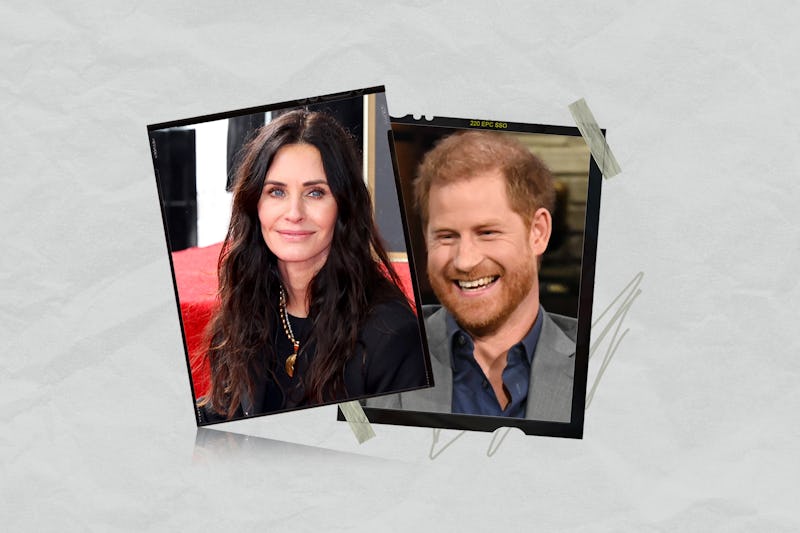 Getty Images/Leon Bennett/Stringer/CBS Photo Archive
Courteney Cox has finally addressed her mention in Prince Harry's memoir Spare. Among the many, many mind boggling revelations homed within the book is one about a wild night of partying at Cox's place with hallucinogenic mushrooms. Harry was invited by a mutual pal and claims he discovered "a huge box of black diamond mushroom chocolates" in the Friends actor's fridge. Harry and his pals "grabbed several, gobbled them, washed them down with tequila."
Cox addressed the royal's claims in a new interview with Variety. "He did stay here [at my house] for a couple of days — probably two or three. He's a really nice person," she recalled of Harry's time with her in 2016. "I haven't read the book. I do want to hear it, because I've heard it's really entertaining. But yes, it's gotten back to me about it. I'm not saying there were mushrooms. I definitely wasn't passing them out."
From his drug-induced trip, Harry also recalled a talking toilet and a human-like bin. "Now the loo became a head too. The bowl was its gaping maw, the hinges of the seat were its piercing silver eyes. It said, 'Aaah,'" he wrote in Spare. Harry also reportedly met actor Will Arnett at Cox's house and went on to do an impression from The Lego Batman Movie on his insistence.
Meanwhile, in her chat with Variety, Cox also looked back at her illustrious career spanning an uber successful decade in Friends, before branching out into other celebrated projects. On Feb. 27, Cox was endowed with a starry spot at Hollywood's Walk Of Fame in a highly celebrated ceremony.