Demi Lovato Brought Back The Viral "Poot" Meme For Her 31st Birthday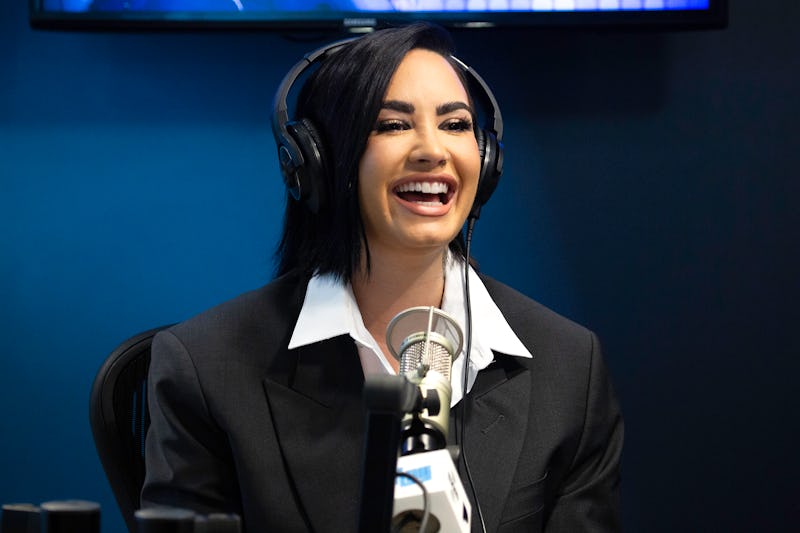 Santiago Felipe/Getty Images Entertainment/Getty Images
Demi Lovato celebrated her 31st birthday with a very special guest. On Aug. 21, the Grammy nominee shared a TikTok video showing off three birthday cakes she received to mark the big day, including a batch of cupcakes emblazoned with her infamous Poot Lovato meme. "FREE POOT," she joked in the caption, over eight years after the viral meme was first created.
In the video, Lovato (who uses both she/her and they/them pronouns now) introduced each cake one by one, leading up to the main event. "I just wanna show you guys my cakes, this one is so gorgeous," she said about a glittery light blue cake decorated with pearls and "31" written in frosting. "This one is so cute," she described a rainbow cookie cake that said "Happy Birthday Demi." "And this one is so POOT!" she concluded, showing off her masterpiece and laughing in the background.
"Poot" made her debut on Tumblr in 2015 as a heavily Photoshopped picture of Lovato on the red carpet at the 2014 Royal Variety Performance, which made the singer's face appear bloated and distorted. After the photo was sketched as parody fan art, it was reposted by another Tumblr account, who crafted the backstory of "Demi's twin sister" Poot. "She was locked in a basement her whole life," the caption read. "This picture was taken the first time she went outside. Her name is Poot." The post quickly went viral, with social media going along with the joke and campaigning to "Free Poot."
Naturally, Twitter was a big fan of Poot's birthday resurrection and celebrated Lovato happily embracing the meme.
Lovato hasn't always been enthusiastic about the meme, criticizing how quickly it went viral on Twitter in 2015. "Cool to see a sh*tty angle turn into a meme that circulates the Internet to people's amusement ha," she wrote, before deleting the tweet. Eventually, she came around, posting a GIF of Poot in 2017 and joking that "Poot was locked up" because "she's allergic to sunlight" the next year.
In a more recent interview with Harper's Bazaar, Lovato explained that she was initially hurt by the meme because she didn't realize it was heavily edited. "When Poot went viral, that actually sucked because I thought that was a real picture of me, and I was like 'Oh no, that's a really bad angle,'" she explained in 2022. "But Poot was Photoshopped. Later, I felt better about it because I realized that wasn't my face but it was definitely weird when it went viral. It's really funny to look back on."