Demi Lovato Hopes Her Raw "Dancing With The Devil" Video Will Help Others
"I'm here today and I'm happy you are too."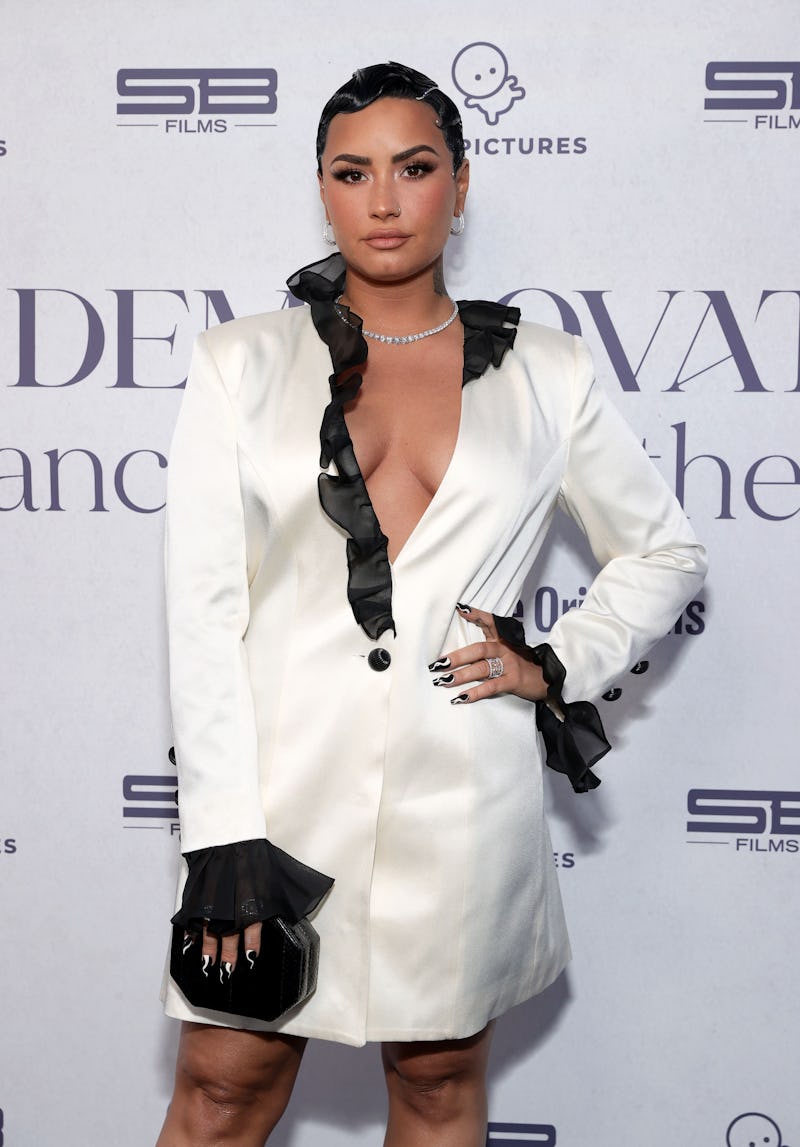 Rich Fury/Getty Images Entertainment/Getty Images
After sharing her raw and heartbreaking story, Demi Lovato addressed her "Dancing With the Devil" music video on Instagram on Saturday, April 3. She shared a clip from the project, writing in the caption that it was difficult to reenact her 2018 overdose but hopes the project will "inspire others." The music video, which premiered on Friday, shows the night leading up to her hospitalization, with the singer even wearing similar clothes, hair, and makeup to what she had worn in real life.
"Creating the music video for #DancingWithTheDevil was not the easiest shoot I've ever done," Lovato wrote on Instagram. "I create my art to heal, and to inspire others. I'm here today and I'm happy you are too."
The music video for "Dancing With the Devil" was directed by Michael D. Ratner, who is also behind the singer's YouTube docuseries Demi Lovato: Dancing With the Devil. In the YouTube series, Lovato also opened up about her relapse in 2018, which occurred after six years of sobriety.
"I picked up a bottle of red wine one night, and it wasn't even 30 minutes before I called someone that had drugs on them," Lovato told the audience. "I ended up at a party and ran into my old drug dealer from six years before." The star added that she mixed drugs she'd never had before. "That alone should've killed me."
In the music video, Lovato shows the night leading up to her near-death experience, including a night out at the bar and her dealer leaving her alone in her bed. The singer had revealed in her documentary series that she "didn't just overdose" but was "also taken advantage of" and "literally left for dead after." Thankfully, her assistant Jordan Jackson found her in time, which the music video shows, along with Lovato being transported to the hospital on a gurney while hooked up to oxygen machines. There are also three women at her side, who are likely meant to represent her mother, Dianne De La Garza, and her two sisters, Dallas and Madison.
On Friday, Lovato posted a clip from her "Dancing With the Devil" music video following the premiere, showing herself getting a "survivor" tattoo. "Thank you for listening, and thank you for hearing me," she wrote to fans in the caption. The "Confident" singer went on to encourage any viewer struggling with addiction or a similar issue to reach out to others, writing, "If you or someone you know is in need of support, please remember it's ok to ask for help."
If you or someone you know is seeking help for substance use, call the SAMHSA National Helpline at 1-800-662-HELP(4357).
If you or someone you know has been sexually assaulted, you can call the National Sexual Assault Telephone Hotline at 800-656-HOPE (4673) or visit hotline.rainn.org.