Everything You Need To Know About Disney's Cruella
Emma Stone promised it'll be "punk rock."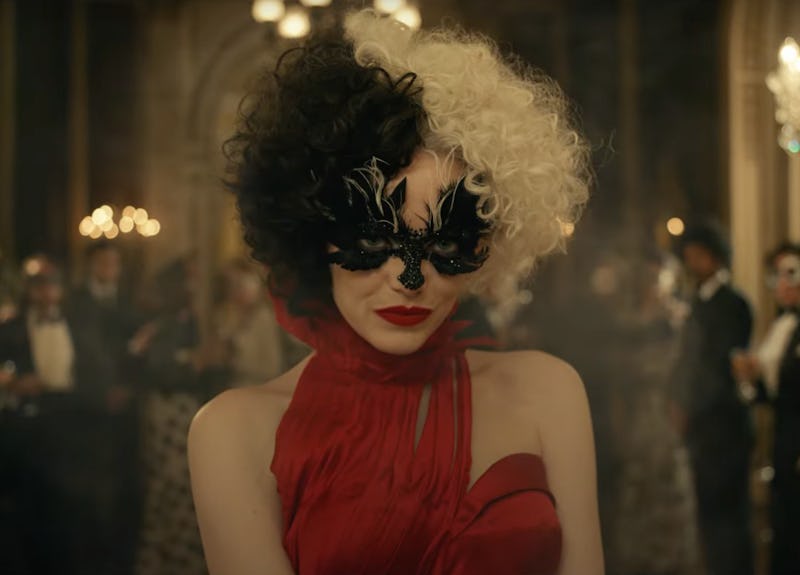 Disney
Disney's latest installment in the 101 Dalmatians franchise has been in the works since at least January 2016, when Emma Stone was first in talks for the role of Cruella De Vil. The new film, titled Cruella, was officially announced by Disney at the D23 Expo in August 2019 with a release date of May 28, 2021, and the first photo of Stone as the titular character. Sporting De Vil's iconic black-and-white hair along with smokey makeup and all-black attire, the actor is seen with a smug grin on her face as she holds three leashes attached to Dalmatians. Since then, things have been quiet on the Cruella front.
On Feb. 16, 2021, however, Disney dropped the first official poster for the film, a black-and-white close-up image of Stone's edgy take on De Vil. Unlike the 2020 remake of Mulan and Pixar's Soul, which suffered delays due to the COVID-19 pandemic, the company confirmed that Cruella's May 28, 2021 release is still on. Following the release of the film's trailer on Feb. 17, here's everything you need to know about Disney's Cruella.
What Is Cruella About?
At the 2019 D23 Expo, Disney unveiled a clip of Stone explaining the film's plot. "It's 1970s, set in London — can you get out of my eyeliner, please?" teased the actor. "It's punk rock. A great cast." After a Dalmatian is seen barking, Stone turns to the camera and says, "I can't work like this. I'm going back to my trailer." She spoke to Entertainment Tonight about the film a few months prior to the expo, saying, "It's pretty trippy. It's wild," noting that she often thought to herself on set, "'This is bananas.'"
Stone detailed further that she's looking to the original 1961 animated classic One Hundred And One Dalmatians as well as the 1996 live-action remake, 101 Dalmations, starring Glenn Close. "I think she's obviously the GOAT," the actor said of Close, "but I also have just loved the cartoon for a really long time." Stone also noted, "This comes before [Close's] story. This leads to her to where she becomes true greatness."
The plot was further detailed by Disney alongside the release of the trailer on Feb. 17. In the film, we meet De Vil as a "young grifter" and aspiring fashion designer named Estella, who befriends two thieves — her sidekicks from 101 Dalmations, Jasper and Horace. Then, she meets fashion icon Baroness von Hellman, who leads Estella to embrace her dark side and become the sinister Cruella De Vil. Judging by the trailer, fans will even get to see Stone have a Hunger Games "girl on fire moment."
Who Is Involved In The Film?
Cruella is directed by Craig Gillespie of I, Tonya fame and produced by Glenn Close, who played the villain in the 1996 live-action 101 Dalmations. Emma Stone stars as the iconically evil fashion designer, and she spoke about the role in Disney's "Becoming Cruella" feature, released on May 5. "As we know, Cruella de Vil is pretty villainous. In this film, we get to see how she became the villain we know today," said Stone. "The story is wholly original in a different time period, being in the late '70s."
The actress also spoke to her experience stepping into the role. "One of the most fun things to explore is her creativity. She is very good at what she does, designing," she continued. "The character is so much fun and so intoxicating. Once you put this wild black and white hair, this incredible makeup, and these completely unique costumes on, you feel like Cruella de Vil. The villains are always kind of the fun ones."
On May 5, Disney also released five posters to social media that offer fans a visual look into the characters of Cruella as well as information about their personalities. As the titular character, Stone is shown giving a stern look to the camera, surrounded by the phrases: "Wicked cool," "It should be fun," "No one is all bad," and "Ruthless, relentless, ready for revenge."
Actor Joel Fry plays Jasper, one of de Vil's thief sidekicks, in the film, donning a patterned suit on his poster. Written on either side of him are the phrases: "After the lowest hanging fruit" and "Good times come from bad ideas."
The puppy-chasing villain's other sidekick, Horace, is played by Paul Walter Hauser, who offers a sinister glare on his poster. "Screwing things up isn't easy," reads one-half of the text surrounding him. "Just a chump for the troublemaking," reads the other half.
In May 2019, Variety reported that Emma Thompson is set to appear in the film, and the trailer revealed that she would play the role of menacing fashion legend Baroness von Hellman. In the poster, she wears an elegant gown as the text reads: "Arrogance is bliss" and "You don't become legendary by being nice."
The character of Anita, a journalist and one-half of the couple who owns the Dalmatians featured in the initial animated film, will be played by The Good Place actress Kirby Howell-Baptiste. She wears a trench coat and carries a camera on her poster, which states: "The truth is complicated" and "Watching out for all the underdogs."
Actor Emily Beecham also stars in Cruella, though her role is currently unknown. She spoke to Bustle in February 2020 about her experience working on the movie. "It looks very beautiful," Beecham said. "The costumes are amazing, very Vivienne Westwood inspired, that London look. And the whole screen quality is quite dark and down. Craig Gillespie directed it who directed I, Tonya and Lars and the Real Girl, so I think he's brought quite an edginess to it."
"There's a real naturalness to the acting, and he wanted us to improvise and make up new stuff," she added. "There's lots of kids, lots of animals, and he's brilliant with the children. I think it will be very humorous."
How To Watch Cruella
On March 23, Disney announced that Cruella would premiere on Disney+ and in theaters on May 28. However, if you want to watch it at home, you will need to pay for Premier Access ($29.99) in addition to your usual Disney+ subscription fee that month (similar to the rollout for Raya and the Last Dragon). Depending on your city and preferred theater, that's more than a typical movie ticket, so you might want to split that cost with someone in your household.
What Are Fans Saying About The Film?
Following Disney's unveiling of the film's official poster, fans immediately flocked to social media to post their reactions. One user compared the poster to advertisements for Shonda Rhimes' How To Get Away With Murder, while others shared their hopes that the film will live up to Close's 1996 take on De Vil.
Below, more fans react to Cruella's announcement on social media.
Editor's note: A previous version of this article mischaracterized a tweet claiming to have details on the film. It has since been updated.
This article was originally published on