Dorothy Hunt's 1972 Death Reportedly Spurred Conspiracy Theories
Here's how the White House Plumbers figure connects to the Watergate scandal.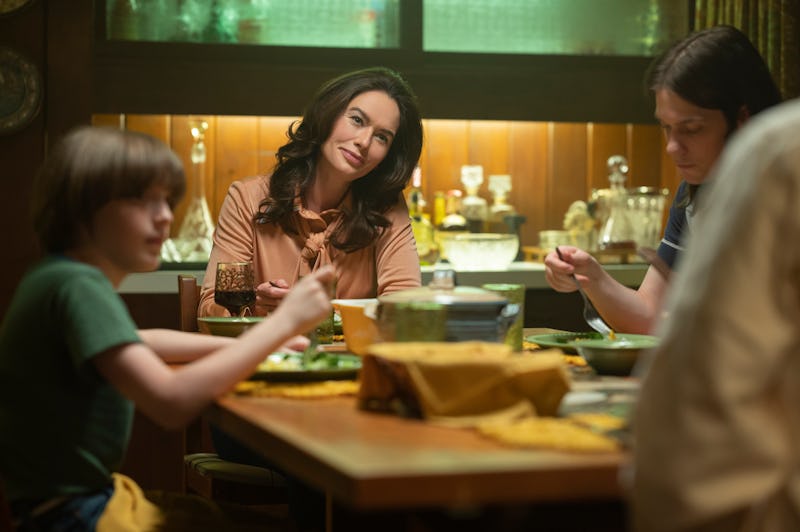 Phil Caruso/HBO
HBO's White House Plumbers revisits the Watergate scandal from the perspective of Richard Nixon's investigations team, nicknamed the "plumbers" for their work in handling leaks that would impact the presidency. In the limited series, which premiered on May 1, Game of Thrones alum Lena Headey plays Dorothy Hunt — wife to one of the titular plumbers, E. Howard Hunt.
Dorothy reportedly played an active role in the fallout of Watergate, the coverup of the break-in and wiretapping at the Democratic National Committee's headquarters. According to The Washington Post, she was identified as a "paymistress" and former CIA asset who allegedly paid Watergate defendants to keep quiet about their involvement in the scandal. This claim came about after Dorothy died in a 1972 plane crash en route from Washington, D.C. — and was found with $10,000 in cash.
In his memoir American Spy: My Secret History in the CIA, Watergate, and Beyond, Howard maintained that his wife was only carrying the cash to invest in a relative's company. However, he didn't rule out the claims altogether. "Dorothy was an extremely resourceful individual, and it is possible that she could have taken matters into her own hands without my knowledge," Howard (who has since passed away) wrote in 2007.
The claim that Dorothy was carrying cash for Watergate defendants, though, was not the only theory to come out of her fatal plane crash. "Immediately, questions were asked," The Washington Post writes. "Was Hunt murdered to keep her from revealing that the White House was in on the coverup? Was a message being sent to all the Watergate defendants?"
Howard himself didn't seem to subscribe to those theories, though, describing the fatal plane crash as an "accident" multiple times in American Spy. He also dismissed an even wilder conspiracy theory: that he and Dorothy knew something that connected Nixon to John F. Kennedy's assassination. "I'm quite certain that if we had such outrageous information in our possession, the White House would never have been late on a single payment!" (The wry comment seemed to reference a leaked conversation between Howard and White House contact Charles Colson, where Howard asked for money during the Watergate fallout.)
While Howard didn't think the plane crash was intentional, he did think it was caused by the Watergate scandal — albeit in an indirect way. Dorothy died "during a flight she would never have been on if the failed Watergate operation had been aborted as I had requested several times," he wrote in American Spy.