Ed Sheeran Honours "Brother" Jamal Edwards With A Moving Song
"We should have known that we'd be lost without you."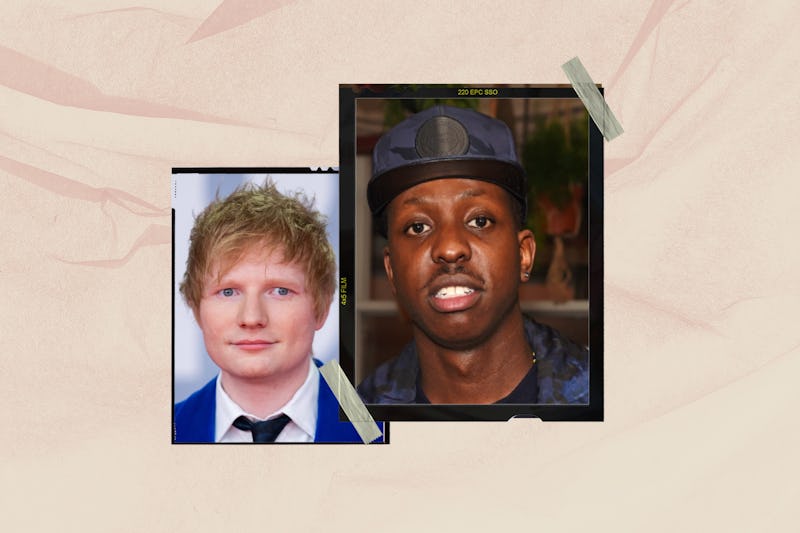 Getty Images
Almost a year after his passing, Ed Sheeran has paid tribute to music pioneer, Jamal Edwards, with a brand new song. The F64 track was released on SB. TV — a British online platform founded by Edwards on which Sheeran was featured in the early days of his career.
As per the BBC, the song's music video was filmed at Stamford Bridge stadium in honour of Edwards' lifelong support of Chelsea Football Club, and shows Sheeran standing in the middle of a circle of candles in the stadium with Jamal's name spelt out on the seats.
"I want to do is talk about you, but these tears won't let me talk about you," Sheeran raps in the emotional tribute track. "We should have known that we'd be lost without you."
The song's lyrics continue: "We cried for nine nights at your family home ... Was at your mum's there all week, trying to make sense but I can't, and although it's been a year still feel pain in my heart."
During a recent appearance on Good Morning Britain, Jamal's mother, Brenda Edwards, recalled how Sheeran had stayed with her "for the whole week" after her son tragically passed away in Feb. 2022.
"When Jamal passed he was literally at my house with me and Tanisha [her daughter] for a whole week just looking after us," she shared. "There wasn't anything that he wasn't sorting out and doing if we needed anything."
Meanwhile, speaking on BBC Radio 5 Live on Jan. 19, Edwards said she is intent on carrying on her son's legacy. "He had such a big heart and he was so giving to so many," she shared. "I was honoured to have the time with Jamal, he inspired me on a daily basis and his legacy continues to inspire me and so many people."