Ellie Goulding Broke Her Silence On *Those* Ed Sheeran Rumours
The singer has long been rumoured to be the subject of Sheeran's hit song "Don't."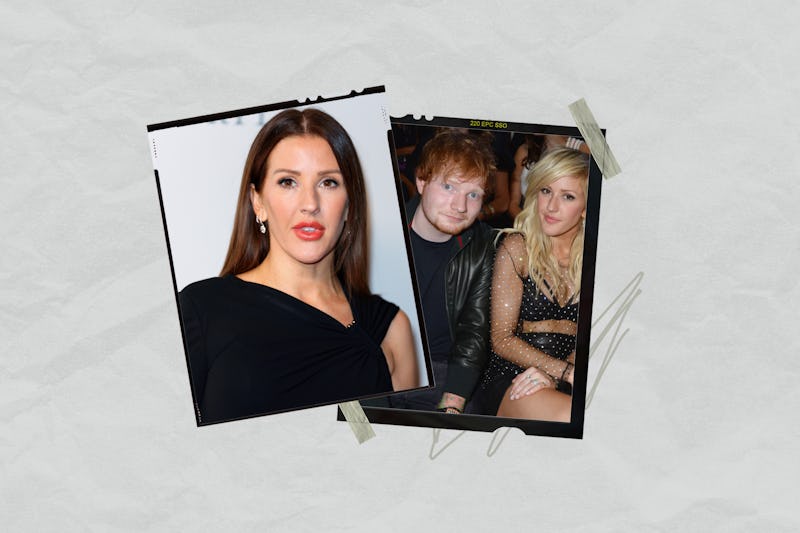 Getty Images/Jeff Kravitz /Max Mumby/Indigo
Though Ed Sheeran has never publicly revealed the name of the fellow singer who inspired his huge 2014 single "Don't," his fans have always had their own ideas. After he was snapped holding hands with Ellie Goulding way back in 2013 at the MTV VMA awards, some speculated that they might've been dating around the time she was linked to former One Direction-er Niall Horan, even though Goulding denied it. "I did go on a few dates with Niall [Horan], but I was never in a relationship with Ed [Sheeran]," she told ELLE in 2015. "I have absolutely no idea where that came from and why it was turned into such a big thing."
"Don't" itself is underpinned by a soulful "No Diggity"-esque riff, and samples "Don't Mess with My Man" by noughties R'n'B group Lucy Pearl. Lyrically, it details a brief relationship with a fellow star, who later cheats with another unnamed musician who happens to be staying in the same building. "It's not like we were both on tour," Sheeran sings sarcastically in the final verse. "We were staying on the same hotel floor."
And now, years after the song's release, Goulding has directly addressed the rumours that she's connected with the story on TikTok. Below a video of the singer dancing to Harry Styles' hit "As It Was" a commenter told her: "Can't believe you cheated on Ed with Niall, but slay." In response, Goulding replied: "False!!!! But also slay."
Sheeran himself has refused to be drawn on who exactly "Don't" is about, previously expressing his disappointment that the backstory has overshadowed the song. "I knew it would get the reaction," he admitted to GQ in 2014, shortly after the release of his second album X. "The one thing that's upset me and I should have known it was coming, I feel like it's one of the best songs I've written musically and all the focus is on the story," he added. "Which I knew was going to happen but I like the song. I don't want it to be remembered because there was a news story about it. I want it to be remembered because it's a good tune."
Asked if the mystery person in question has heard the song yet, Sheeran told The Telegraph that he gave them advance warning before putting it out. "I just said, 'just so you know, there is a song.' And they said, 'expected that.' 'Cause of the situation. You know, I didn't lie at all. It's 100 per cent true. I actually shied away from some of it. But for me in my head, that song is enough getting even. And the fact that it will stay anonymous is good for me. I've written a song about it and I've levelled the playing field."
Elsewhere, Sheeran was grilled about what Goulding specifically might think of the song. "I dunno," he said dodging the question. "What do you think?" When he was asked if the third party in the song is Niall Horan, meanwhile, he was clearer, answering with a firm "no."
These days, Sheeran is married to Cherry Seaborn, with whom he shares two children, while Goulding and her husband Casper Jopling welcomed their first child in 2021.
Check out "Don't" and its full lyrics, below.
I met this girl late last year
She said, "Don't you worry if I disappear"
I told her I'm not really looking for another mistake
I called an old friend thinking that the trouble would wait
But then I jumped right in a week later, returned
I reckon she was only looking for a lover to burn
But I gave her my time for two or three nights
Then I put it on pause until the moment was right
I went away for months until our paths crossed again
She told me, "I was never looking for a friend
Maybe you could swing by my room around ten
Baby, bring the lemon and a bottle of gin
We'll be in between the sheets till the late AM"
Baby, if you wanted me then you should have just said, she's singing
[Chorus]
Don't… with my love
That heart is so cold
All over my home
I don't wanna know that babe
Don't… with my love
I told her she knows
Take aim and reload
I don't wanna know that babe
[Verse 2]
And for a couple weeks, I only wanna see her
We drink away the days with a takeaway pizza
Before, a text message was the only way to reach her
Now she's staying at my place and loves the way I treat her
Singing out Aretha, all over the track like a feature
And never wants to sleep, I guess that I don't want to either
But, me and her, we make money the same way
Four cities, two planes, the same day
And those shows have never been what it's about
But maybe we'll go together and just figure it out
I'd rather put on a film with you and sit on a couch
But we should get on a plane or we'll be missing it now
Wish I'd have written it down, the way that things played out
When she was kissing him, how I was confused about
Now she should figure it out, while I'm sat here singing
[Chorus]
Don't… with my love
That heart is so cold
All over my home
I don't wanna know that babe
Don't… with my love
I told her she knows
Take aim and reload
I don't wanna know that babe
[Verse 3]
(Knock, knock, knock) on my hotel door
I don't even know if she knows what for
She was crying on my shoulder, I already told ya
Trust and respect is what we do this for
I never intended to be next (Get lost)
But you didn't need to take him to bed, that's all
And I never saw him as a threat (Get lost)
Until you disappeared with him to have sex, of course
It's not like we were both on tour
We were staying on the same (hhh) hotel floor
And I wasn't looking for a promise or commitment
But it was never just fun, and I thought you were different
This is not the way you realised what you wanted
It's a bit too much, too late, if I'm honest
And all this time, God knows I'm singing
[Chorus]
Don't… with my love
That heart is so cold
All over my home
I don't wanna know that babe
Don't…with my love
I told her she knows
Take aim and reload
I don't wanna know that babe
Don't… with my love
That heart is so cold
All over my home
I don't wanna know that babe
Don't f**k with my love
I told her she knows
Take aim and reload
I don't wanna know that babe