Ed Sheeran Revealed Classified Information About Taylor Swift's Red (Taylor's Version)
This info will haunt Swifties until the album's release in November.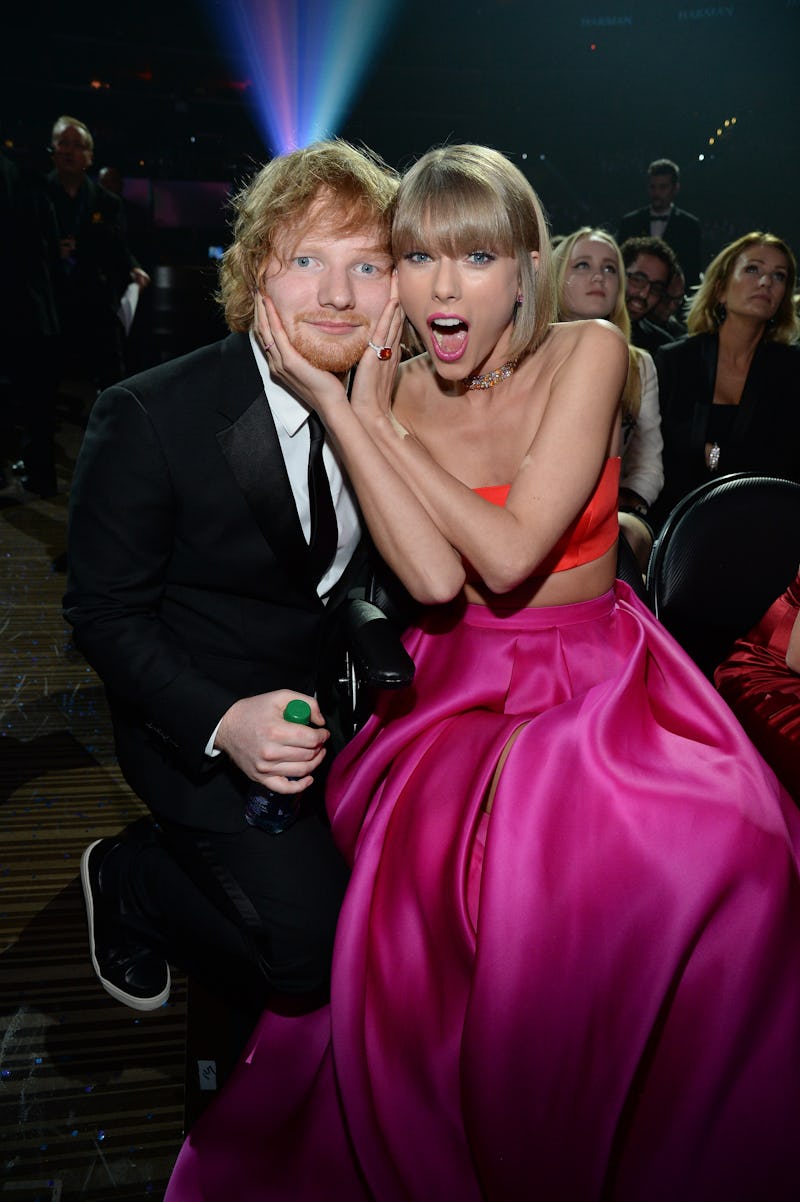 Kevin Mazur/WireImage/Getty Images
Swifties, assemble! Not only is Ed Sheeran planning on releasing his song "Penguins" later this year, but he also revealed some classified information about Red (Taylor's Version). During an interview on The Official Big Top 40, the "Shape of You" singer let it slip that the re-recording of Taylor Swift's fourth studio album is well underway. In fact, he already hit the studio to re-record their romantic duet.
"I've already done it," Sheeran revealed when a fan phoned in to ask when he would re-record "Everything Has Changed." "I've already recorded it. Yeah, we've done it." Sadly, Sheeran didn't reveal much else about the highly anticipated project. However, he did tease die-hard Swift fans with one vague sentence that will haunt them until the album's release this November. "Taylor's got a few surprises in store for you," he said. "I'll say that."
Swift announced Red (Taylor's Version) earlier this month with a post on Instagram that included some key information about the album, including its release date and the number of tracks. The pop star even said that she "couldn't stop writing" and that one of the songs is a whopping 10 minutes long. This, of course, set Twitter ablaze with speculation about whether or not she would finally be releasing an extended cut of her beloved ballad, "All Too Well."
While we still don't have answers about "All Too Well" and likely won't until the album's release, Swift teased the project (and likely dropped some Easter eggs) in the caption. "The next album I'll be releasing is my version of Red," She wrote. "Musically and lyrically, Red resembled a heartbroken person. It was all over the place, a fractured mosaic of feelings that somehow all fit together in the end. Happy, free, confused, lonely, devastated, euphoric, wild, and tortured by memories past."
Elsewhere in the caption, the "Willow" singer revealed that she "went into the studio and experimented with different sounds and collaborators" than she did the first time around and that this time it felt different. "I'm not sure if it was pouring my thoughts into this album, hearing thousands of your voices sing the lyrics back to me in passionate solidarity, or if it was simply time, but something was healed along the way," She continued.
Swift closed out her emotional post with what's easily the most exciting bit of information about Red (Taylor's Version) that we know so far. "This will be the first time you hear all 30 songs that were meant to go on Red," she wrote. And with 30 songs to look forward to, Sheeran was right: There's a lot of room for surprises. Unfortunately, Swifties will have to be patient; the re-recorded version of Red isn't due out until Nov. 19.