Ed Sheeran Spoiled That He Wrote The Next BTS Single
He's got a bad habit of spoiling things recently.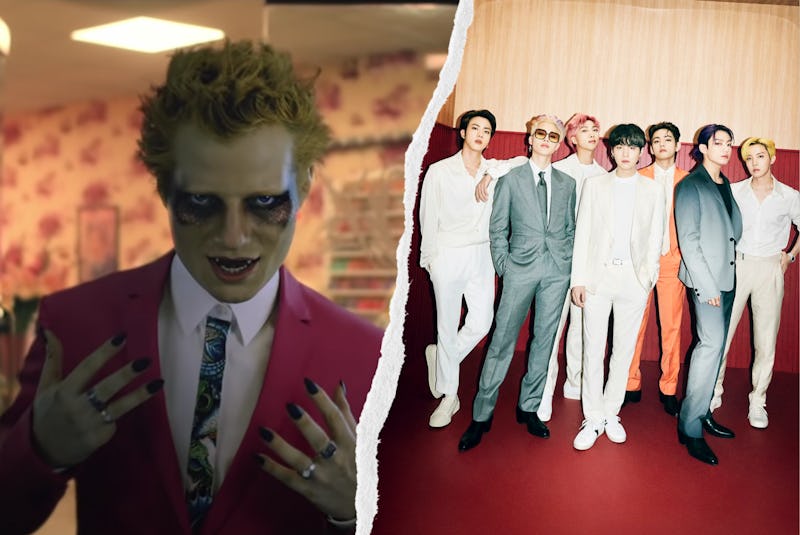 BTS is giving you permission to dance to their new music. The group has officially shared the track list for their new physical CD single Butter, which will include their mega-hit "Butter" as well as a brand new track titled "Permission To Dance." It will also include instrumental versions of both songs.
News of a new BTS single, however, is likely old news for fans of the group after multiple spoilers about the track were revealed ahead of the announcement by a very unexpected source: Ed Sheeran. In both an interview with Most Requested Live and on his personal Instagram during a Q&A with fans, the "Bad Habits" singer revealed that he wrote the forthcoming BTS song "Permission To Dance."
This marks the second time Sheeran and BTS have collaborated, following the group's 2019 hit "Make It Right," which Sheeran also penned. BTS is currently preparing for the release of their physical CD single Butter, and for the past week they've been posting colorful concept photos ahead of its release on their fandom's July 9 birthday. After Sheeran's spoiler, fans were quick to point out that the title 'Permission To Dance' was featured in a set of concept photos that BTS shared this week.
Let's break down the timeline of Sheeran's recent spoilers:
The secrets started slipping on Jun 26, when Sheeran chatted with Most Requested Live and revealed that he had recently written a second song for the group. "BTS! I've actually worked with BTS on their last record, and I've just written a song for them for their new record and they're like, super, super cool guys as well," he explained. In response to Sheeran's comments, Big Hit Music released a statement confirming Sheeran's slip-up. "It is true that Ed Sheeran is participating in BTS's new song," Big Hit told Korean outlet Newsen.
More information about the song kept coming when Sheeran held a brief Q&A on his Instagram Story on Jun. 28, including its title, sound, release date, and his experience working with the group. It kicked off when a fan asked if Sheeran had an interest in collaborating with BTS, to which he replied: "Yeah, of course. This is my second song with them and it's great fun working with them."
When another fan followed up and asked if they could expect to see BTS and Sheeran together on a song in the future, Sheeran revealed the title of the song. "Yeah, I believe it's their next single," he said. "It's a song called 'Permission To Dance' and it's very dance-y." He continued his spoiler streak by saying that "Permission To Dance" was his personal favorite BTS track and that the song would be "coming soon."
He also answered who the coolest member of BTS is in a very diplomatic way. "They're all as cool as each other," he said. "I'm never gonna win saying someone's cooler than someone else — I think they're all great."
After all of his revelations, it seems the Sheeran Spoiler Effect had rubbed off on BTS as well. On June 29, the group held a short livestream on the platform VLive and member Suga caused quite an uproar amongst his fellow members when he asked if the song title had been revealed already.
"Everyone, did the new song teaser come out yet or not?" Suga said per a fan translation of the event on Twitter. Conversation between the members immediately began to buzz, asking one another for more details about if the song title had been released and who had shared it. While members V and Jungkook nervously looked at the staff members behind the camera for assistance, Jimin took matters into his own hands to prevent any more spoilers by putting his hands up as an 'x' and shouting, "Stop! Let's stop talking!"
"Did Sheeranie-hyung (an affectionate term for Sheeran) tell people?" J-Hope asked per a fan translation. "Sheeranie-hyung turned on live and told folks," leader RM replied. He didn't seem too concerned with the spoilers adding: "Sheeranie-hyung saying it and us saying it, is there a difference?" J-Hope ended the conversation by sharing that he liked Sheeran's new "Bad Habits" single, and Jin gave him a shout out for his spoilers: "Thank you, Sheeranie-hyung!"