Remember Ed From The Circle? His Brother Just Joined Season 2
Ed and his mom Tammy played together in Season 1.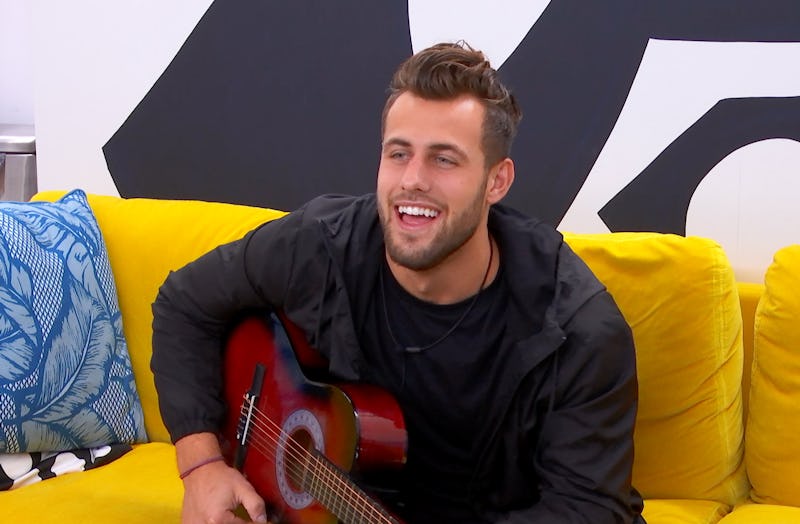 Netflix
Ed and Tammy Eason may not have won The Circle in Season 1, but Ed's brother Mitchell is ready to redeem the family name. "They f*cked up our name here. They were embarrassing," he says of his mom and brother in Season 2 after joining as a new player.
In his intro package, Mitchell says he thinks his family members were missing the people skills necessary to win the game, so his strategy is to focus on building relationships with the other contestants. He got off to a great start, forming early bonds with newbie Khat — who joined alongside him in Episode 5 — as well as flirtationships with Chloe and "Emily" (played by Jack). He and "Trevor" (aka Deleesa) also hit it off.
Can the 22-year-old right the mistakes of his family and emerge as the Season 2 victor? That's his goal on the show — along with learning guitar and wearing as few shirts as possible. Here's what you need to know about Mitchell outside of the game.
Mitchell's Job Honestly Sounds Super Boring
Mitchell said on the show that he's a health insurance agent. According to his LinkedIn, he works in sales for Prudential Insurance in Miami, Florida, having left his Pennsylvania hometown behind a couple of years ago.
He may be looking to change career fields, though: LinkedIn says he's the CEO of the digital marketing company 360 Media Marketing. With the addition of a reality TV platform like The Circle, he'll likely be able to use his marketing skills to improve his personal brand and maybe break away from insurance and into social media influencing. Or maybe he loves his insurance job, who knows? Mitchell's a surprising guy.
Mitchell's Instagram Has A Lot Of Shirtless Pics
It will shock no one to learn that many of Mitchell's Instagram posts feature him shirtless, in the gym, or both. Not wearing a shirt is quickly becoming his hallmark on The Circle, which host Michelle Buteau has already teased him about in her hilarious voiceovers.
And of course he's got some pics of his mom and brother on his Instagram too. He may not have liked their Circle strategy, but he loves them anyway. "My mom has a heart of gold and has always been there supporting me and cheering me on in all of my crazy adventures and businesses," he wrote in a birthday post for Tammy, in part. "I am so grateful to have you in my life and for all of the sacrifices that you made for me and @ed610_ means so much more to me than you even know!"
Mitchell Also Has A TikTok
What 22-year-old doesn't have a TikTok these days? Mitchell's account is a mix of funny videos and thirst traps. He even has one poking fun at the fact that he's a virgin, which he divulged in his Circle intro package.
From what we've seen of Mitchell so far on the show, he's honest, a little silly, and determined to do better on the show than his mom and brother did.
What Mitchell's Doing After The Circle
Mitchell made it so close to the finals, but he was cut at the last Blocking, which is also the same place his mom and brother went out in Season 1. Maybe in Season 3 another Eason can go on the show to further redeem the family name.
After the show, Mitchell appears to still be busy working on his physique and is rarely spotted with a shirt on his Instagram.
He also likes to couple his shirtless selfies with motivational captions like, "Follow your heart, it will lead you to places you've never dreamed possible."
These days, he's living in Los Angeles after relocating from Miami. Based on how often he posts professional photos, it seems like he may try to break into LA's modeling and influencing world. And even though he didn't win The Circle, he's picked up enough of a following to make that influencer life a reality… at least for now.
This article was originally published on