Emilia Clarke Revealed How She Really Feels About Those Game of Thrones Prequels
"It's gonna be whatever it will be."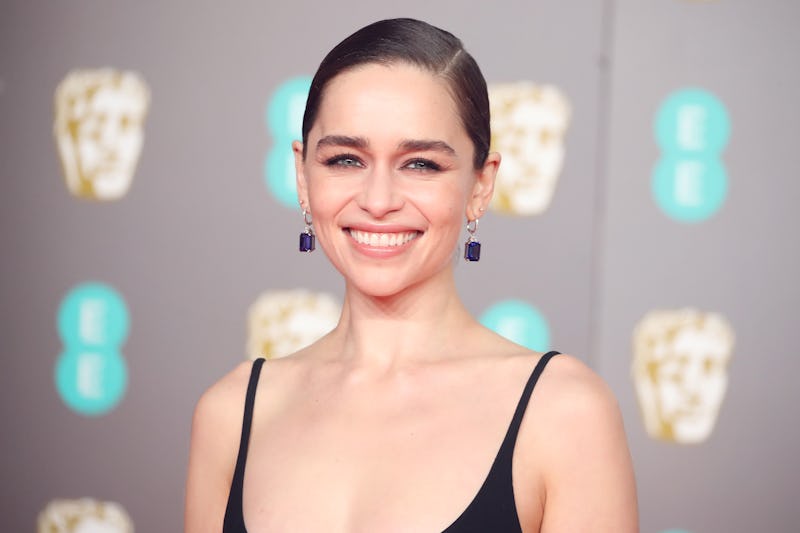 Mike Marsland/WireImage/Getty Images
It's been 10 years since the premiere of Game of Thrones and Emilia Clarke still can't wrap her head around the show's massive success. "I honestly still look back at it and go, 'I'm so not at a point where I can retrospectively see this for what it is.' I think I'll be 90 when I can actually do that," Clarke told Entertainment Weekly on Friday, April 16. "The experience was so enormous, and so all-consuming, and defines me at that young moment in my life. You kind of look back at it like you would high school or college. When you're young like that, you're so in the moment."
Clarke, who played the role of Daenerys Targaryen, only had two roles on her résumé before being cast on Game of Thrones. At that time, she never could have anticipated the overwhelming fame that would inevitably follow. "I look back at the person who was there and go, 'You really have no idea what's coming. You have no idea what's about to hit,'" she said. Despite being in the dark while filming Season 1 about how successful the show would ultimately become, Clarke called the experience "beautiful" for that reason.
"We were all very much in the moment that we were in, and very unaware of how it was going to be received, what people were going to think, who we were going to be at the end of it," she continued. "I'm going to call us kids, because we were — we were just having fun, experiencing this crazy thing. And it was joyous for that. That first season was nonstop joy, and so much fun. I look back at it with complete love."
Like many die-hard GoT fans, Clarke is now looking ahead toward the franchise's upcoming prequels. Per EW, the only prequel series that has been greenlit so far is House of the Dragon, which is based on George R.R. Martin's Fire & Blood and "chronicles a civil war among House Targaryen in Westeros." However, the outlet also reported that the network is "aggressively pushing" for more spinoffs. According to Deadline, HBO is currently developing three additional prequel series on top of the ones that have already been confirmed or rumored.
But how does Clarke feel about the world of Westeros continuing after Game of Thrones? "Godspeed, everyone! You do you, you go, Glenn Coco!" she told EW. "It's just inevitable. I wish you all the best, it's gonna be whatever it will be." The actor continued by saying that the efforts to mimic the success of the original series are no surprise. "Of course they're doing more," she added. "You can't create something that big and not have people go, 'And? What else? This is really good! Let's do loads more!"
Among the shows currently in development is one called 9 Voyages, which would follow Corlys Velaryon (aka, the Sea Snake), who is known as the greatest seafarer in the history of the Seven Kingdoms. Another series in development has the working title 10,000 Ships, which would follow Princess Nymeria, an ancestor of House Martell who ruled Dorne. However, seeing as House of the Dragon is the only prequel that's definitely moving forward at this point, it's also the only one with a confirmed showrunner.
Miguel Sapochnik, who directed some of the most memorable episodes in Game of Thrones history, has been confirmed as the co-showrunner of the upcoming prequel all about the Targaryens. Clarke, having worked with Sapochnik before, has no doubt in her mind that this particular spinoff series will take off and be loved and cherished by devoted fans everywhere. "I love him completely," she said, "so I have no doubt that's gonna be an enormous success, because he's just a genius."