Everything To Know About Emily In Paris Season 3
Emily finds herself at another crossroads this season.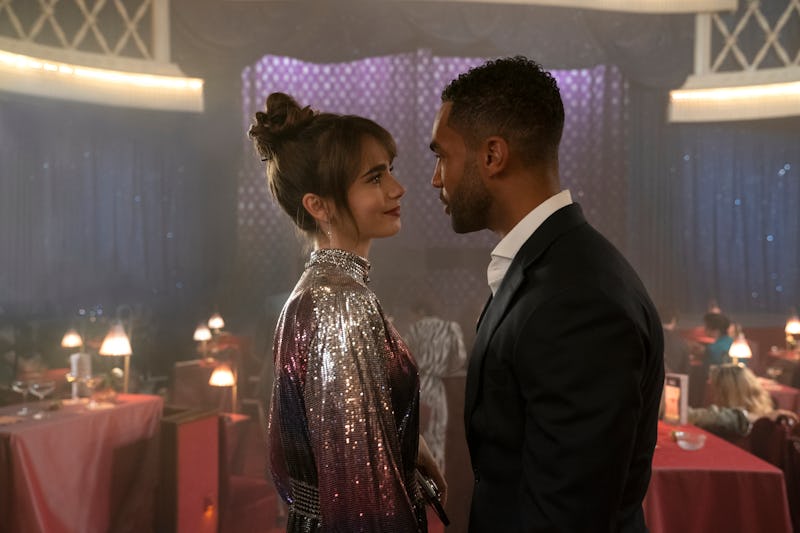 Netflix
Emily faces several life-changing decisions at the end of Emily in Paris Season 2. Should she stay with Savoir and return to America as planned, or should she join Sylvie's marketing startup and put her roots down in Paris? Should she pursue a long-distance relationship with Alfie, or make another play for Gabriel even though he's once again back with Camille? Those questions will need to be answered in Emily in Paris Season 3. In early 2022, Netflix renewed the series for Season 3 and Season 4.
Here's what we know so far about Season 3 of Netflix's Emily in Paris.
Emily In Paris Season 3 Premiere Date & Trailer
Netflix announced the Emily in Paris Season 3 release date during its Sept. 24 Tudum event, and the big day is coming this winter. The show returns on Dec. 21, with Emily making "the hardest decision" of her life in the date announcement teaser. Of course, the first look doesn't spoil what will actually happen in the season. As a previously released synopsis shared, Emily in Paris Season 3 will see Emily "at a crucial crossroads," just as we left her. "Faced with two very different paths, Emily will have to decide exactly where her loyalties lie — at work and in her romantic life — and what those decisions mean for her future in France, all while continuing to immerse herself in the adventures and surprising twists and turns that life in Paris provides."
Days earlier, Netflix shared new images from the upcoming season.
In a June 1 Instagram post, star Lily Collins revealed that the third season was officially in production, captioning it with, "Reunited in Paris! Let season 3 filming begin," alongside a picture of herself and co-star Ashley Park, who plays her best friend Mindy.
Park also posted the same photo from Paris with the caption, "Those Americans roaming Paris again yayyyyy! @lilyjcollins 🤍 #emilyinparis."
On Nov. 30, Netflix released the official trailer for Season 3. It teases Emily's latest dilemma — choosing her next big career move. Does she join Sylvie's new team or stay at Savoir with Kate Walsh's Madeline? And of course, the new trailer also confirms that Emily is still caught between her feelings for Gabriel and Alfie.
Emily In Paris Season 3 Cast
On June 1, the Emily in Paris Instagram account posted a photo of a script at the table read, where the cast will learn the fate of their characters. The caption reads, "Back at a table together, and it's not for a client meeting or a dinner party. production on season 3 is starting now! 💕."
Based on everything that happens in Season 2, we can expect all the main actors to return. This includes Collins as Emily, Park as Mindy, Lucas Bravo as Gabriel, and Camille Razat as Camille. We'll also likely see a return of Emily's closest co-workers, Julien (Samuel Arnold) and Luc (Bruno Gouery), as well as her Savoir boss Sylvie (Philippine Leroy-Beaulieu), who has begrudgingly begun to respect Emily. We'll also likely see Madeline (Kate Walsh), Emily's other boss, continue to pop up now that she's in Paris.
Lucien Laviscount, who plays Alfie, is now a series regular. That means we can definitely expect the Alfie romance to continue, even if the last we saw of him, he said he was moving to another country. Let the theories commence: does this mean that Alfie and Emily officially start dating, or that he stays in Paris? Maybe Emily comes with him and does some work abroad?
Get The Bustle Daily Newsletter
With exclusive celebrity interviews, the best new beauty trends, and earth-shattering relationship advice, our award-winning daily newsletter has everything you need to sound like a person who's on TikTok, even if you aren't.
What Happened At The End Of Season 2?
To recap: Madeline arrives in Paris and tells Emily that she has a promotion waiting for her Chicago. Meanwhile, Madeline says she will stay in France, reorganize Savoir, and "burn and bury" their French way of doing business. This leads to Sylvie, Luc, and Julien quitting Savoir, and they secretly meet with Emily and reveal their new project: Sylvie's husband bought her shares of the club, so she's using the money to start a new firm. She says several of Savoir's major clients will follow them when they launch — Pierre Cadault and Grégory Elliott Duprée among them, as long as Emily is on board too. "You're very, very good at your job," Sylvie tells her. "So you have to stay in Paris a lot longer than you planned. I know you have a life back in Chicago, but we're offering you one here."
On top of all that, Emily finds herself at a romantic crossroads once again. Alfie tells Emily he has to return to London, but he wants them to try dating long distance. Emily agrees because everything is easy with him, but she also admits to Mindy that she's still pining over Gabriel. So she goes to Gabriel's apartment, but before she can finish confessing to him, Camille appears from behind the door. They're dating again, and Gabriel even asked Camille to move in.
Emily walks away heartbroken, and in the final moments of the show, she calls Sylvie. Of course, that's when the screen cuts away — before we can hear whether she's decided to stay or not.
This post will be updated with additional plot and cast details as more information on Emily in Paris Season 3 becomes available.
Reporting by Gretchen Smail, Radhika Menon, and Grace Wehniainen.
This article was originally published on