Emma Mackey's Newest Role Is A Far Cry From Angsty Maeve
The Sex Education actor is starring in an upcoming biopic about Emily Brontë.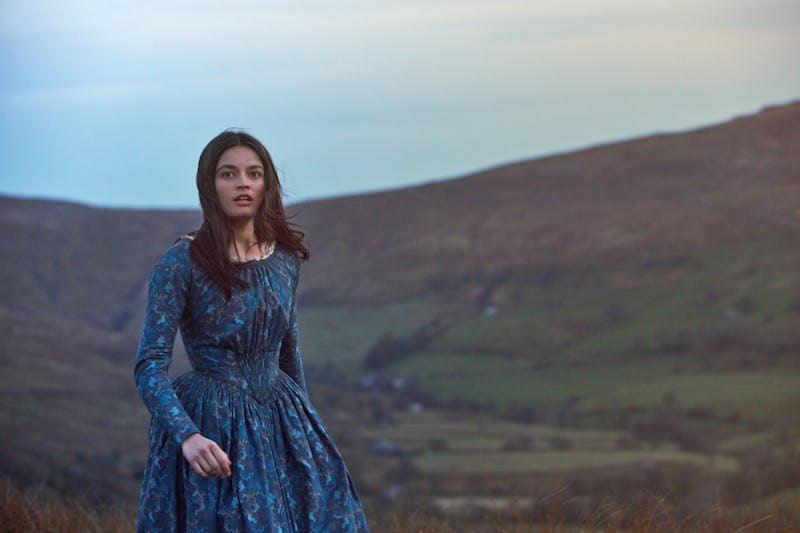 Warner Bros.
Sex Education star Emma Mackey is taking on the role of "rebel" Wuthering Heights author Emily Brontë in a brand new biopic, Emily. The film is expected to detail the celebrated British author's "exhilarating, and uplifting journey to womanhood," per IMDB, "as she navigates the world as a 19th-century woman who wants to write." The biopic is currently in production but here's everything we know so far about Emily.
A first-look photo of the pending biopic was released earlier this week (April 28). It shows Mackey as Emily Brontë with long brown locks, dressed in period costume on the blustery Yorkshire moors — it's safe to say the role is worlds apart from the pink-haired, fishnet-tights-wearing, angsty teenager Meave in Sex Education.
The photo is an exciting teaser to the film to come, although, sadly, there's a wait.
Filming for Emily has already begun in "stunning locations" across the Yorkshire countryside, confirmed Deadline, and the biopic is expected to be released in 2022.
Emily has been written and directed by Golden Globe nominee and actor Frances O'Connor who describes Bronte as "a young woman daring to form herself."
"Emily Brontë's work and words are full of passion, feeling, violence, and fierce intelligence. In creating an imagined life for Emily, she will live again for our audience," said O'Connor in a statement, via Variety.
Carlos Alvarez/Getty Images Entertainment/Getty Images
Jeff Spicer/Getty Images Entertainment/Getty Images
"Her story is about a young woman daring to form herself, to embrace her true nature, despite the consequences. Emily is, in fact, a love letter to women today, especially young women, a calling to them to challenge themselves to connect with their authentic voice and potential."
As many may know, Wuthering Heights was Emily Brontë's only novel, published a few short years before her untimely death at 30 years old. Like many female writers in the 19th century, the provocative book was written in secret under a male pseudonym, Ellis Bell.
Emily's cast also features Joe Alwyn (The Favourite), Oliver Jackson-Cohen (The Haunting of Hill House), Fionn Whitehead (Dunkirk), Alexandra Dowling (The Musketeers), Amelia Gething (The Spanish Princess), and Gemma Jones (Ammonite). Line of Duty fans will be very happy to hear that Adrian Dunbar – aka Ted Hastings – will also star.
Actor Emily Beecham was expected to play one of the Brontë sisters but, according to Vogue, has since dropped out the project.