Bowen Yang & Joel Kim Booster Will Star In Gay Romantic Comedy Fire Island
The film will bring Jane Austen's Pride and Prejudice to the famed gay vacation destination.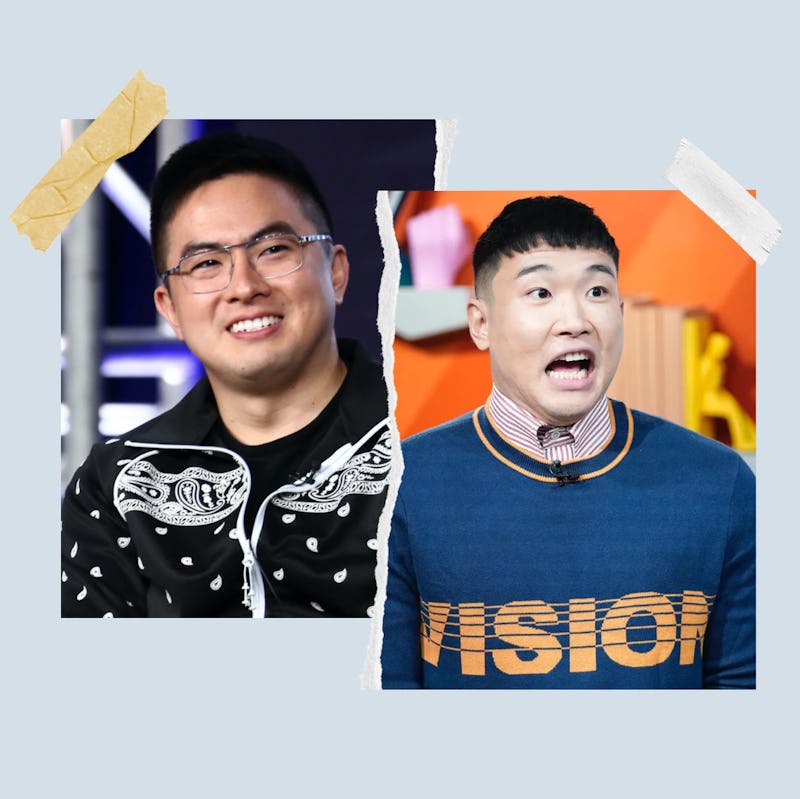 Tommaso Boddi/John Lamparski/Getty Images
It's peak season on Fire Island right now, and every week thousands of members of the LGBTQ+ community flock to the remote vacation destination to lie on the beach, hang by the pool, and enjoy the storied daily tea dance. Soon, all those revelers will have to make room for a film crew, as a new movie (appropriately titled Fire Island) is reportedly set to begin shooting in August, when the hamlet is at its busiest.
Comedians Bowen Yang and Joel Kim Booster are set to star in a new romantic comedy, Variety announced on June 30, describing the film as "a modern day take on Jane Austen's Pride and Prejudice," the classic tale that apparently can be adapted for any time and place. The film will see Booster and Yang's characters traipse off to one of New York City's favorite getaways for a week-long trip that is sure to be jam-packed with hot men, drama, and laughs. Fire Island was written by Booster and will be directed by Andrew Ahn.
Fire Island is headed to streaming platforms Hulu in the U.S. and Disney Plus globally, though a release date wasn't immediately shared. Yang shared the thrilling news on Instagram, with the brief caption, "I'm going to WHAT??"
Fire Island follows a recent surge in LGBTQ+-related rom-coms made for streaming services, many of which have performed well and have been welcomed by critics and viewers alike. Titles like Happiest Season (Hulu) and The Half of It (Netflix) have helped usher in a new era of romantic comedies, and the latest from Yang and Booster will surely receive the same applause.
If you're familiar with the two stars, you know it's bound to be hilarious. Booster is a star of several popular TV shows and podcasts, and Fire Island appears to mark his first major breakthrough in the film world as both a writer and actor. He has previously appeared in or produced programs like The Other Two, Big Mouth, Search Party, Shrill, and Sunnyside, and soon he will be featured in the Eva Longoria movie Unplugged.
Yang brings another level of starpower to the project, as he has proved to be one of the standout comedians in the most recent seasons of Saturday Night Live. He became an official cast member in 2019, making history as the first Chinese-American, third openly gay male, and fourth-ever cast member of Asian descent on the long-running comedic late-night staple. He is currently writing the first season of the upcoming Apple TV+ musical series Schmigadoon!, and he has previously appeared on programs like Unbreakable Kimmy Schmidt, Broad City, and Awkwafina Is Nora from Queens.
The comedian has made bold moves as an SNL cast member, bringing important viewpoints to the table as both an Asian actor and a gay man. Below is one of his funniest and strangest (a word often used to describe his comedic style) segments, which went viral shortly after he officially joined the cast.