Florence Pugh & Zach Braff Reflect On Their Relationship After Their Breakup
"You cannot take your eyes off of her. ... It's that thing, that magic thing that transcends the screen."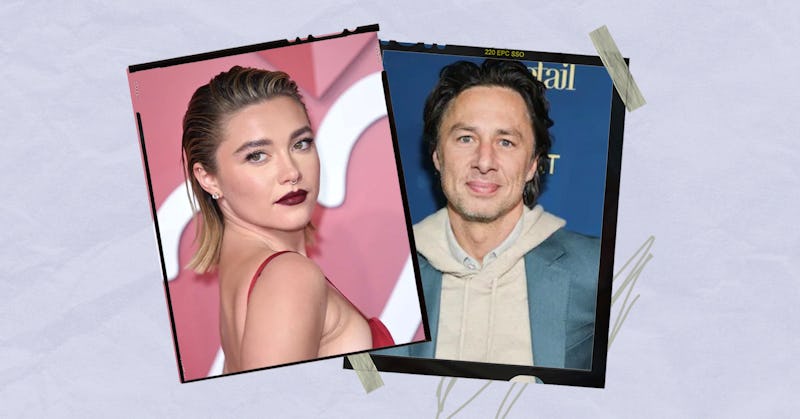 Karwai Tang/WireImage/Getty Images; Matt Winkelmeyer/Getty Images Entertainment
Florence Pugh and Zach Braff might be the best recent example of "consciously uncoupling." The former couple reflected on their relationship for Pugh's Vogue cover story, published on Jan. 12, following their 2022 breakup after more than three years of dating. "My breakup has been very new, so I'm figuring that out," the Oscar nominee said at the time of the interview, after buying her first London home and still deciding whether she'd stay in Los Angeles, where she lived with Braff.
Pugh went on to comment on the controversy that came with their low-key relationship, which was primarily centered on their 21-year age gap. "We weren't in anyone's faces. It was just that people didn't like it," she said. "They imagined me with someone younger and someone in blockbusters. I think young relationships in Hollywood are so easily twisted because they add to the gossip sites. It's exciting to watch. And I think I was in a relationship that didn't do any of that."
Despite their split, Braff happily contributed to Pugh's 2023 cover story, calling her "one of the greatest actors of her generation." He added: "She's just magnetic. You cannot take your eyes off of her. And it's not just her beauty and it's not just her acting ability. It's that thing, that magic thing that transcends the screen, where anyone and everyone goes, 'I want to see whatever this person does.'"
While they were still dating, Braff started creating his new movie A Good Person, specifically writing one of the leading roles for Pugh, alongside Morgan Freeman and Molly Shannon. The duo shared a story from set about how Pugh thought it would be great for her character to cut her own hair, which Braff thought would be impossible due to their out-of-order filming schedule. "Probably three times, I was like: 'Florence, it's such a good idea. Here's why it's impossible.' And she was like: 'You guys will figure it out,'" Braff recalled. They did.
After their split, the couple has stayed friendly. On Jan. 4, Braff sent Pugh a sweet message to celebrate her 27th birthday, sharing a photo of her underneath the Hollywood sign on his Instagram Story. "Happy Birthday, legend," he wrote. Pugh reposted the image on her own Story, making it clear that their breakup has not affected their respect for each other.