Florence Pugh Reunites With Zach Braff After His "Wonderful Gift" To Her
The pair joined forces at the premiere of their film, A Good Person.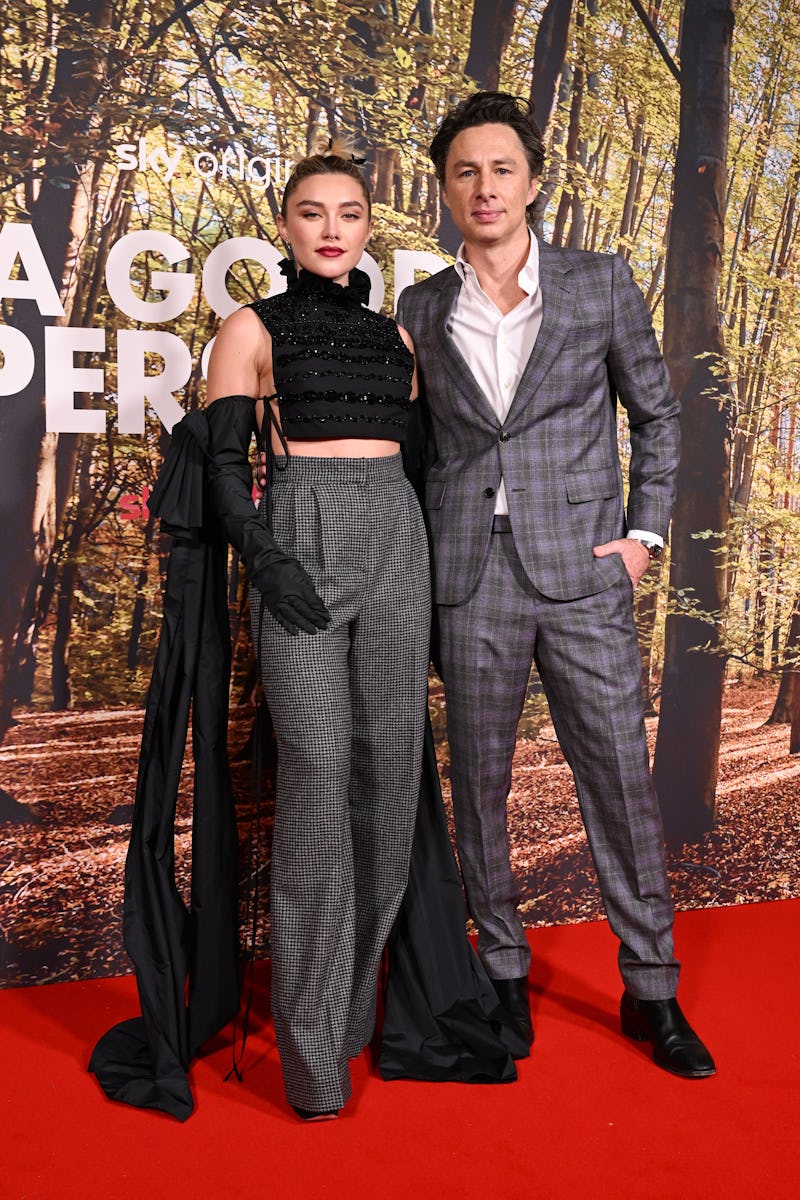 Getty Images/Jeff Spicer/Stringer
Though they quietly parted ways as a couple in 2022, Florence Pugh and Zach Braff shared a friendly reunion on the red carpet on Mar. 8. The pair smiled as they posed together at the premiere of their new film, A Good Person. Pugh and Braff, who dated for three years, have remained on good terms since breaking up, and regularly pay tribute to each other on social media.
Written and directed by Scrubs actor Braff — who previously directed the 2004 cult rom-com Garden State — the film stars his ex in a leading role, opposite the legendary actor Morgan Freeman. Pugh, who also produced the movie, plays Allison; a young woman who develops an addiction to prescription drugs after her involvement in a fatal and devastating car crash. Years later, she winds up forming an unlikely friendship with the man who would've once become her father-in-law (Freeman). Though fictional, the story is reportedly inspired by Braff's own experiences of loss and grief.
In a Q&A, the pair revealed that Braff wrote the script with his then-partner in mind, while they were living together. "We were in lockdown and it was time to write," Braff said, per Variety. "I mean, there was nothing to do other than to start a screenplay because that's what I meant to do, that's what I like to do, and I wanted to write something for Florence, and this is kind of what came out of me."
"I wasn't allowed to read any of it," Pugh added "I wasn't allowed to read any of the scenes as he was writing it and he'd come up from the office [having] locked himself in there for a few hours and then would just start telling me all the pieces that he had discovered and I really wasn't allowed to read anything. And so I kind of got to know the script and I got to know the character through us discussing it over dinner."
She also observed that their shared history helped them to craft the part together, and expressed her gratitude for the "wonderful gift." Pugh explained: "He knows how I talk, he knows how I take the piss out of people and I think he just put that in his script and I was allowed to come and fill in where it was needed. But reading something that is dedicated for you written by someone who knows you so well is a wonderful gift."