Former X Factor Stars Call For A Gov't Overhaul Of The Music Industry
Rebecca Ferguson, Jedward, Cher Lloyd, and more have spoken out about unfair treatment.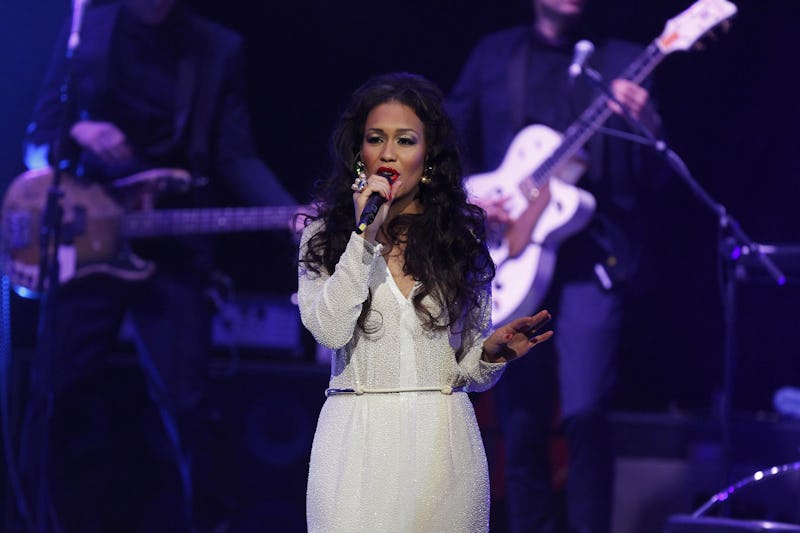 Dave Thompson - PA Images/PA Images/Getty Images
Former X-Factor finalist Rebecca Ferguson is petitioning to make the music industry a fairer place, calling for regulations to improve artists' rights and welfare. Her campaign has recently gained support on Twitter from fellow artists, including X-Factor alumni Jedward.
The 34-year-old rose to fame in series 7 of ITV's reality singing competition, which also featured One Direction, coming second to 2010's winner Matt Cardle. She then signed a record deal with Simon Cowell's label Syco, and went on to release five studio albums.
Now, the award-winning artist wants a parliamentary inquiry into the treatment of artists and creatives in the music industry – particularly those entering from a reality TV background – from a welfare, rights and mental health standpoint.
What Does The Petition Say?
The petition, which was originally set up by Ferguson in 2018, has over 63,000 signatures at the time of writing.
In it, Ferguson outlines: "The music industry is not regulated; therefore abuses of power are being allowed to happen. Music artists are entering into contracts under duress and without the aid of sound independent legal advice. There is no protection for young artists entering the industry, some having had no prior knowledge."
She goes on to explain the need for improved regulations: "A regulatory body would enforce policies that protect artists. And introduce a disciplinary procedure for those who do not adhere to the policies set out. I recognise we have unions etc. but none of which have the powers to enforce and therefore protect artists."
She concludes by asking people to sign the petition, "so that I can at least start the conversation, or hopefully ensure future artists are protected."
What Are Other Artists Saying?
Speaking to Metro, Ferguson said: "The industry say they support you, but they don't, they close doors. They don't want to know, in my experience."
The campaign has recently gained support from fellow artists, too. Jedward, who were on X Factor in 2009, also spoke out about the mistreatment of "naive" musicians on Twitter.
Cher Lloyd, who was only 16 when she was a contestant alongside Ferguson in 2010, has also hinted at similar wrongdoings from the industry in her own career. In a TikTok video, the 27-year-old sings: "How could I be so naive, they sold me the dream to just to exploit me."
Meanwhile, in 2020, Misha B also talked about her experiences on X Factor, and the racism she experienced that eventually led to a PTSD diagnosis.
What Changes Do Artists Want?
In Ferguson's note on Twitter on Monday (April 5), she suggests a licensing body should be set up for the music industry. "I just want people working in the industry to have people above them so they can never become so powerful that their actions are unpunishable." Her hopes are for the UK to set a global precedent by creating a "music industry ombudsman".