Twitter Has A Lot To Say About Frank Ocean Dropping Out Of Coachella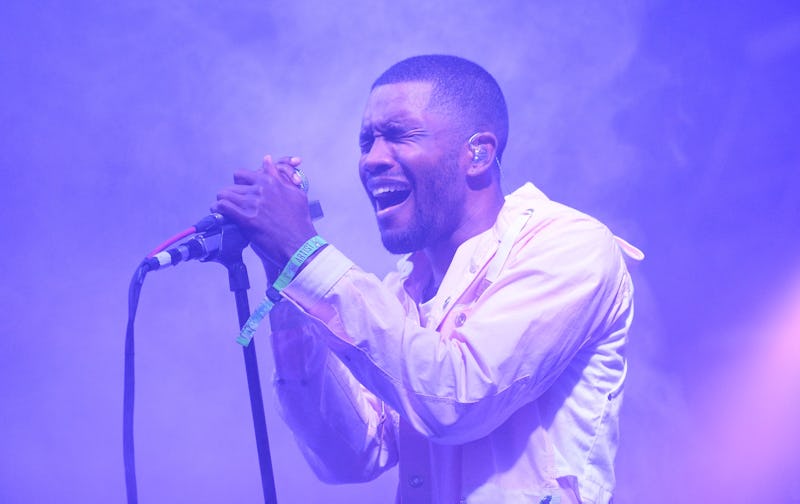 Jason Merritt/Getty Images Entertainment/Getty Images
After a six-year break from live performances, Frank Ocean made his much-anticipated return at this year's Coachella festival as a headline act. The Grammy winner took to the stage on Saturday, April 15, performing hits including "Novacane," "Crack Rock," "White Ferrari," and an acoustic version of "Self-Control." However, Ocean's set did not go down well with Coachella ticketholders and many on social media, who criticized his "lackluster" performance. The singer-songwriter also received backlash for canceling a YouTube live stream, arriving late on stage, and not selling merchandise at the festival.
Now, less than a week after the controversial set, Ocean has dropped out as a Coachella headliner and will not perform during the festival's second weekend. In a statement to Rolling Stone on April 19, Ocean's representative confirmed that the forthcoming set has been canceled after the singer received medical advice not to perform "due to two fractures and a sprain in his left leg." Meanwhile, speaking of his divisive performance, Ocean said: "It was chaotic. There is some beauty in chaos. It isn't what I intended to show but I enjoy being out there and I'll see you soon."
As per Variety, Ocean is set to be replaced by Blink-182, who will reportedly hit the stage as Coachella headliners during the weekend commencing April 21.
Naturally, fans had a lot to say about Ocean's bombshell announcement, with many voicing their disappointment on Twitter.
"I knew seeing Frank Ocean for $50 was too good to be true," wrote one fan on Twitter, while another fan described the "Thinkin Bout You" hitmaker's replacement as "objectively the funniest festival swap out in history."
However, others were thrilled to learn of Blink-182's upcoming headline set. "So happy Blink-182 is replacing Frank. That set is about to be wild," another fan commented.
Find more memes and tweets reacting to Frank Ocean dropping out of Coachella, below.