The Director Of The Friends Reunion Just Addressed The Diversity Backlash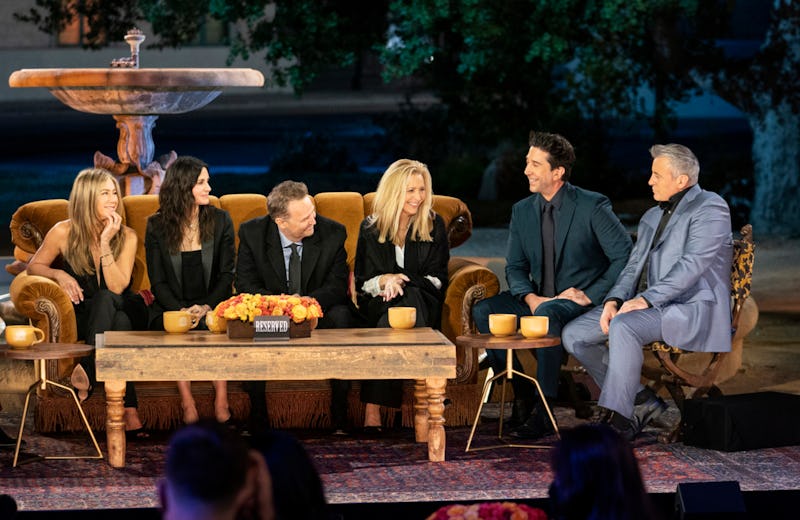 Courtesy of HBO Max
It's been nearly two weeks since the Friends reunion premiered on HBO Max, and the director has now responded to critics who called out the special for a lack of diversity. In an interview with The Times published on Sunday, June 6, Ben Winston said that anyone who has actually seen the reunion would know that it featured guest stars of many different stripes, including Malala Yousafzai, Mindy Kaling, and K-pop superstars BTS.
"There are three women from Ghana, one who talks about how Friends saved her life. Two boys from Kenya. Three kids in India," Winston said. "What more diversity do they want in this reunion?" He also made it clear that if people have an issue with the original sitcom — which has long been criticized for its diversity problem — it's beyond his control. "The cast is the cast," he continued. "It was made in 1994. I think it's remarkable how well it does stand the test of time."
The director's comments came just a few weeks after Friends co-creators Kevin Bright and Marta Kauffman addressed the show's diversity issue in an interview with The Hollywood Reporter. "There are different priorities today and so much has changed," Bright said. "It's important for today's shows to be reflective of the ways society truly is." He also added that the intention was never to have an all-white cast. "That was not the goal," he said. "Obviously, the chemistry between these six actors speaks for itself."
Bright is certainly right about that. It's been 17 years since the show's finale aired and the reunion proved that the cast has just as much chemistry as ever. At one point in the special, Jennifer Aniston looked on in tears as Matt LeBlanc embraced Lisa Kudrow after having not seen each other for a while. Later, the cast sat down for a game of trivia and a table read. One scene that they reenacted famously led to Ross and Rachel's first kiss (below).
Despite not making out during the reunion special, the fan-favorite onscreen couple admitted that their chemistry was more real than anyone had ever known. When host James Corden asked if they ever engaged in some behind-the-scenes "hanky panky," Schwimmer revealed that they were "crushing hard" on each other in real life. "It was like two ships passing because one of us was always in a relationship and we never crossed that boundary," he said. "We respected that."
Ultimately, the actors made the mutual decision to channel their feelings for each other into their characters. "I just remember saying one time to David, 'It's going to be such a bummer if the first time you and I actually kiss is going to be on national television." In the end, that's exactly what happened between the two stars, and their chemistry was palpable throughout all ten seasons.
Much like Bright, though, Kauffman told The Times that when it came to casting the show, it was all about chemistry and nothing else. And if she could re-make the show today, there would be "a hundred things" she would change, including a more diverse cast. "Back then, there was no conscious decision," she said. "We saw people of every race, religion, color. These were the six people we cast. So, it was certainly not conscious."