Demi Lovato, Cynthia Erivo & More Celebs Urge You To Respect Their Pronouns
As we bid farewell to Pride Month, these stars want you to remember that Pride is all year long.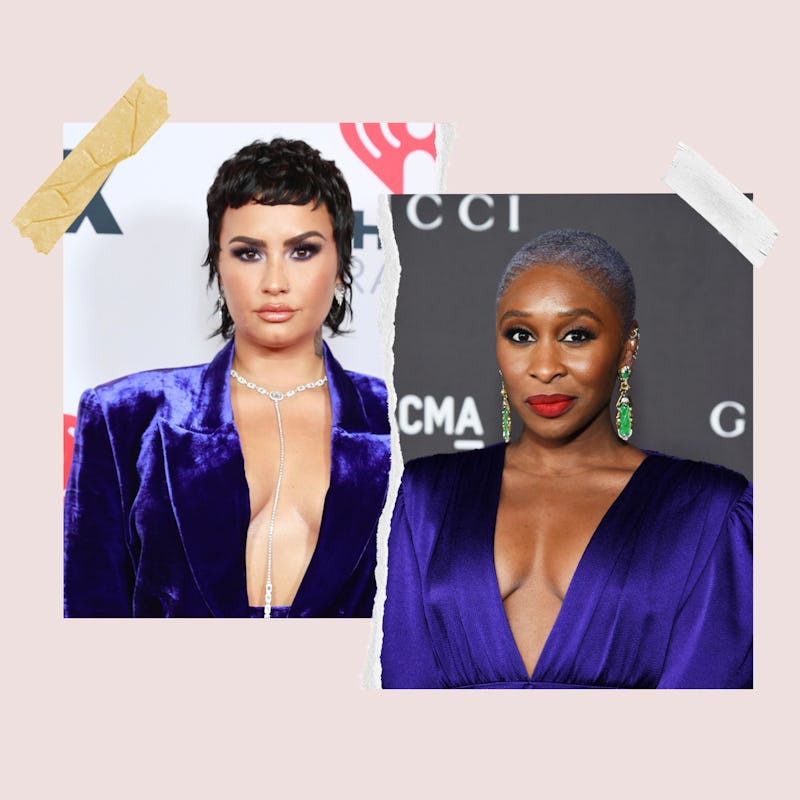 (Emma McIntyre/Getty Images Entertainment/Getty Images)/(Michael Kovac/Getty Images Entertainment/Getty Images)
Pride Month may be coming to an end, but respecting each other's pronouns must remain a priority all year long. On Wednesday, June 30, Universal Music Group and GLAAD partnered up with some of our all-time favorite celebrities for a video of sharing pronouns and encouraging others to do the same. The two-minute-long clip features a variety of notable stars including Demi Lovato, Cynthia Erivo, Busy Phillips, and many others who are committed to creating an inclusive and respectful environment.
Lovato kicked off the inspiring video by proudly announcing her pronouns, which she shared with the world for the first time in May. "Hi, my name is Demi Lovato and my pronouns are they/them," the "Anyone" singer said. For the next few minutes, many other familiar faces appeared onscreen. "Hello, I'm Dan from Imagine Dragons and my pronouns are he and him," musician Dan Reynolds said. "What's up? I'm Kiana Ledé and my pronouns are she/her," the "EX" singer added.
Girls5eva star Busy Phillips and Harriet actor Cynthia Erivo were among the many other stars who appeared in the video. "Hi, I'm Busy Phillips and my pronouns are she/her," Phillips said. "What are your pronouns?" Erivo echoed the same script, sharing that her pronouns are also she/her and asking others to share theirs. Recording artist Wrabel chimed in to say that his pronouns are he/him, and Fletcher shared that she goes by she/her. Pose star Dashaun Wesley, In The Heights star Anthony Ramos, and singer Vincint shared their pronouns, too.
Lovato closed out the heartwarming video by wishing everyone a happy Pride Month not just this month, but all year. The former Disney Channel star has long been an advocate for the LGBTQ+ community, but only recently came out to the world as non-binary. On June 25, the singer-songwriter reflected on coming out in an interview for YouTube Pride 2021. "I actually had come out to loved ones and friends last year, but this year I made it public," Lovato said. "I felt it was really important for me to share that with the world."
Roughly one month prior, the "Dancing With the Devil" artist shared their new pronouns in an Instagram video. "Today is a day I'm so happy to share more of my life with you all — I am proud to let you know that I identify as non-binary and will officially be changing my pronouns to they/them moving forward," Lovato captioned the post. "Sharing this with you now opens another level of vulnerability for me. I'm doing this for those out there that haven't been able to share who they truly are with their loved ones."
It's only been a few weeks and it already seems that sharing their pronouns has been a truly transformative experience. "Holding it in any longer just didn't feel right," Lovato told YouTube Pride before hinting that some people haven't been accepting of their gender identity. "People have been so... well, most people have been so wonderful, and that's the reality of coming out." Overall, Lovato is glad that most of their loved ones are respecting their pronouns. "I am grateful for the progress that my family members have made in using my pronouns, team members, friends," they said, adding later that they "feel better than ever."