Everything To Know About God's Favorite Idiot Season 2
Production issues accidentally led Season 1 to be split.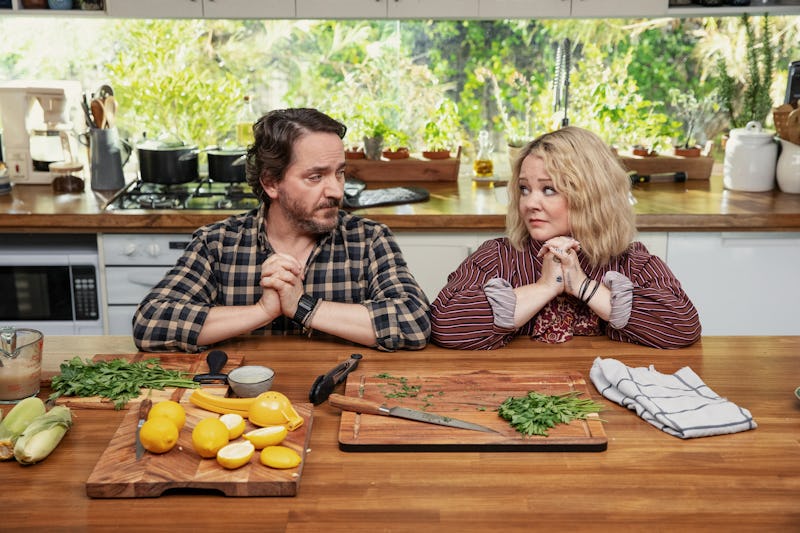 Vince Valitutti/Netflix
On June 15, Netflix dropped the latest comedy from one of Hollywood's power couples: God's Favorite Idiot. Now that it's available for streaming, audiences can get some more material from the writing team that is Melissa McCarthy and Ben Falcone. The married couple collaborated on the quirky series, which is a workplace comedy with a religious twist. God's Favorite Idiot follows Clark Thompson (Ben Falcone), a tech support employee who falls in love with his co-worker Amily Luck (Melissa McCarthy) and also accidentally becomes the messenger of God amid the threat of apocalypse. With Clark's life now thrown into disarray, could there be enough material for another season?
Will There Be A God's Favorite Idiot Season 2?
As was revealed by Deadline in 2021, filming for Season 1 wrapped much earlier than anticipated. God's Favorite Idiot was scheduled to film 16 episodes, however, production halted after the completion of only eight episodes. "We are so sad to leave Australia, as it has truly felt like home to us this past year," McCarthy and Falcone in a statement after production ceased last June. "We were so lucky to have had the best, hardest working Australian cast and crew. We are so proud of God's Favorite Idiot and cannot wait to share it with everyone."
Their sentiments were echoed in a statement from Netflix, also relayed by Deadline, that stated, "We're grateful to our creative partners Ben and Melissa, along with our amazing cast and crew for their hard work and dedication to bring this show to life." The streaming service also noted that the series would be shot in "two batches of eight," instead of "all at once." Netflix has not specified whether each batch will be considered half or a whole season.
When Will The Next Batch Of God's Favorite Idiot Episodes Premiere?
Details on the second batch remain limited. It's worth mentioning that while the second eight episodes haven't been shot yet, there's a pressing incentive to do so. Variety reported that the cast members had been paid for the entirety of the proposed 16-week shoot, whereas the members of the production crew were only paid for the days they'd completed. In order for the Australian crew to be fully compensated, the series will have to finish filming their promised 16 episodes.
What Is The Plot Of God's Favorite Idiot Season 2?
Based on what we know about the series' conceit, it would make sense if the second batch of episodes followed the same narrative. After being struck by lightning, Clark learns of lakes of fire and an impending apocalypse, all of which sounds intense enough to subsidize a second season. There's certainly no shortage of calamities, plagues, and hijinks that God can hurl at Clark over another eight episodes, so when the new batch does drop, expect more divine hilarity.
Who Is In The God's Favorite Idiot Season 2 Cast?
It's a safe bet that as creator and star, Ben Falcone will be back for the second batch of episodes. The same can likely be assumed for his co-star Melissa McCarthy, who also serves as one half of the show's main couple. She's also far and away the biggest name attached to the show, so it's probably safe to assume that God's Favorite Idiot won't be killing her off anytime soon. As for the rest of the cast, IMDb indicates that Falcone and McCarthy are the only actors set to appear in all eight episodes. However, notable names that crop up on the cast list include Leslie Bibb (Ironman, Talladega Nights) as Satan, Kevin Dunn (Transformers, Veep) as Gene, and Usman Ally (Veep, Suits) as Mohsin Raza, all of whom may be liable to resurface when the next set of episodes drop.